Hostage Negotiator Roger Carstens (AGI17) Returned to the Great Books to Examine Life's Greatest Questions
October 6, 2023 | By Kirstin Fawcett
Great books reveal fresh truths at every stage in life—which is why Roger Carstens (AGI17), deep into a long government, military, and humanitarian career, decided to pursue a master's degree in liberal arts at St. John's College.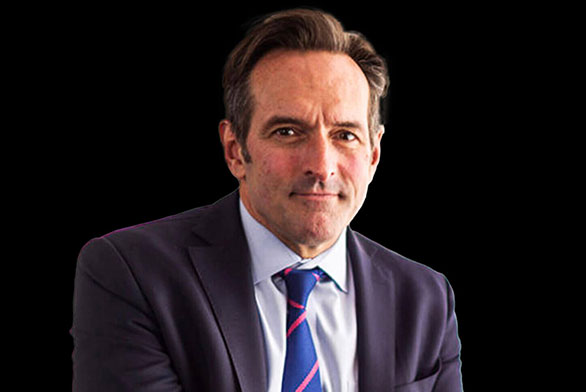 You've perhaps seen Carstens, the U.S. special presidential envoy for hostage affairs, on news programs on channels such as CNN discussing high-profile cases of Americans wrongfully detained while traveling overseas. His job is to bring them home using diplomacy. Amid these negotiations, Carstens supports their loved ones all while strategizing how to deter future hostage scenarios. He has worked notable cases, including the returns of WNBA star Brittney Griner, journalist Danny Fenster, and American aid worker Jeff Woodke, among others.
Carstens, who's been in his current role since 2020, is a retired army lieutenant colonel who served in special forces and the 1st Ranger Battalion. Other positions he's held have included the former deputy assistant secretary in the State Department's Bureau of Democracy, Human Rights, and Labor, and the country director in Jordan for a U.S.-based humanitarian group that supports Syrian refugees and internally displaced persons. But long before these jobs or the years spent in the army, Carstens was a bookish kid growing up in Spokane, Washington, who had read about the Cambodian genocide and decided he wanted to someday join the U.S. military and help with humanitarian efforts abroad. The first step on this path was touring service academies as a teen—which, incidentally, is how he first learned about St. John's.
While visiting the Naval Academy, Carstens spotted the small liberal arts college next door. "Someone said, 'That's St. John's. That's where they read the great books.' And boy, I never let that go," he recalls. Carstens, who loved philosophy and literature, felt drawn to the school, but he ultimately stuck with his predetermined course and enrolled at West Point. There, he struggled through fluid thermodynamics and mechanical engineering and put humanities on the back burner. "I felt like I denied myself a really good experience in embracing classic literature while going through West Point," he says. Occasionally, he felt conflicted about the road not taken in Annapolis—not at the Naval Academy, but across the street from it.
Post-graduation, Carstens found himself with the time and bandwidth to read seminal works by figures like Virginia Woolf and Aristotle. The young army officer, he remembers, "was also going through other experiences in my life for my first time: in combat during the invasion of Panama, going through a divorce, wrestling with successes, wrestling with disappointments and failure. As a part of that, I started to really wonder: What is my purpose on this earth? And how do I live a good and committed life?"
Carstens sought answers from even more books: the Bhagavad Ghita, the Bible, the Upanishads. "And yet," he says, "as I got older, I kept having more questions." One that plagued Carstens following years of combat abroad was America's "less than optimal" war performance, he reflects, even with the U.S. military's myriad technological advantages. "I started to wonder if the people that we were fighting against thought more intuitively—if there was something more primal that they were able to bring to bear that we that we lost had touch with," he says.
Thoughts like these prompted Carstens to pursue his master's in national security and strategic studies from the Naval War College, which he completed in 2002. But with every subsequent life chapter—a new foreign crisis, a promotion, becoming a father—he continued grappling with his place in the world as a military officer and as a human being. "I said, 'You know, I wouldn't mind studying and thinking again,'" he remembers. "In my mind, St. John's popped up because I'd wanted to go there for so long. It also seemed to be a good place to answer these questions."
At St. John's, Carstens revisited the texts he considered foundational to modern knowledge. He also took classes in ancient Greek and encountered new-to-him philosophers such as Heraclitus. Along the way he befriended Graduate Institute students from all walks of life: recent college grads, surgeons, litigators, and homemakers. Uniting them all in seminar (and occasionally post-class over a beer) was their love for reading and discussing the Great Books.
The Program ultimately helped shape Carstens' views on how the military should weigh intelligence and data vs. instinctual action in combat. "If you make a decision in warfare and you're a senior officer, you want to bring together all the information you possibly can," he says. "But how many opportunities do you lose by trying to garner all that information? When you know enough? When can you finally make a decision based on something that's not just mathematical?"
"There's this one scene in the Iliad that always struck me," he continues. "It's Achilles; he's on an open plain, and suddenly a river god comes out to fight him. And Achilles doesn't hesitate. He goes straight at the river, jumps right into battle. And I think part of it was that Achilles, who was a man and a god, was able to actually see the nature of the river god. He didn't have to wait to think, to determine how he had to fight it. If anything, trying to garner more information and be more thoughtful and rational about fighting the river god would have been immoral because he's not recognizing the nature of his enemy and the nature of himself. And that's what I think, in my mind, we're missing nowadays ... At a certain point, you just have to make a decision based on imperfect information, one that's going to have to rely on something that perhaps is not quite measurable—that being your intuition. Making sense of my past and going forward, I try to bring a lot of that to bear when we conduct negotiations with [other countries]."
Carstens knows that many of his questions probably don't have fixed answers, and that the books he encountered at St. John's will yield fresh insights with every reread. Still, his time with the Program "allowed me to tie together a lot of the things that I've been pondering for years and make sense of them," he says. "The fundamental things I received at St. John's, I'll probably always keep with me."