Inspired by Johnnies and Beauvoir
June 30, 2017 | By Tim Pratt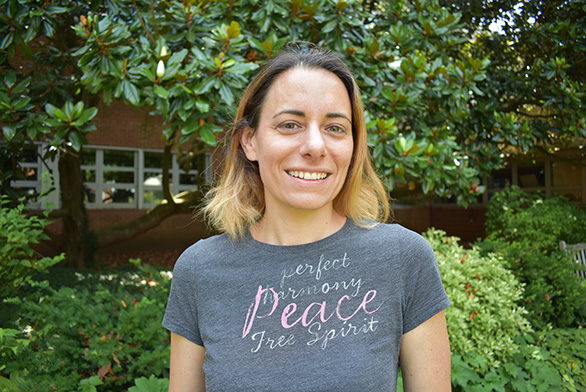 When St. John's College tutor Rebecca Goldner began teaching a preceptorial last year that focused on the work of Simone de Beauvoir, she didn't think that one day she would write about the famed French author.
Yet, over the next eight weeks, Goldner (AGI02) says she was inspired by her students—the discussions, the papers and the conversations that continued outside of the classroom.
"I found myself reading their papers and thought, 'I would really like to write on this too,'" she says. "They were amazing papers. … I was sort of jealous they were writing on it."
Goldner was so inspired that she has since written a lecture on Beauvoir that she will deliver July 5 as part of the Graduate Institute's Summer Wednesday Night Lecture Series in Annapolis.
The lecture, titled "Why We Should (Still) Read Beauvoir," is set for 7:30 p.m. in the King William Room of the Barr-Buchanan Center. It is free and open to the public.
Beauvoir was a French writer and well-known feminist, existentialist, philosopher and social theorist. A treatise she wrote titled "The Second Sex," published in 1949, served as a look at women's oppression and was influential in the feminist movement.
Goldner will examine "The Second Sex" in her lecture on July 5. Those who attend don't need to have read the work, or be familiar with Beauvoir, to follow the discussion, Goldner says.
"It is my job to make the book a little more familiar to the people that come and hopefully spark some interest so they may want to go and read more," she says.
For Goldner, delivering a lecture during the summer series is exciting. She recalls attending the lectures when she was attending the Graduate Institute over four summers in the late 1990s and early 2000s.
"I remember distinctly those being some of the highlights of the summer," she says.
Goldner came to St. John's as a graduate student after receiving her undergraduate degree in the classics from Bowdoin College in 1996 and her post-baccalaureate in classical studies from the University of Pennsylvania in 1998. Following her time in the GI at St. John's, she received her master's and PhD in philosophy from Villanova University. She then served as a visiting professor at Villanova for a year before joining the faculty at St. John's in 2014.