July 11, 2017 | By Tim Pratt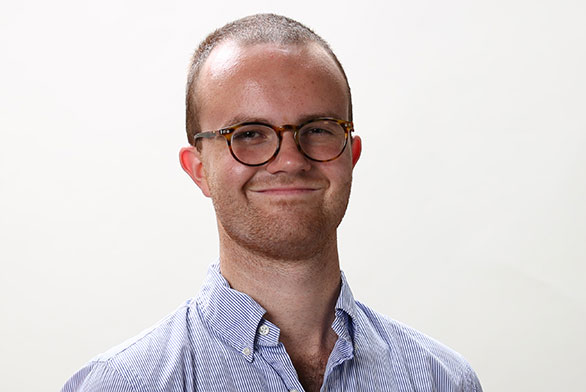 For Charles Zug, the study of political philosophy is fascinating.
Thucydides. Machiavelli. Nietzsche.
Each of their theories have played important roles in discussions about human nature and history.
On July 13 at St. John's College in Annapolis, Zug (A15) will deliver a talk on those theories as part of the Graduate Institute's Summer Lecture Series.
Zug's lecture, the fourth in the series, is titled "From Nature to History: The Search for Intelligible Necessities in Thucydides, Machiavelli, and Nietzsche." The discussion begins at 2 p.m. in the King William Room of the Barr-Buchanan Center. It is free and open to the public. (Please note the lecture was previously scheduled for July 12.)
When Zug was a student at St. John's, he devoted himself almost entirely to the great books—with a particular interest in political philosophy. He also worked from his sophomore through senior years as a guard, and eventually a student supervisor, at the Mitchell Gallery.
After graduating in 2015, Zug enrolled in the political theory PhD program at University of Texas at Austin. He is now a graduate student and graduate teaching assistant at the university. He also is a fellow at the University of Texas's Clements Center for History and Grand Strategy.
This summer, Zug completed a two-week Publius Fellowship—a series of seminars, lectures, and social opportunities for 10-15 young academics and professionals—at the Claremont Institute in California. The purpose of the fellowship is to introduce young, politically ambitious men and women to the Claremont school of political thought—a venerable group of conservative thinkers who trace their philosophic roots to Leo Strauss and Harry V. Jaffa.
Zug says he learned about the fellowship from St. John's tutor Eric Salem.
"Participating in the fellowship was a real delight; anyone interested in political philosophy, American political thought, and politics, generally, should consider applying," he says.
During past summers, Zug has participated in a Hertog Political Studies Fellowship and completed an internship at The Heritage Foundation, both in Washington, DC.
Zug is now working to finish a master's thesis on Xenophon's Hellenica, which he will attempt to turn into a dissertation. He says his interest in Hellenica stems from a broader research project on the relation between the study of history and the study of political philosophy.
Zug's lecture stems from that work. He is looking for as much feedback as possible from those who attend, and is excited to return to his alma mater.
"Few experiences give me more pleasure than showing my teachers that I've made good use of what they once taught me," he says.