An Integrated Approach to Public Health
March 2, 2020 | By Eve Tolpa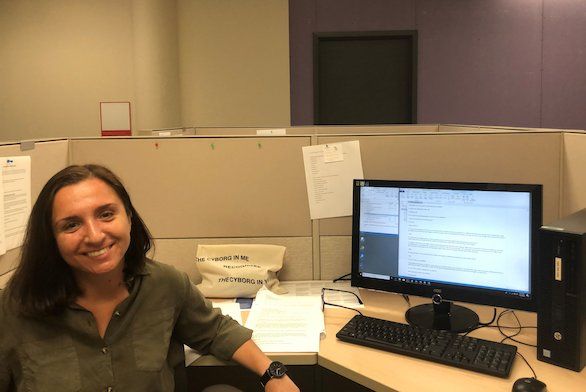 Last summer, Adna Arnaout (SF19) found practical applications for the critical thinking skills she developed at St. John's College when she secured a post-graduation Ariel Internship at Pittsburgh's Magee-Womens Research Institute—the country's largest research institute concerned exclusively with women's health and reproductive biology.
College-funded Ariel Internships allow Johnnies at the St. John's Santa Fe campus to explore academic and career-oriented opportunities during the summer, helping students pursue their passions and gain invaluable life experiences. For Arnaout, this meant working alongside medical and pre-med students, public health and gender studies researchers, and an anthropologist on a team headed by Dr. Judy Chang, who—among other roles—is the assistant dean of medical student research at Magee-Womens Hospital. Arnaout was responsible for tasks like transcript coding; medical record abstraction; data entry, collection, and analysis; and recruiting participants for a study regarding healthy decision-making for women who use marijuana during pregnancy.
One aspect of the internship particularly excited her: the fact that Dr. Chang's team employed qualitative research, which differs from quantitative research in that it takes the context of a patient's life into account—from sociocultural influences and interpersonal relationships to communication with healthcare providers.
"Quantitative research is helpful in revealing relationships between variables, such as the connection between the use of marijuana and pregnancy, while qualitative research goes into more depth in the pursuit of why the connection exists in the first place," Arnaout explains.
Not surprisingly, this multidisciplinary method struck a familiar chord with her. "Even though I haven't had exposure to qualitative research before, it felt similar to the way we approach scientific inquiry at St. John's. With its focus on the 'why' and 'how' behind the social phenomena, it allows for more depth and complexity," she says. "[That's] especially meaningful when it comes to getting closer to understanding issues as nuanced and complex as substance abuse and addiction."
Those issues can be challenging and even traumatic to work with, but Dr. Chang and her head research assistant "fostered a space of comfort and appreciation for all of us," Arnaout says, providing the research team with weekly check-ins and sensitivity training. Arnaout relished the chance to work with a group that valued both inquiry and community. "I enjoyed the cohesion of Dr. Chang's team, which seems to me essential for successfully navigating working in research [that] regularly deals with sensitive and difficult topics," she says.
By the end of the summer, she had gained a memorable and eye-opening experience in the fields of research and public health, including a valuable networking opportunity at a University of Pittsburgh School of Medicine summer research conference. In all, it was an internship she would recommend to any St. John's student. "Magee-Womens Research Institute and Dr. Judy Chang's team have been an excellent fit for me, and they provided an enriching learning experience" she says. "I think it's an exciting and valuable learning environment for a Johnnie."