Newington-Cropsey Fellows Reflect on a Summer of Art
February 28, 2020 | By Les Poling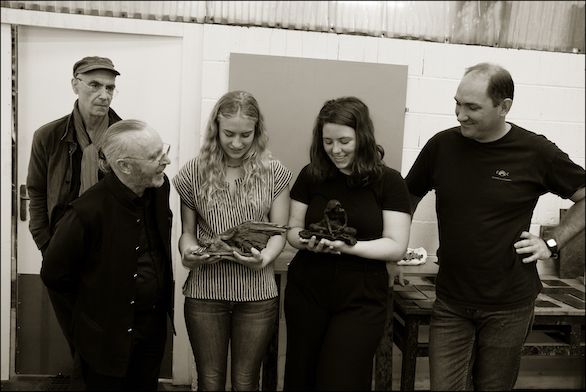 Last summer, Julia Cooper (A20) and Anna Seban (A20) became the first Johnnies to participate in the Newington-Cropsey Foundation's Garden of Great Ideas fellowship, a program that "guides students through the process of conceptualizing and completing a sculptural work of art, casted in bronze, which represents or engages meaningfully with one of the Great Ideas from the human history of creation." They spent two weeks in New York, working with renowned sculptor Greg Wyatt at the Newington-Cropsey Foundation Academy of Art, before journeying to Paris to complete their works.
The result: two bronze sculptures on display in Annapolis's Mellon Hall, each made using the rarely taught lost-wax technique. Seban's piece depicts a scene from Paradise Lost—Eve, moments after creation, gazing at her reflection. Cooper focused on the idea of metamorphosis; after starting with eight concepts, she ended up with Fallen Icarus.
"I thought we were going to be taking art classes and they'd be teaching us how to sculpt," Cooper says. "Instead, we were taken seriously as artists in our own right."
The fellowship started in June. Each day, Seban and Cooper took the early-morning train from New York City to Wyatt's studio in Hastings-on-Hudson. Alongside students from Vanderbilt, Harvard, and more, they began figure drawing from scratch—contemplating ways of seeing and focusing on hand-eye coordination. "Even if we were talented artists, we were starting over with this blind contour line-drawing method, and he was having us work with watercolor and Durer's drawing table," Cooper recalls. They spent afternoons brainstorming sculpture ideas with Wyatt's assistant before heading back to the city. Weekends were obligation-free: Seban and Cooper took the opportunity to visit museums and hang out with friends.
Then, after two weeks, the pair traveled to Paris, where they spent July creating their sculptures. "We'd go to the foundry in the morning and work there until 4 or 5 or whenever we finished for the day," Seban says, "and then we were free to do whatever we wanted." When they weren't at the foundry, the pair studied in museums and took classes at the Paris American Academy. Weekends were spent exploring the city; they walked along the Seine, relaxed in their shared apartment, went out to cafes, and visited historic sites like Versailles.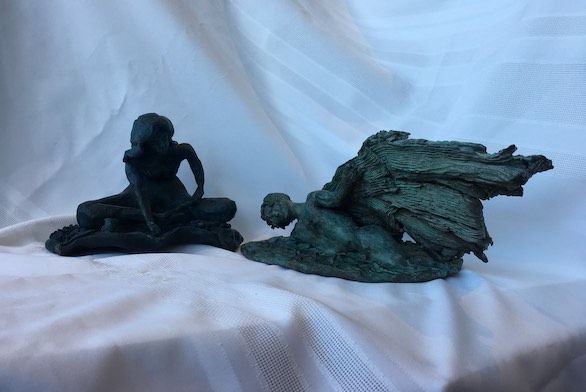 It was an artist's dream. Seban recalls a day spent with their Paris American Academy instructor, Calum Fraser, at a bustling Parisian market. "Calum pulled up a trash can and opened up my sketchbook, and said 'this is what we're doing today,'" she says. "And he just started frantically drawing everything in the market—this amazing snapshot of what was happening in that moment." For the two Johnnies, art had often been confined to classrooms or rare moments of free time. Now, it was woven into the fabric of everyday life. "Julia and I found ourselves just drawing each other when we were out to dinner, or sitting at home—drawing all the time," Seban says.
The pair's previous art classes prioritized perfect proportions and precise brush strokes. In Paris, Seban and Cooper learned to use art to absorb every facet of life—from the extraordinary to the mundane. "I'd never thought of myself as an artist in that way," says Seban. "It was so cool to just dive into that and always be experiencing art, trying to capture everything around us. And I think it's something that we both continued doing a lot when we came back."
Senior year at St. John's represents the end of a four-year intellectual journey. Heading into 2020, the Newington-Cropsey Fellowship helped Cooper and Seban, both seniors, put a capstone on their time in college. "Having an opportunity to reflect on the Program in a visual way—I didn't really have the time to do that before," Cooper says. The two spent hours together in the Newington-Cropsey Academy's library: sketching, reading Program texts, and exploring thousands of years of human thought and creation. "It became influential for our papers," Cooper notes. "We both ended up writing on art for our theses."
It also impacted their approach to the Great Books as a whole. "When we were in Paris, we were immersed in Parisian life, and then we came back and immediately started reading Baudelaire," Seban says. "I feel like [reading Baudelaire] was a completely different experience having just been there."
"When you're translating poems, you feel something that you don't know how to explain," adds Cooper. "You can't explain it in English, and you can't explain it in French, so I would try to paint my emotional response." Cooper's shapeless paintings, created solely for herself, helped her "articulate something that you don't know how to otherwise."
Seban and Cooper were the first St. John's students to complete the Garden of Great Ideas program, but they won't be the last—four Johnnies have already been selected for this year's fellowship. For those students, Cooper and Seban say, the best thing to do is simply take it all in.
"Just be open to everything," Seban advises. "It's not always going to go the way that you think it is, but it's always going to end up being something new that you can learn from."
"There's just so much that is available in this program. And there's so much you can learn and so much that you can take away from it," Cooper adds. "It wasn't just about making a sculpture. It was about how we think about things, how we do things, and how we live our lives."