Noe Jimenez (A16), Joe Kensok (A16), Joe Gillespie-Hill (A17), and Stefan Vasic (A17) are captains of the Druids, one of the five intramural teams at St. John's College. This interview was edited for length and clarity.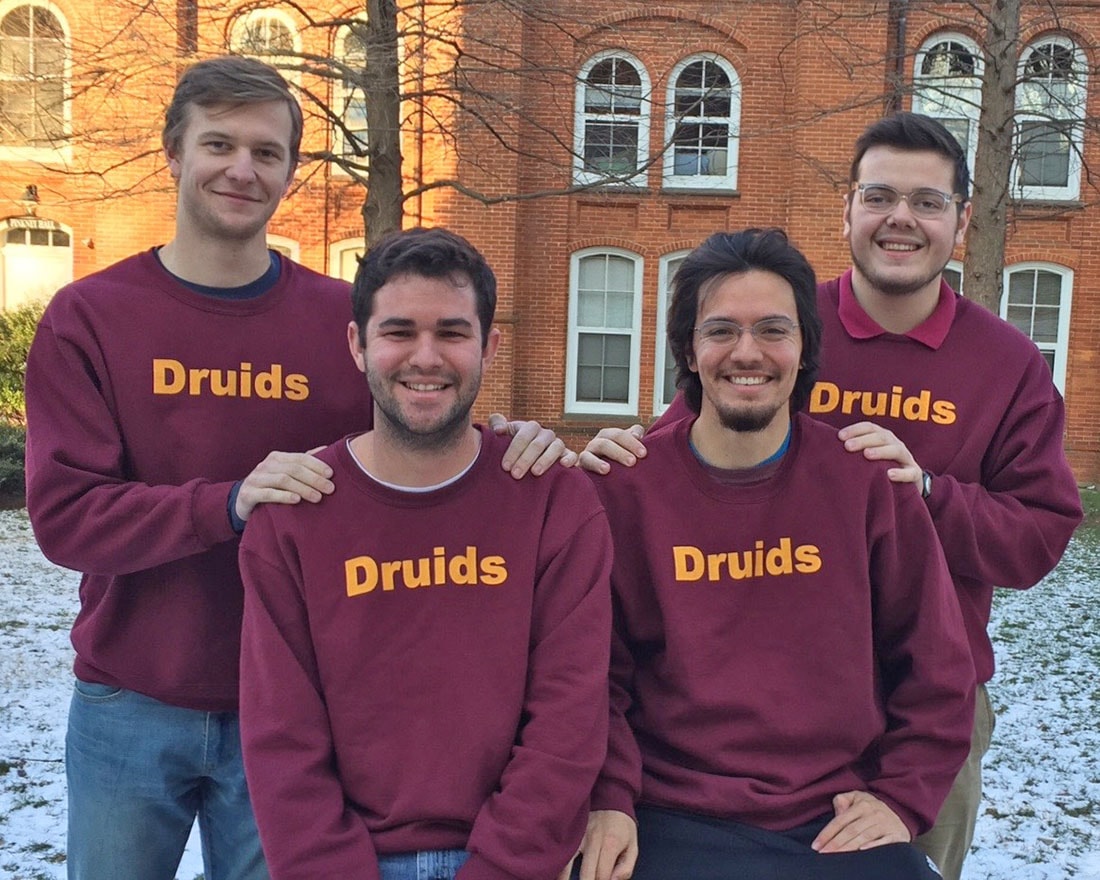 St. John's College: What is the intramural program at St. John's College?
Noe Jimenez (A16): Remembering my freshman year, not being sure if I belonged [in the Program], intramurals offered me a community that I could really push off from and continue my studies harder and feel more at home here at the college. It is also a place where growth and friendships can be made.
Joe Gillespie-Hill (A17): It's all-inclusive—to all kinds of athletes and people who aren't athletes at all.
SJC: What is your favorite part of being an intramural captain?
Joe Kensok (A16): The biggest part for me is the opportunity to be a leader on campus, having that role of giving [people] the knowledge that they're important to this campus community and seeing how that knowledge can empower [them]. When someone approaches you and says, "Hey, you are important," that can really empower somebody.
Stefan Vasic (A17): With the freshmen it's nice to be a person they recognize walking around campus. They can say hello or strike up a conversation.
SJC: What makes a Druid a Druid?
Vasic: I think there's a lot of finesse involved between being competitive but also not taking a thing too seriously.
Kensok: This year since we've been more competitive, we've been trying hard to find the balance, exactly what Stefan said, between having a good time and also recognizing that we have the ability to win games. Winning games is fun but it's also fun to just let your hair down and goof off with your friends.
SJC: What other activities or clubs or whatever are you all involved in on campus?
Vasic: Croquet.
Jimenez: We do a lot of croquet. Most of the croquet team is Druids.
Kensok: I do not play croquet, but I do drive the vans for the college. It's another way to connect with different people in the college community.
Vasic: Joe [Gillespie-Hill] and I are both RAs, also.
SJC: How do the classroom and intramurals inform each other?
Gillespie-Hill: When I was a freshman, it's what Joe [Kensok] was talking about earlier—if someone makes you feel important by trying to get you to come out to different games, it starts to affect the rest of your life and you feel you have more of a right to talk in class. The more people build you up, the more people make you feel good about yourself, you'll be more willing to get involved in class and I think that's always a good thing.
Vasic: At the heart of the academic experience here is learning how to communicate with other people. Being in a particular environment, like an intramural game, you learn a lot about how to communicate with people, and that plays a big part going into the classroom.
Kensok: The intramural program fosters a culture of respect for one another. We talk trash and we have fun, but at the same time you need to respect your opponent and it's so much more fun when you do. The same thing can be said of the classroom—if you respect your peers, you're more likely to listen to them and consider what they have to say, and you end up learning more as a consequence.
—Brady Lee (AGI14)