ANNAPOLIS—In its February 5, 1940 issue, LIFE magazine took a look behind the scenes of the budding and distinctive curriculum at St. John's College in Annapolis.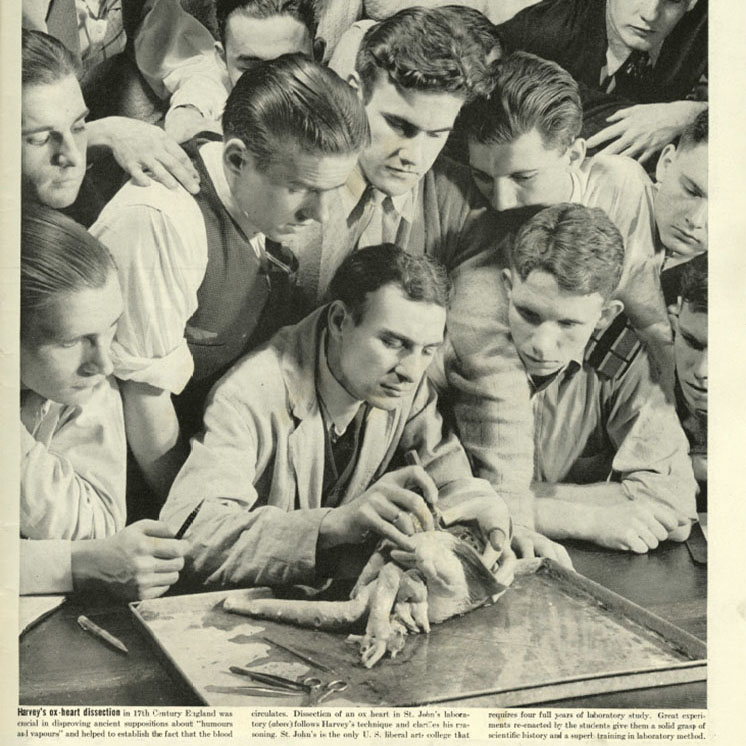 "[T]he little college has got hold of an idea so challenging and important that educators all over the country are taking notice," according to the article.
Recognized as an antidote to the "hodge-podge" education offered at other colleges, the LIFE article explained that St. John's reinstated the classics as the full college curriculum. "From Homer to Freud, they read in translations the hundred great books which tower up as the landmarks of Western thought and culture."
"In seminars they thresh out the profound problems with which these books deal. In the laboratory the students re-examine the conclusions of science by performing the great experiments that established them. The traditional discipline of a classical education is imposed throughout the four years in rigorous tutorial sessions devoted to mathematics and the languages of the great books."
Full of photos, the article shows scenes from the classroom, from a group huddled around Harvey's ox-heart dissection to students standing in the snow performing Greek astronomer Aristarchus' diopter experiment.
"St. John's is the only U.S. liberal arts college that requires four full years of laboratory study. Great experiments re-enacted by the students give them a solid grasp of scientific history and a superb training in laboratory method."
And of course there are the books. LIFE photographed a bookshelf with 93 of the approximately 100 great books that make up the curriculum. "It is as strange a faculty as has ever been assembled. It includes saints (Augustine and Aquinas); a thief (Francois Villon); the first war correspondent (Herodotus); a surgeon (Galen); statesmen (Jefferson and Cicero); a heretic (Galileo); a revolutionist (Karl Marx)."
"These books deal with the order and disorder of human existence, with the laws of gravity and of supply and demand, with disease, death and the immortality of the soul."
The shelf includes St. John's own editions of ten Program books, which, LIFE notes, "U.S. colleges have never translated or long ago permitted to go out of print."
LIFE concluded that the Program shows the deep continuity of western thought.
"The first Classics class at St. John's is now only in its junior year. But already its members have a broad grasp of the history of ideas that would put to shame the students of larger colleges."
—Brady Lee (AGI14)