Introducing Johnnie Week, Our Community Celebration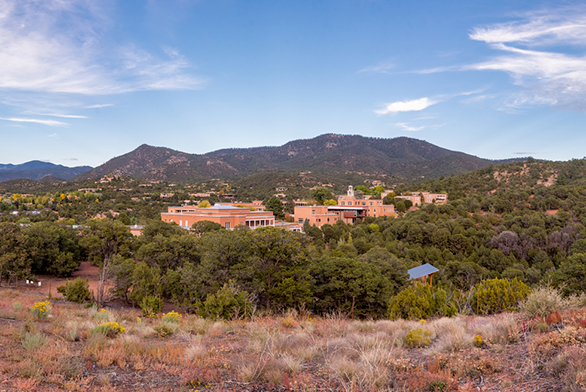 "Come one, come all" is the message of Johnnie Week, inviting alumni and families to reconnect with the St. John's community this spring with a return to campus, or through a week of virtual programming.
In 2023, on-campus days are Saturday, April 15 in Annapolis and Saturday, April 22 in Santa Fe, though early arrivals are welcome to attend the Friday night Dean's lecture and concert series on both campuses. The week between those two dates is Johnnie Week Online, which will feature tutor-led virtual seminars that are open to the whole St. John's community, four new episodes of St. John's web and podcast series Continuing the Conversation, and an invitation to explore the full range of intellectual engagement and benefits available to the alumni community.
Those who'd like to visit the Santa Fe campus will find a first-of-its-kind celebration called Earth Day in Santa Fe, commemorating the ribbon-cutting of the new campus solar array. The class of 2019, led by Tom Samuels (SF19), was instrumental in laying the groundwork for the installation, consisting of six arrays and five solar benches, which will allow the campus to run entirely on solar energy within the next year.
"Johnnie Week is a great way to keep the community together, and I think it's appropriate to do the ribbon-cutting on Earth Day, particularly in Santa Fe where there's so much hiking and environment is such an important part of the culture," says Samuels.
Other Earth Day activities in Santa Fe include a talk by eco-philosopher Sophie Strand entitled "Myth and Mycelium," and an interactive concert called Soundscapes of Hope by EcoSono Ensemble, founded by alumnus Matthew Burtner (SF92). Attendees can also enjoy outdoor activities, a film screening of Stewart Udall and the Politics of Beauty, and activities and displays by student organizations.
And in Annapolis, all Johnnies are called home for the annual Annapolis Cup croquet match against the Naval Academy.
This year, the event is being reenvisioned to enhance the experience of students, alumni, and invited special guests by providing a less crowded, more family-friendly event. Attendees can bring their own picnic food to enjoy during the match, as they have in the past, or will be able to purchase food and alcoholic or non-alcoholic beverages from on-site vendors and food trucks.
The pandemic has kept Imperial Wicket, or team captain, Mia Kobylski (A23) from attending what many alumni would think of as a traditional Annapolis Cup. She suggests that this break from the activity may have been a bit of a blessing for the college community. Kobylski says she saw the years without the big match as a time to ask: "How can we maintain the fun and the festivity and the celebratory nature of the event while keeping it student-focused?"
In 2022, the Naval Academy hosted a scaled down version of the match, which Kobylski says was too small. "I think that having it back here—allowing not just students, but the students' families and tutors and faculty—it'll make it a really uniting event," she says. "I'm excited to see the community come together in that way because that was something I felt that we lacked last year."
Uniting and coming together after a "lack" is exactly what the college hopes will happen during Johnnie Week in both locations. Gigi Escalante (A92), president of the Alumni Association, says, "With Johnnie Week, the college presents an opportunity for alumni to gather in both traditional and new ways. Croquet has been an event when alumni were able to come together in Annapolis with students and with the community to celebrate that long-standing tradition," she says. "With the addition of Earth Day, the college wants to start a new tradition by forming another opportunity for alumni to gather in Santa Fe."
The college will still host reunions each fall, but plans to only extend invitations to specific classes: those celebrating milestone 10-, 25-, 30-, 40-, and 50-year reunions—this year those are the classes of 2013, 1998, 1993, 1983, and 1973. This new reunion model was introduced in fall 2022 in response to budget and staffing limitations, campus renovations that made it impossible to host large groups, and pandemic safety reasons, and will be retained to provide a more satisfying experience for milestone reunion classes amidst many of the same concerns.
After a class has reached its 50-year reunion, its members are also welcome to attend each year as they please. Additionally, special guest classes will be invited to attend. These guests are alumni classes that have come together to demonstrate a significant act of giving, such as raising money for an endowed scholarship as the Annapolis Class of 1978 recently did.
Johnnie Week is a new venture for the college, and it gives us all the opportunity to think deeply about how the college creates, nurtures, and stimulates our community. Ultimately, Johnnie Week is a celebration of all we treasure about St. John's: its alumni, students, families, and friends—and its traditions new and old. See you there!
---
For more information on Johnnie Week events, visit sjc.edu/johnnieweek.