John Kane (AGI10) Brings Johnnie Traditions to Easton, MD
May 11, 2020 | By Les Poling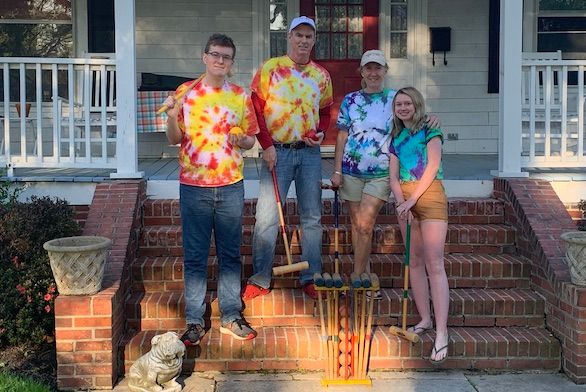 The Annapolis Cup is a beloved tradition that dates back more than three decades—a chance for Johnnies, Navy Midshipmen, and members of the Annapolis community to dress in their finest and congregate on the St. John's campus to welcome spring with a hotly contested croquet match. Since the first Annapolis Cup in 1982, the annual contest has become a hallmark of not just the two historic schools but the city itself, and tickets sell out within hours every year.
In March, the coronavirus pandemic forced the cancellation of the 2020 Annapolis Cup—one of the less extreme consequences of COVID-19, but a loss that the Annapolis community felt deeply nonetheless. So St. John's Senior Director of Advancement John Kane (AGI10) took matters into his own hands, competing with his family in the first ever "Easton Cup."
Kane took the long way to becoming a Johnnie. Growing up in the DC area, he knew about St. John's—"It was that strange place that played croquet and studied all these old books," he recalls—but it wasn't until he was 15 years into a sales and marketing career that he ended up at the seminar table. He was fascinated by the nature of the Program and the idea of engaging directly with great thinkers and fundamental ideas; in particular, a college marketing campaign that displayed the spines of Program books and authors with the text "the following professors are returning to St. John's College" piqued his curiosity. "It was Einstein, Descartes, Newton, and Shakespeare, and I just thought: 'Wow, this is fascinating,'" Kane remembers. "The concept that the teachers are the authors themselves, not some intermediary, third-party scholars interpreting things for you."
Kane loved his two years at the St. John's Graduate Institute—so much so, in fact, that he decided to alter his career path to focus on higher education, with the ultimate goal of returning to St. John's College in a professional capacity. After stints at a small independent school in Washington and a larger state university, his dream came to fruition: since 2016 he's been a member of the St. John's Advancement Office.
Kane and his family—his wife, Theresa, and two children, Griffin and Kelly—have attended the Annapolis Cup for years, even before he began working for St. John's. That made the cancellation of this year's match particularly painful—especially for Griffin and Kelly, who will both enter St. John's Annapolis as freshman in the fall of 2020. "We thought one thing we could do to comfort each other and to continue the tradition, at least in our household, was stage our own match," Kane says. And thus, the inaugural Easton Cup—named after the town on Maryland's eastern shore—was born. Kane and Griffin teamed up against Kelly and Theresa; Griffin and John Kane swept the docket, taking three out of three matches. Of course, the victory wasn't the important part. "We had drinks, we had snacks, and we made a whole day of it," Kane says.
A backyard croquet match isn't the only way Kane and his family have been maintaining Johnnie traditions. They've also been holding St. John's study groups: discussions of Great Books that began with a project for Kelly's AP Literature class. "She was given an assignment to read a book, write about it, and present upon it," Kane says. "It was her idea to propose back to her teacher that she would pick a book, and she would present upon it, but also do something extra. She wanted to organize a study group in the fashion of St. John's."
For the next two weeks, the Kane family read Dostoevsky's Crime and Punishment, gathering regularly for in-depth discussion. While not exactly like a Johnnie seminar, they included an opening question, and "we tried to adhere to the St. John's fundamentals and stay within the text itself, instead of bringing in outside context or sources," Kane explains. The family enjoyed the study group so much that they're planning to conduct more. Proceeding by age, beginning with Griffin—"age before beauty," Kane says—each person will have the opportunity to pick a book to read and discuss.
In a way, it's perfect preparation for Griffin and Kelly as they get ready to begin life at St. John's—especially given the unprecedented circumstances they find themselves in. Many of the usual rites of passage that mark the transition from high school to college have been upended by COVID-19; the major milestones that can serve as gateways to a new stage of life have been taken away. It's undoubtedly hard, Kane notes; nevertheless, he's excited to have two more Johnnies making the journey from Easton to Annapolis.
"I'm looking forward to seeing [them have] the same sort of excitement and awe-inspiring curiosity from participating in the Program that I had; reading the books and then speaking with their peers and tutors about big ideas," he says. "I just can't wait to see how their intellectual horizons are expanded—to watch them grow into more fully developed human beings as a result of the experience of the Program."
And, of course, everyone's looking forward to the 2021 Annapolis Cup.