Santa Fe Campus is Still Home to a Few
May 1, 2020 | By Hannah Loomis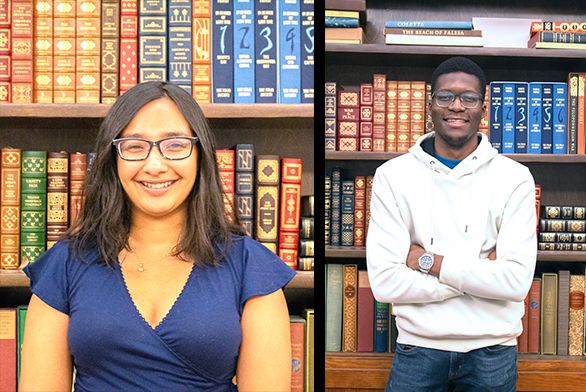 College campuses around the world have emptied due to COVID-19, and the two St. John's campuses are no exception. All but essential faculty and staff are required to work from home, and students are restricted from entering campus. Yet some students, who had no other alternative, have been given permission to remain. On the Santa Fe campus, 22 students are in residence through the end of May as a result of travel, housing, and financial restrictions. Many are international students who could not return home or would be endangered by going there; others are waiting for approval to work in the U.S. post-graduation and shouldn't leave for fear of visa complications.
Campus is not the lively place it was (and will be again). The dining hall, library, bookstore, gym, and classrooms are all closed. The students receive a hot breakfast and lunch, and a bagged dinner at the Coffee Shop. Kitchens are also available for cooking, but students need to stagger their use to maintain social distancing. To ensure students are safe, they've been spread throughout residence halls on campus, asked to refrain from congregating, and encouraged to wear face masks when they leave their rooms.
For Johnnies, who are used to intimate in-person dialogue both in and out of class, this is a jarring change.
As a result, residential and student life staff are exercising serious creativity to keep students both protected and happy. They take turns checking in on students and gently reminding them to stay safe. Hand sanitizer is in plentiful supply, and bandanas have been provided to every student for makeshift masks. In addition, staff are handing out a variety of supplies like watercolors, paintbrushes, and canvas tiles to give students creative outlets.
They're also organizing fun (at a proper distance) on-campus and virtual events open to Johnnies from both campuses, to help lift students' spirits and keep them connected to each other. For example: Malcolm Morgan, student activities coordinator, organized an Easter egg hunt in which students maintained distance and collected eggs in exchange for Girl Scout cookies. The students were also able to track their steps during the hunt and count them toward the Meta-Ionnathan, a virtual intercampus race that saw Team Santa Fe—aka the Hill-Dwellers—emerge victorious.
So what is life like these days for students who are experiencing the sudden transition from a bustling community to an empty campus? We spoke with Chifunda Kakusa (SF20) and Simran Thapa (SF22) over Zoom.
Why did you need to stay on campus?
Chifunda: I have no family in the U.S., and going home was not an option because I'm a senior and an international student. If I were to leave the country, that would nullify my work authorization after graduation; if I were to go back home, I couldn't return. Unfortunately, the positions that I had lined up after graduation kind of just went into the air; recruitment has been put on hold. I currently work at Thornburg Investment Management, in their business development department, and I'm hoping to extend my internship to the end of the summer. If that doesn't work out, I'll probably move out to Dallas, stay with a friend of mine, and do my Ariel internship virtually. It's for an investment bank in Norfolk, CT. I'm also looking into the possibility of working again with a former employer.
Simran: I'm from Nepal, but my father lives in Dallas, TX. I would have gone home to live with him but he was in Nepal taking care of his mother when the school shut down. Nepal closed its borders and so he stayed there to help my grandmother, who had contracted the virus and is recovering.
Where are you living on campus, and how do you eat?
Chifunda: I live in an on-campus apartment, and my girlfriend is in a suite nearby so we spend time together. I was already cooking for myself so I've just continued doing that, and I have a car so I can get groceries easily.
Simran: I'm living in a dorm, and there's another resident here who I didn't really know so it's been a nice getting-to-know-each-other process. There's a common room with a fireplace, so that's where I do all my classes. It's been pretty quiet but I've been hiking and trying to keep myself busy. The other resident and I use the same kitchen. We're taking precautions like putting on our bandanas when we leave the dorm, but there's a considerable amount of trust with the other person to be careful, too. We're just constantly washing our hands, and if we feel ill, we're going to keep a distance from each other. I've also been using the coffee shop, but I've been definitely supplementing. The school is running a shuttle three times a week, so it's been pretty easy to get groceries.
What has it been like doing classes online?
Simran: Well, I found out that my laptop can't handle a Zoom call with 14 people so I've been having major issues, and I honestly got to a breaking point last week where I just turned off my camera because nobody could hear me. It was so frustrating and I just cried. But I did recover, and I talked to Christine [Guevara, executive director of campus health and wellness] and she helped me get a new laptop which should arrive next week. So hopefully I'll get back on track. Otherwise, they've been pretty good. We're hearing a lot from students that were usually silent, and it's a treat to hear from them.
Chifunda: It hasn't been too bad. I don't think I've had any technical issues. I think classes are going alright. The most difficult part, to be honest, is really just getting motivated to do the work. All the readings are massive, and because you're not in the environment, it's like you're entirely on your own.
How about connecting with family?
Chifunda: I talked to my family pretty regularly already, before the entire situation happened. So I talk to them whenever I get the chance.
Simran: I've been talking to my mom a lot more; I feel so much more connected to my family. Especially because I have older grandparents and my parents are with them. So I've been calling, but I find myself making more WhatsApp groups with different family members and checking in every day.
What are you doing for exercise and hobbies—to have fun?
Chifunda: Physical exercise has sort of been difficult for me just because I've got basically work up to my neck. But I do try to maybe go out for a walk. I played soccer, but that was right in the beginning; I would kick the ball over on the Student Activity Center fields, but I haven't done that in three weeks. Other than that, I used to be a DJ before I came here so I'm trying to do that again, just do some random mixes and stuff like that.
Simran: Well, I have such an excellent dance studio in town and they've been doing all of their classes online. And I go to all the Student Activity Center's online yoga classes. It's just been so great to find community in your exercise community. So, that's how I've been keeping sane. I'm also trying to finish a 1,000-piece puzzle. Actually, Sarah Reeve (housing coordinator and senior resident advisor) has a whole collection of puzzles. So I've just been borrowing her puzzles and trying to finish them.