A Johnnie Abroad: From Annapolis to Oxford
St. John's students and alumni can now participate in a two-week summer exchange program through Oxford University, an institution with which the college shares extensive intellectual DNA: the Great Books. In fact, the founders of the St. John's Program, Stringfellow Barr and Scott Buchanan, both attended Oxford, so the relationship is an easy and fitting one. Inaugurated in 2023, the newly launched program provides Johnnies with a two-week summer experience designed especially for them. Participants read some of Western civilization's greatest texts and study philosophy, politics, and economics ("PPE") in small classes led by Oxford faculty. And when they're not nose-deep in books, they're connecting with friends new and old, exploring Oxfordshire, and enjoying field trips across the U.K. Here, student Holly Palermo (A26) shares memories of her time across the Pond; for more information on OEX, visit the program's website. Registration deadline is January 31, 2024.
I was struggling to figure out how to fill my summer at the end of my freshman year in 2023. As an undergrad student looking to pursue graduate school in several years, I knew that I should find an internship or enroll in summer classes to bolster my application. However, my resume was sorely lacking, and I was missing preliminary credentials needed to apply to courses at other colleges. Then one day I received an email in my inbox from the Oxford Exchange. I read it and began filling up with excitement. I had found the perfect program for my summer.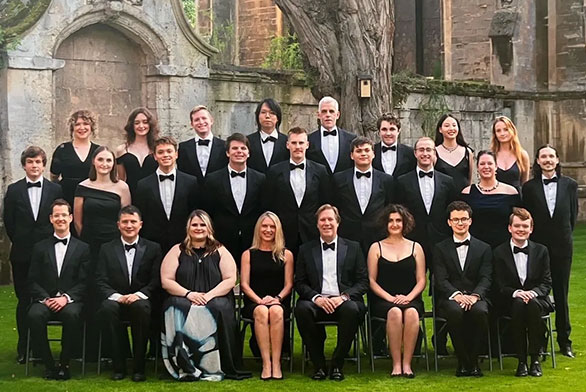 The Oxford Exchange offers a two-week course in politics, philosophy, economics, and international relations theory solely targeted at St. John's students. There was no need for swanky resumes or pre-course credits—being a Johnnie was credit enough. And being held at University College in Oxford England, it provided me with the chance to do two of my favorite things: travel and talk with my classmates!
It was absolutely insane to be able to live and study within the Oxford colleges. I remember going out onto High Street every day and seeing mobs of tourists admiring the school's medieval architecture from the outside, not being able to enter the inner sanctum, whereas once I became a true member of University College, I was able to come and go as I pleased. We Johnnies also received our own cards to frequent the Bodleian Libraries—the main research library system of the University of Oxford—which was an opportunity beyond belief. I became well acquainted with the library's iconic Baroque Radcliffe Camera building and the historic Old Bodleian, spending time in their beautiful reading rooms and admiring the numerous books.
My "Bod card," as students refer to Oxford library cards, felt like Willy Wonka's golden ticket. Minus the chocolate or wizard hats, Oxford's libraries and colleges were truly as wondrous as Willy Wonka's factory and as magical as Hogwarts. Oxford is a place steeped in history and tradition; you can see it on every street and carved into every wall, from an "X" inscribed on the cobblestones marking where someone was burnt at the stake hundreds of years ago to etchings on the walls marking the school's boundaries.
Just being at Oxford alone is an experience that one shouldn't pass up—but on top of that, I got to experience the school with an incredible group of people, meeting and chatting with truly awesome individuals, each with uniquely amazing backgrounds and minds. My fellow Johnnies, the class tutors, and the program coordinators also made my time there unforgettable. I was provided with the chance to expand not just my mind but also my character. I was heard, I was respected, and I was cared for. I looked forward to every new day and the fun it would bring, from attending class to hitting the pubs. (Learning and drinking—the true Oxford experience!)
By the time our group's time together was up, I truly felt that I had joined a new family—my Oxford family. I wouldn't trade my time there for any Capitol Hill internship, and I would strongly recommend you trade two weeks of whatever else you have planned for the upcoming summer in favor of doing the Oxford Exchange!
—Holly Palermo (A26)