St. John's College Annapolis to Welcome Bob Woodward and Governor Wes Moore for Great Conversations
ANNAPOLIS, MD [September 26, 2023] — St. John's College today announced the next Great Conversation between two of the most influential voices of our time: Bob Woodward, renowned investigative journalist and Pulitzer Prize-winning author, and Governor Wes Moore, bestselling author and Maryland's first Black governor. Previous Great Conversations events have welcomed such speakers as Cal Ripken Jr., Chris Wallace, Andrea Mitchell, Judy Woodruff, Tom Brokaw, and Admiral Mike Mullen.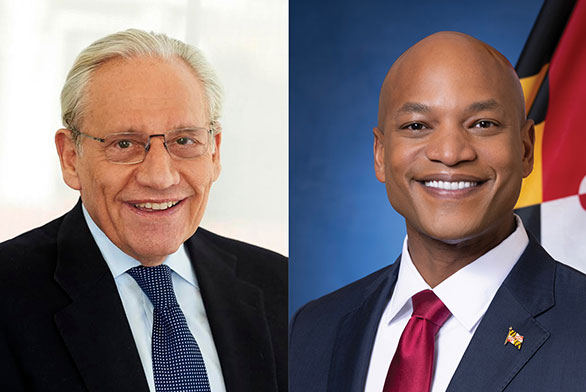 Great Conversations will be held on Sun‌day, Octo‌ber 29, 20‌23, 6:‌45 p.m., in the Francis Scott Key Auditorium in Mellon Hall, 60 College Avenue, Annapolis, MD 21401. Tickets are now available to purchase.
Proceeds from the event support the St. John's scholarship fund. For the 90 percent of Johnnies who need help with the cost of college, your support can be the deciding factor in their ability to attend St. John's.
The Great Conversation series is presented by the Friends Board of St. John's College. The Friends Board of St. John's College is a group of local residents and college staff that develops and supports initiatives to strengthen the mutually beneficial relationship between the greater Annapolis community and St. John's College. Recognizing that St. John's is a valuable educational, historical, and cultural resource, the board seeks to foster activities that reflect the college's academic mission and enhance the quality of life in our community. Great Conversations is sponsored by PNC Bank.
For questions and more information, contact annapolis.events(at)sjc.edu.
ABOUT ST. JOHN'S COLLEGE
St. John's College is the most distinctive liberal arts college in the country due to our interdisciplinary program, in which 200 of the most revolutionary great books from across 3,000 years of human thought are explored in student-driven, discussion-based classes. By probing world-changing ideas in literature, philosophy, mathematics, science, music, history, and more, students leave St. John's with a foundation for success in such fields as law, government, research, STEM, media, and education. Located on two campuses in two historic state capitals—Annapolis, Maryland, and Santa Fe, New Mexico—St. John's is the third-oldest college in the United States and has been hailed as the "most forward-thinking, future-proof college in America" by Quartz and as a "high-achieving angel hovering over the landscape of American higher education" by the Los Angeles Times. Learn more at sjc.edu.
# # #
MEDIA CONTACT: Sara Luell, Director of Communications, sara.luell(at)sjc.edu