Johnnie Alum Brings Food Philosophy from Farm to Table
November 23, 2020 | By Les Poling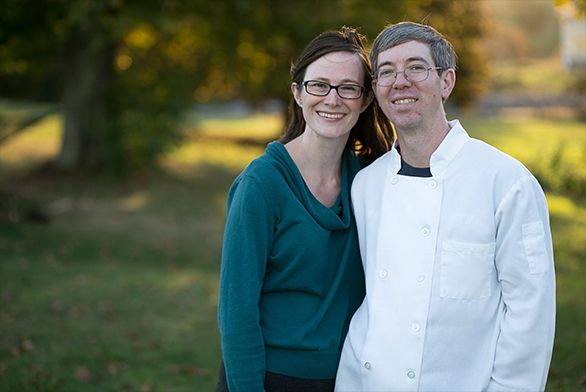 Since 2002, the number of certified organic farmers in the United States has grown by 300 percent—an explosion that signifies a number of changes in America's food industry. For one, there's increased attention paid to the potential benefits of organic farming, for both farmers and consumers. There's also a burgeoning desire to know where food comes from: a 2017 Business Insider article reports that "the demand for local food is growing," and a 2016 Harvard University-Culinary Institute of America study found that "in the National Restaurant Association's What's Hot 2016 Culinary Forecast survey...nine out of the top ten trends revolve around health and sustainability, with some form of local sourcing occupying three of the first four spots." But in a more abstract sense, the organic farm boom almost seems like a trend—as if it's becoming "cooler" to purchase organic vegetables, eat at farm-to-table restaurants, and shy away from big agriculture.
That wasn't quite the case when Justin Naylor (A02)—co-owner, operator, and chef at Old Tioga Farm, a farm and 18-seat restaurant in rural Pennsylvania—worked his first shift at an organic farm. In 2000, he took the year off from St. John's Annapolis to "do something with my hands," he recalls, working on a farm in Pennsylvania. For Naylor, who had spent an unsatisfying first year at the University of Delaware before transferring to St. John's, a break from the books was necessary, and an acquaintance at a small farm in Maryland connected him to an entire network of East Coast operations. At the time, he was primarily interested in the manual labor. But he fell in love with life on the farm—and for the first time, he began to enjoy cooking his own meals.
After his gap year, Naylor dove back into the books at St. John's, met his wife, Dillon, and started making plans to complete his degree and return to farming. He went so far as to move to Pennsylvania farm country after graduation, but, he says, "I was 22 and naïve—that first attempt fell flat on its face." He spent the next several years as a full-time Latin teacher at private schools in Pennsylvania; he and Dillon married, and soon after started a family together. But the farm dream never died. One day, while visiting Dillon's parents in northeast Pennsylvania, they drove past an old farmstead with a "for sale" sign.
"Farming is a great way of life," Naylor says. "But the economics are really, really difficult, especially starting out." With help from family, the couple scraped together enough money to purchase the property, and Naylor worked the farm part-time while still teaching. Then, the farm's community-supported agriculture program—better known as a CSA—grew into a more sustainable source of income. And, importantly, the Old Tioga farm-to-table restaurant started to blossom in popularity. In 2014, Naylor quit teaching, spending weekdays in the fields and Fridays and Saturdays cooking for restaurant visitors.
The restaurant, housed in the Naylor family's two farmhouse dining rooms, serves fixed-price menus consisting of small, seasonal plates. Overall, it's a simple venture, characterized largely by two traits. First: the ingredients are homemade and home grown. "The cooking has always been an outgrowth of the farm," Naylor explains. Second: the restaurant experience, from Naylor's original recipes to the food's presentation, is intimately tied to the writings of legendary Italian cook Marcella Hazan.
In contrast to the ego-driven celebrity chef ethos that dominates popular American food culture—in which every recipe is an endeavor to discover a brand-new, inimitable dish—a Hazan recipe prizes food and the people who eat it. Plus, Naylor suggests, her food has character. "So many cookbooks are just a collection of recipes, which is not very interesting to me," he says. "Marcella's books have this absolutely compelling voice and philosophy. It's about finding a way to bring the best out of just a couple ingredients, and letting them shine."
The influence of that philosophy is evident on the Old Tioga Farm restaurant's website. An introductory paragraph reads: "A perfect peach. Squash blossoms plucked from our kitchen garden moments before cooking. Heritage pigs that have spent their lives ranging a few miles from the farm. These are the kinds of ingredients that make us passionate about cooking." That's no marketing ploy; "the restaurant really is an extension of the farm," says Naylor. "Because I'm bringing home this [organic] produce, I really want to honor the quality and integrity of those ingredients."
Naylor says he spent around three to five years almost exclusively cooking Hazan recipes as he developed his own unique approach to cuisine; in fact, he and Dillon traveled to Italy in the early 2000s for the summer, working on farms to pay for the trip and cooking alongside their hosts in various towns and cities. He internalized the loving, no-frills attitude towards food that he found in Italy, eventually making that ethic central to his own voice in the kitchen.
And so, each weekend—once a month, these days, due to COVID-19—guests gather in the Old Tioga farmhouse dining rooms for artfully presented but unpretentious servings of pan-seared savoy cabbage with bacon and onions, butternut squash soup, beet ravioli with butter and chives, roast pork-loin with rosemary and garlic, and pear sorbet. (That's the November menu.) Naylor handles the cooking; Dillon takes care of all front-of-house duties, acting as everything from server to house manager—an extraordinary undertaking. "We're equal partners," Naylor notes. "It would be impossible without her."
The Old Tioga restaurant has garnered rave reviews on consumer ratings platforms like Yelp and Trip Advisor, and its Instagram page—which has more than 1,100 followers—is filled with pictures of mouth-watering Italian dishes taken by delighted patrons. True to his philosophy, Naylor refuses to take much credit. "I'm not doing anything that countless Italians aren't doing humbly in their own kitchens," he insists.
In addition to the farm and restaurant, Naylor expands on his philosophy towards food with cooking classes he teaches at the farm, and thrice a year he leads educational "cooking vacations" to Rome, Bologna, and Venice. On each day of each trip, he teaches a cooking class, takes participants out to eat, and embarks on a relevant field trip—in Bologna, they visit food producers and artisans that are unique to the region, while the Rome and Venice expeditions feature trips to museums, historical monuments, and cultural sites. Like the restaurant, Naylor doesn't teach as if he's a master chef with the keys to some secret collection of recipes. "The longer I teach cooking, the more I de-emphasize recipes," he says. "I always try to communicate that cooking is like music—what makes it great is good taste and good judgement."
The final branch of the Old Tioga tree is Naylor's journal, where he posts everything from reflections on grilling zucchini to interviews he conducts with a range of culinary figures, including Victor Hazan (Marcella's husband), Alana Chernila (A02) (a food writer, author, and cooking teacher based in Massachusetts), and Samin Nosrat—famous for Salt Fat Acid Heat, the popular cookbook and Netflix series. Naylor doesn't pursue the interviews to elevate the restaurant's profile or give himself standing with food celebrities. "I just wanted to ask these people questions and talk with greater depth than you usually see in a written interview," he says.
The journal, the restaurant, the trips to Italy, the classes, the CSA: everything at Old Tioga Farm is interconnected, born of a core philosophy that prioritizes a shared love for simple, delicious, fresh-cooked food. That sense of interrelatedness will sound familiar to Johnnies. "Had I not gone to St. John's, I have no idea that I would have thought outside the box enough to do all this stuff," Naylor says, referring to the fact that, in lieu of majors, the college offers an academic Program in which all subjects are intertwined.
"There was a quote I heard in the 90s," he adds, "that said something like: you'll learn nothing about how to farm at St. John's, but you'll learn everything about why." While much has changed since the summer he discovered organic farming, Naylor certainly seems to have a firm grasp on that "why."