Being at Work, Staying a Johnnie: Colby Schmidt (A01)
November 20, 2020 | By Chris Liu (A22)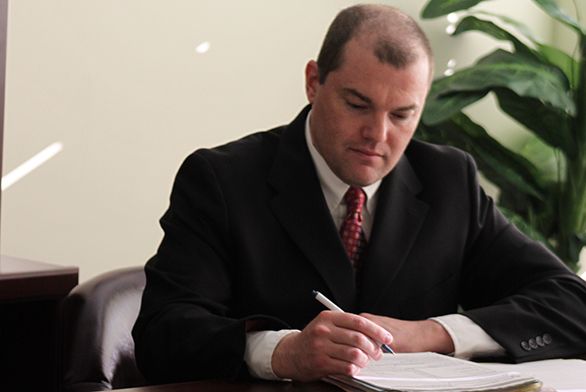 "Being at Work, Staying a Johnnie" is a job-shadowing column offered by the Career Services Office and written by Career Services student aide Chris Liu (A22). In each article, Liu interviews a St. John's alum to discover their perspectives and advice, with the goal of providing illumination and clarity for current Johnnies thinking about life after college. Read the last column: an interview with Brett Heavner (A89).
This week's interviewee, Colby Schmidt (A01), is a deputy director at the Standing Committee on Rules of Practice and Procedure at the Maryland Court of Appeals in Annapolis—the highest court in Maryland.
Chris Liu: How would you describe what you do?
Colby Schmidt: I work for the Court of Appeals, the highest court here in Maryland. I'm the deputy reporter for the Standing Committee that writes the rules of practice and procedure. We draft proposed rules and handle rules-related inquiries from the public.
Can you tell me about your law school experience?
I went to the University of Baltimore. During my first year in law school, my whole schedule was set by the school. They separated the students into sections, so I went to all of my classes with the same section—sounds like what St. John's has as a core group, right? Except a section is large and has around 120 students. After the first year, you can branch out and take whatever classes you want as long as you reach the credit requirements. After you pass all your classes and take and pass the bar exam, then you become an attorney. But you don't really have majors in law. You can pick a specific concentration in law, but that doesn't always translate to practice.
How did you become interested in policy work?
I actually worked in the financial sector for CitiGroup for a while before I went to law school. I was the division manager of the legal department of my company, so I was going to law school only to further my career. After I graduated, the real estate market collapsed and my old company was sold to another company that couldn't offer me a job. I had to find whatever job I could. So I ended up doing trial work for 10 years before I switched to where I am now in a policy position.
I'm telling you this to show that a law degree is pretty flexible because you can do a lot of different things with it. I ended up doing trial work, which a lot of attorneys never do. And eventually, I left trial work to work in different branches of local and state government.
What is the most challenging part of your job?
The most difficult part of doing any legal work is that you need to be able to give your client accurate and timely legal advice. Now that I'm working for the Court of Appeals, you especially don't want to give wrong advice because of the impact it can have. A lot of times when the court is contemplating changing a rule, or making a new rule, or fixing an existing rule, it requires very extensive research. Each of the different states has different procedures for adopting their rules and how they handle things, so the tricky part is being accurate and also being able to give the court the information they need to make appropriate decisions about adopting policies.
What advice would you give Johnnies who are interested in policy?
The best thing you can do is establish a broad base of knowledge, as well as life and work experience, because that's how policy decisions are made here. When new rules are being considered, the chair of the committee brings in everybody that has a stake in the rule. For example, if we're making new criminal rules, we'll bring in public defenders, prosecutors, victims, rights advocates, etc., and let them participate in the subcommittee. Generally, they try to achieve a consensus as much as possible, but they want to at least hear from different perspectives when they're drafting rules.
And internships are very important. St. John's is situated in Annapolis, with an alumni network that knows a lot of people in local government and in the legal community. So use that network and talk to people that are doing the job, and see if it's something that you would really try to do before you go to law school. You will also need to prepare for your LSAT and go to the best law school you can go to—and one that you can afford—because it'll help you get jobs later.
Starting in October, I will feature a specific career field each month. If there is a particular field that you would like to explore or any specific questions that you would like to be included in the interview, please do get in contact with me, Chris Liu.