Johnnie Alum Wins 2021 Margaret Brent Award
June 3, 2021 | By Les Poling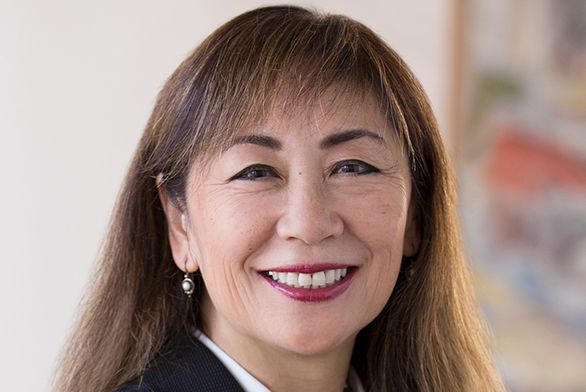 Each year, the American Bar Association recognizes up to five recipients of the Margaret Brent Award, which honors "outstanding women lawyers who have achieved professional excellence and paved the way for other women in the legal profession." This year, one of those lawyers is Joan Haratani (SF79): St. John's Santa Fe alum and secretary of the college's Board of Visitors and Governors and Executive Committee. The Brent award is the most recent in a streak of honors for Haratani, who in the last two years also received the global Amel Zenoune-Zouani Rights & Leadership Award and the Chambers Award for Outstanding Contribution to Diversity in the Legal Industry.
"It's completely surreal," she says of the recognition. "It's almost like having an out of body experience."
For Haratani, the award signifies the latest step in a long and unlikely journey. She grew up in Livermore, California; a small, rural town beset by WWII-era anti-Japanese racism (during the war, members of Haratani's family were forced into the United States' notorious incarceration camps). The presence of the John Birch Society—a right-wing, anti-communist group that, among other things, stringently opposed the Civil Rights movement—only enflamed the situation. Her childhood, she puts it bluntly, was traumatic.
"There weren't many families of color in Livermore," Haratani says. "One of my dad's coworkers was Black, and people burned crosses on his front lawn. So I started experiencing racism from the time I was a kid, which is pretty depressing—to have people call you a Jap and beat up on you."
After attending public high school for one year—where she ate lunch alone in the ceramics classroom because her former babysitter, also an Asian American woman, warned her that the kids in the cafeteria would pelt her with food—she was offered a scholarship to transfer to The Athenian School, a prep high school with an average class size of 10 and "courses on political theory, Rousseau, Marx, and Mills." During her senior year, her high school counselor recommended St. John's College, and she found herself intrigued with the small classes and the idea of learning directly from foundational, timeless works. To seal the deal, then director of admissions Jerry Zollers flew to San Francisco to meet her. Haratani remembers the entire family piling into the car, driving to the Bay Area, and meeting Zollers at a small motel.
"Zollers showed us a slideshow—and I fell in love with the Santa Fe sunsets," she recalls. "I loved the fact that the curriculum started with Ancient Greek, Shakespeare, and moved through history. It just spoke to me."
Haratani's college experience would foreshadow the combination of grit and intellectual courage that has defined her legal career. She worked tirelessly both in the classroom and in the various jobs she used to pay for her education: housekeeping, waitressing, and more. During her junior year, her father became terminally ill; a paradigm-shattering event, but one she kept working through. Overall, the experience was exhausting—and when it came to her education, worth it.
"St. John's gave me the confidence of knowing that if I could navigate the Program, nothing could intimidate me," she says. "It taught me to listen, to respect the views of others, to reject my preconceived ideas, to never stop learning and listening to the truth."
After graduating in 1979, Haratani took a year off to take care of her dying father. She then attended the University of California, Davis School of Law, earning her JD in 1984 and entering the workforce immediately after. The professional environment of 1980s law was hardly welcoming for a young woman of color. Every December 7, Haratani remembers, a partner at her first firm would deliberately remind her—the only Japanese American in the building—that it was Pearl Harbor day.
In that situation, Haratani says, she was faced with two options: give up or excel. So she kept working—tirelessly, indefatigably, without giving herself a moment's rest. And it led to great success. She made partner at that first firm in six years. Quantifiably, her story exemplified the type of rags-to-riches perseverance that forms the foundation of American myth-making. But there was something missing.
"I was about to be president of the Bar Association of San Francisco, and I had already led organizations—so I knew I could do a good job," says Haratani. "But there's always that little voice, that we now call 'imposter syndrome.' I didn't fully own the fact that I could lead the SF bar."
In 2005, she made her last law firm change when she joined Morgan Lewis's San Francisco Office. What set apart Morgan Lewis—where Haratani is now partner—was its then office leader, Jami McKeon, who is now serving her second term as chair of Morgan Lewis and is the first woman to chair a "Big Law" law firm.
"Jami saw the very best in me. She was my mentor and my sponsor," Haratani says. "She said, 'We know how to support strong women like you.' That sentiment convinced me to join Morgan Lewis over five other law firm 'suitors.'"
At Morgan Lewis, Haratani works on a variety of high-profile cases spanning state and federal law in the commercial litigation context, including national mortgage issues. She also facilitates relationships between the firm and its clientele, bringing in new clients and helping maintain a strong bond with firm clients.
But just as important, to Haratani at least, is the leadership role she plays in the workplace: as a member of Morgan Lewis's Advisory Board, as a board member of Asian Americans Advancing Justice (AAJC), and beyond. In particular, she relishes the ability to offer guidance to young lawyers, from new employees at her firm to Asian American attorneys via the National Asian Pacific American Bar Association (NAPABA) and the Asian American Bar Association of the Greater Bay Area (AABA).
"From day one, even as an associate, I've always enjoyed helping people," she says, "and as I learn from being a mentor, I also learn from my mentees. It's like the Great Books: you give something, and you get something in return."
In 2016, Haratani collaborated with Frank Chi and the Smithsonian to produce a video about her family's experience in the Japanese incarceration camps—a hybrid of memory, history, and contemporary exposition that connects her past to an urgent warning about the present. That, too, is a kind of mentoring, and it speaks to the obligation Haratani feels to do more than earn a paycheck.
Which ties neatly back to the Margaret Brent Award. Named after the first practicing woman lawyer in the American colonies, the award is a fitting tribute to the defining characteristics of Haratani's legal career: sharp acumen, relentless persistence, and a devotion to teaching others. While she's skeptical of trophies in general, what the Brent award represents means the world to her.
"It was just such a tremendous effort by so many people," she explains, referencing the nomination, testimonies put forward by NAPABA, and the letters in support of her nomination from McKeon and Dale Minami—the legendary civil rights lawyer who overturned the conviction of Fred Korematsu, a dissident against the incarceration camps. "For Dale to be in my corner, for Jami to be in my corner, for all the people I've mentored to say such nice things about me—I just feel very fortunate and blessed."
Given the success she's achieved throughout her career, the Brent award likely won't be the last piece of silverware that will prompt Haratani to reconcile feelings of incredulity and gratitude. But fortunately, she's ready to do just that.
"I have been trained to ask provocative questions, to think about things," she muses. "I don't take things at surface level; I think about the connections. And that's the Johnnie trade."