New Alumni Success Project Spotlights Trailblazing Johnnies
June 4, 2021 | By Les Poling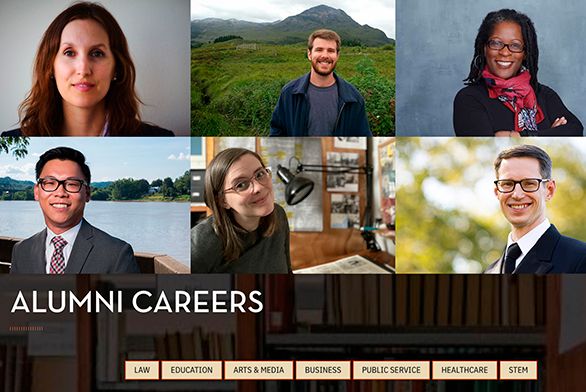 St. John's College is internationally renowned for its commitment to the Program of Instruction—an interdisciplinary reading list that spans 3,000 years of human thought, vibrant and vigorous discussion, and seminar-style classes, all designed to encourage intellectual fearlessness, collaborative inquiry, and curiosity. It's a one-of-a-kind education that differs from most American colleges in many ways, but one in particular tends to stand out: there are no majors.
For most Johnnies, that distinct characteristic represents a key part of the college's appeal—an invitation to explore ideas and disciplines without boundaries. But it can also lead to the misconception that St. John's graduates enter the job market at a disadvantage compared with traditionally educated college students. It's true that Johnnies graduate with a radically different skill set than most of their peers; it's also true that they find great success once they discover their career fit.
Johnnies' unique professional qualities present both a challenge and an opportunity that has inspired the college communications office to develop a new project aimed at shining a light on alumni working across diverse fields. The resulting initiative, which includes a web page featuring dozens of Johnnies achieving professional success across the globe, launched in March 2021.
THE PROCESS
"We started with a year-long deep dive on LinkedIn," says Carol Carpenter, the college's vice president of communications and creative strategy. "And we found that the St. John's cliché is true: our alumni are succeeding in almost every profession imaginable."
The biggest challenge of the project, she explains, wasn't finding great alumni to profile; it was finding so many great alumni to profile. This required the office to develop a system for significantly shortening its extensive list of candidates. Communications staff began by organizing alumni by career field, which resulted in seven overarching disciplines: law, business, education, arts and media, public service, healthcare, and STEM. From there, Carpenter and project manager Annette Prapasiri (SF04), principal designer at Santa Fe-based Six Blooms, began the arduous task of assigning alumni to fields.
"Where does an architect go, for example?" Prapasiri asks. "Is an architect an artist? Do they belong with the engineers? What if they own their own firm—are they in business? Johnnies frequently occupy positions at the intersections of disciplines. We thrive in these transdisciplinary roles because it is where we feel most actualized."
For that reason, grouping alumni in professional categories was particularly time-consuming. "No one likes to be reduced to a gross category, least of all Johnnies," Prapasiri acknowledges. "However, since one of the project goals is to showcase our alumni to the world, it was important to recognize the established disciplines and professional categories that other institutions and people use."
Once alumni were assigned to fields, Carpenter and Prapasiri took a step back to review the information they had—which was overwhelming. "At that point, we had to make some very hard choices because we only had the resources and time to develop so much content," says Carpenter. The two knew that they wanted the selected alumni to be more than just "successful;" they wanted to showcase the multitude of professions that alumni inhabit, to represent the growing diversity of the college's alumni body, to include multiple stages of alumni careers, and to celebrate their differing passions, talents, and beliefs.
"As people explore the breadth and depth of each alum's story, they will be blown away by all the hats that Johnnies wear," says Prapasiri.
THE OUTCOME
The end product is a powerful testament to the St. John's Program. There are Johnnies in attorney general's offices in California and Maryland. There are Johnnies working as New York Times reporters, White House correspondents, and managing directors of major podcast companies. There are Johnnies serving as United States Senators, ambassadors to foreign countries, and judges in tribal lands. There are Johnnies performing groundbreaking research on black holes and neutron stars. There are acclaimed furniture designer Johnnies, pediatrician Johnnies, head-of-school Johnnies, CEO and entrepreneur Johnnies, and Forbes magazine "30 under 30" Johnnies. From library directors to vaccine research directors, nurses to novelists, software engineers to architects, Johnnies are doing it all.
"St. John's alumni play a vital role as a resource that our students can turn to for advice about careers, the advantages of a liberal arts degree, and tips for finding jobs and internships," says Annapolis Director of Career Services Jaime Dunn, pointing to the eagerness of Johnnie alumni to participate in popular student events such as career panels, workshops, and more.
"Students sometimes worry that without majors, they're at a disadvantage in the job market," adds Charlie Bergman, director of the Office of Personal and Professional Development (OPPD) in Santa Fe. "When we at OPPD in Santa Fe and Career Services in Annapolis show them the impressive story of our alumni's success—now made accessible on the college's website—it's very reassuring for students."
Importantly, an ongoing database of successful alumni has the potential to do more than correct misconceptions about the value of a St. John's degree. An enormous number of the alumni who corresponded with the college pointed out that the skills developed or deepened at St. John's—inquisitiveness, audacity, a willingness to collaborate and ask questions—haven't only helped them get to where they are today; those skills continue to shape and elevate the way they interact with the world. The practices and traditions that form the St. John's community of learning also help Johnnie graduates maintain and expand a sense of intellectual togetherness and honesty as they explore the workforce, the country, and the world.
Similarly, the alumni success project will ideally function as a kind of multifaceted networking tool for the greater college community. It will show prospective students the wide world that awaits them upon their graduation from St. John's. It will provide current and recently graduated students with a list of fellow Johnnies working in a vast array of professions and, in some cases, facilitate communication between those students and alumni. It will give Johnnies in the workforce a convenient tool for finding professional connections. And in more than a few cases, it will demonstrate how Johnnies seamlessly transcend the boundaries between STEM and education, education and arts, arts and business, business and law, law and public service. Joan Haratani (SF79), a participating alum and recipient of the American Bar Association's 2021 Margaret Brent Award, put it simply:
"St. John's College gave me the quiet confidence of knowing that if I could navigate the Program successfully, nothing could intimidate me. It taught me to listen, to respect the views of others, to reject my preconceived ideas, to never stop learning and listening to the truth."
View profiles of St. John's alumni now on our alumni success page, and follow our social media channels and sjc.edu/news as we continue to feature additional alumni.