Learning, Language, and Culture at Middlebury
January 9, 2020 | By Eve Tolpa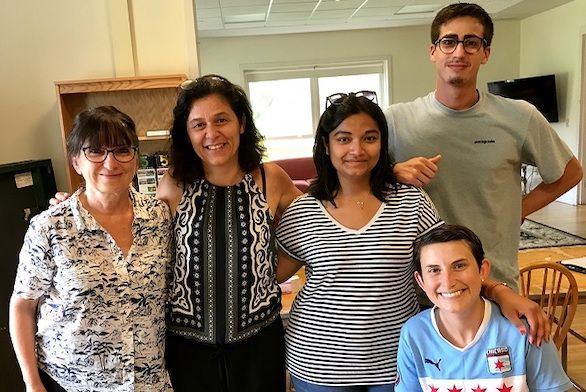 Last year, a recent St. John's graduate recommended the Middlebury Language Schools to Sebastian Huerta (SF20). He acted on the suggestion, and the resulting experience was "one of the best summers I can remember since childhood. Thanks to General Pathways [Fellowships], I was able to be part of an amazing program."
General Pathways Fellowships are college-funded academic opportunities that allow students to explore disciplines related to the St. John's Program, helping Johnnies pursue their passions and prepare for life after graduation. For Huerta, that meant spending his summer speaking almost no English.
He attended Middlebury's French immersion course, which requires students to speak the language both inside and outside the classroom. "This creates a space that can only be replicated in an actual Francophone region," he explains, "except that the pressure is manageable [because] the sense of community gives one a feeling of togetherness in the project of learning."
In addition to delving into grammar, phonetics, and methodology, participants also studied French culture, going so far as to cook French dinners and desserts. Despite the instructional differences between Middlebury and St. John's, Huerta discovered that his school-year work with the language had provided him with a solid foundation. "Although the St. John's tutorials for French are different from traditional French courses—and much different from the format employed at Middlebury—I found that the direct approach to French text [at St. John's] gave me a sizeable vocabulary to draw upon," he notes. "Perhaps more importantly, the French program at St. John's gave me a confidence that I brought to my studies at Middlebury."
That confidence helped Huerta push through the challenges of studying the language, and in the course's final week, he experienced a major breakthrough.
"It was the last week before the final examinations, and I was headed to the Chateau for one of my last French courses. As I sat in my French methodology course, I recall it dawning on me," he says. "I could understand my professor, as he spoke his usual Parisian French, at a level that was astounding considering where I began."
And best of all, Huerta's time at Middlebury solidified his interest in studying the language. "I would foremost like to continue to learn, as the French language is both beautiful and difficult," he says. "Before Middlebury, I had an idea of what was possible in my project of learning French. But after Middlebury, I shattered my own expectations and thereby opened myself up to the real possibilities available to one who applies themselves."