Johnnie Combines Great Books, Content Creation at the Children's Defense Fund
January 13, 2020 | By Les Poling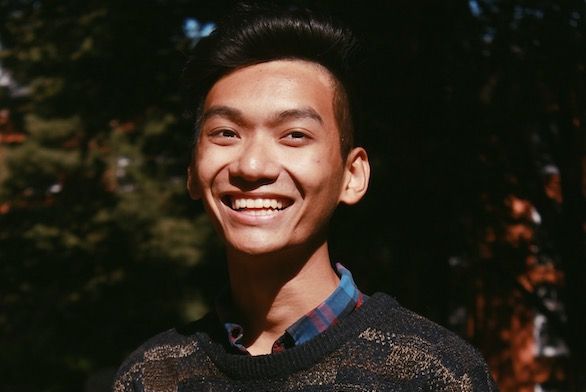 Since arriving at St. John's College, Jay Tram (A20) has embodied the holistic nature of the liberal arts.
Tram is, in his words, "a country boy from Quang Ngai, Vietnam, who has been inspired by and striving for a city life." He's also an aspiring actor and artist, a caramel Frappuccino fanatic, a passionate intramural participant, and—after a summer Hodson internship—a skilled marketer.
"I was always drawn to working to connect with people through messaging or stories," he says. "In high school, I ran my own flower arrangement business that helped clients both express and communicate with loved ones. After my first year in college, I worked as a marketing specialist and consultant intern for a start-up in Vietnam to provide clients with educational information about preparing for top colleges in the U.S." His Hodson internship was a natural extension of his prior experience and his drive to thrive in new, fast-paced environments.
Many Johnnies pursue Hodson internships—donor-funded opportunities that help students explore disciplines they may not encounter during the academic year. Tram wanted to use his summer to develop a burgeoning interest in marketing. But his time at the Children's Defense Fund (CDF) turned into something much more transformative. Tram had never worked for a nonprofit before, and the months he spent working with the CDF had a profound effect on his perspective.
Founded in 1973, the CDF "focuses on child policy, advocacy, and research," Tram says, "working closely with communities to improve lives for children across the country." Tram had respected the mission of the CDF before he began his internship—working there only deepened his admiration. "[It] gives me so much appreciation for the people who work at and for the CDF."
As soon as he started his internship, Tram dove straight into his work, eagerly learning to implement the CDF's newly introduced email analytics software in order to help optimize digital marketing initiatives. However, even as he worked with unfamiliar technology, Tram knew he could contribute with the abilities he already had, particularly the strong reading, analysis, and writing that Johnnies practice year-round. "I wanted to work on something that I'm good at," Tram says, "and that is content. So I asked to help with strategy and writing."
As a content creator, Tram worked on a variety of projects throughout the summer. He wrote reports on work-related webinars, researched and wrote weekly pieces on articles in the Chronicles of Philanthropy, and participated in marketing and communications strategy meetings. Additionally, he created and edited search-engine-optimized titles and descriptions for 85 webpages; developed material for vital campaign emails; wrote scripts and content for email and phone communications with major donors; and managed outreach on Facebook.
Throughout his internship, the Program was never far from mind. "My experience at St. John's was crucial in piecing my abilities together, [which was] needed for internship success," Tram notes. "My work required me to understand all the different programs that the CDF does to serve the public in order to translate the actual work and its meaning into marketing content."
He takes a similar attitude towards marketing in general. "I think the way we approach ideals and abstract concepts is extremely important," Tram explains. "At St. John's, for example, we don't take turns quoting Kant in class. We humanize his abstract concepts and translate them in a way that we can communicate. Similarly, while finding out what would be ideal for me and my audience, I hope to create marketing content that is digestible and easy to comprehend."
By the end of the summer, Tram says, the internship "shifted my perspective, pushed me to develop my professional capacity, and enlarged my vision." He felt much more qualified as a digital marketer. "I was able to work closely with experienced professionals to come up with the best marketing products," he says. "I loved that my supervisors took my interests in learning and working hard seriously, because that allowed me to be hands-on, to make mistakes, and, ultimately, to grow." He also feels that he confirmed his professional interests. "I know that I want to have a career in marketing," he says. "Starting with content marketing and building up to integrated marketing."
And whether it's in marketing, acting, intramurals, or the classroom, Tram is excited for what comes next.
"I am very thrilled to see where the Great Books Program will take me in the future."