Meet the Johnnies: Documentary Filmmaker Lucas Smith
January 16, 2020 | By Les Poling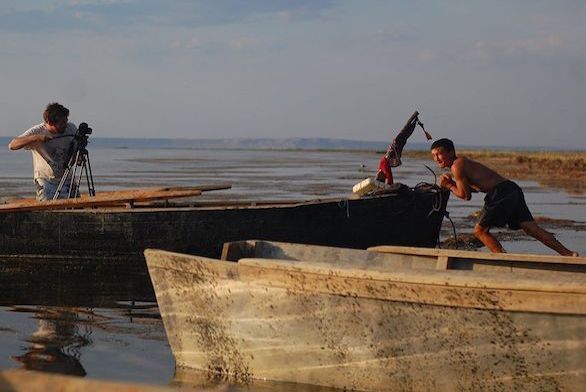 Back in 2002, long before he decided to attend St. John's College, Lucas Smith (SF07) created his first film: an animated science-fiction short co-produced with his brother. "At the time, I wasn't interested in storytelling so much as the possibilities of the technology," Smith admits. "Almost all software for making those kinds of films was outside the means of teenagers in Arizona." Smith's older sister, who was working in Ukraine, gave her brothers 3D modeling and animation software for their movie—"it was available on the black market there," Smith explains—and he was instantly hooked; just not on the technology. "Filmmaking was an immediately empowering experience," he says. "Completing the film and sharing it with my peers gave me the confidence to know that this was something I could return to in the future."
What began with a 30-minute sci-fi flick has expanded into a career in documentary filmmaking. Since graduating from St. John's, Smith has spent time in South Korea, New York City, Japan, Uzbekistan, Sweden, and other countries, earning an MFA in social documentary filmmaking from the School of Visual Arts (SVA) and working on documentaries about everything from modern dance to Marxist activist Peter Custers—Last Man in Dhaka Central, a film he worked on with Guggenheim fellow Naeem Mohaiemen, premiered at MoMA's Documentary Fortnight. Most recently, he helped edit Harvest Season, a documentary by Emmy-nominated director Bernardo Ruiz that "follows the stories of Mexican-American winemakers and migrant workers who are essential to the wine business, yet are rarely recognized for their contributions." Harvest Season aired on PBS in 2019 and has since received praise from outlets including the Wall Street Journal, the Associated Press, and NBC. We talked to Smith about St. John's, his filmmaking career, and how a quintessential Johnnie trait—questioning the status quo—has helped guide his artistic pursuits.
How did you end up at St. John's?
I­­­n my fourth year of high school, a friend suggested I apply to St. John's in Santa Fe, based on positive feedback from a mutual friend who had enrolled in Annapolis. After I was accepted, I visited the school in advance. That was a great experience for me on a number of levels. Participating in a mock seminar [and] meeting people my own age with a serious interest in literature made me feel at home among peers. The stark natural beauty of the campus and Atalaya Mountain also played a large role in choosing the Santa Fe campus. I knew I would have a lot of space, and silence, to think.
What are some of your favorite memories from St. John's?
Exploring the sciences through the work of Goethe and Harvey were potent experiences for me, opening my eyes to ways of thinking about the natural world that were both poetic and direct. Of books assigned in seminar, the "histories" were the most fascinating to me, especially the works of Herodotus, Thucydides, Tacitus, and the Old Testament. Reading these exposed me to such a wide variety of voices, indoctrinating in me a fascination with how personal identity and history are communicated through storytelling.
My favorite tutor was Mr. Thomas Scally, who conducted my junior year preceptorial on Gravity's Rainbow, as well as my senior year seminar. The preceptorial was a memorably raucous group of students and easily the most fun I've had reading and discussing any book. I think Mr. Scally must have really enjoyed the preceptorial as well, as he didn't end up assigning an essay.
Did you participate in any filmmaking activities at St. John's?
I put my professional interest in filmmaking on hold while attending St. John's, but I did expand my film literacy a great deal by attending screenings hosted by the St. John's Film Society and the CCA Cinematheque in downtown Santa Fe. I also checked out a lot of Criterion Collection DVDs from the library. It was there that I discovered the films of Andrei Tarkovsky, whose work really opened my mind to the broader possibilities of filmmaking—in particular The Passion According to Andrei. The works of Tarkovsky and Aleksei German remain the fundamental works that I return to for inspiration.
Tell us about Harvest Season. How did you get involved?
Harvest Season is a documentary directed by Bernardo Ruiz, one of my lecturers at SVA. It was a passion project of his, filmed over several years, focusing on the relationship between immigrant labor, Mexican-Americans, and the wine industry in Napa Valley, California. The story climaxes in the catastrophic wildfires in Northern California in October 2017. I got involved in the film shortly after the fires, having worked in various editorial capacities on several of [Ruiz's] previous projects.
I worked as an editor at the rough-cut stage of Harvest Season, encountering much of the footage for the first time and working with Bernardo to cut down and shape the early vision of the film. Because the film was multilingual by design, I primarily focused on the English language sections of the film, and any sequence that leaned towards visual, rather than verbal, storytelling. A veteran editor, Fiona Otway—who edited the Oscar-nominated documentaries Iraq in Fragments and Hell and Back Again—was also involved in the project and executed the final cut of the film. As is the case with all films of this scope, Harvest Season was a collaborative achievement, and easily the most ambitious and complex film I've ever worked on. I take pride in the fact that a number of sequences still bear my fingerprints in the final cut.
What are some other projects you've worked on? Are there any that you're particularly proud of?
The first film I worked on after graduating was Craig Lowy's feature documentary, OXD: One Extraordinary Day, which premiered at DOC NYC film festival. It was a six-month shoot following the avant-garde dance choreographer and MacArthur "Genius" Elizabeth Streb as she prepared for and executed a series of spectacular performances during the London Olympics. The most notable performance involved dozens of dancers suspended by tethers from the spokes of the London Eye. During a performance at Trafalgar Square, I actually shot alongside Albert Maysles, the co-director of Grey Gardens—a film I was first introduced to at St. John's—who was providing video for a competing film production.
The project I'm most proud of is one that is still ongoing, Ghosts of the Aral Sea. Since 2011, I've been shooting a longitudinal documentary set in western Kazakhstan. The film has roots in a short film I finished at SVA. Its primary focus is on the life and struggles of two fisherman brothers living in the ecological wastelands of the Aral Sea; I've been filming with them on and off over the last decade, usually staying there and filming for a month at a time. Naturally, the film has taken on a broader scope over time in order to tell the story of the tortured landscape. The film's aesthetic is fairly rigorous for me, and because of this I've chosen to take my time with it rather than force it.
I'm also proud of my work as a cinematographer of dance films. I worked as a cinematographer on a half-hour documentary, Between Yourself and Me, [that focused on] New York City-based theatre company Third Rail Projects. I worked closely with the choreographers to adapt two of their works for use in the documentary. Their Lewis Carroll-inspired Then She Fell, which is an amazingly successful and still-ongoing immersive theater show staged in Brooklyn, was an incredible challenge and honor to adapt.
How do you think the St. John's Program has helped you in your film career?
Being able to write abstractly and in detail is a valuable tool for any filmmaker—[I use it] to organize my thoughts for myself as well as communicate my goals to grant-giving organizations. One of the unspoken benefits of listening to competing points of view in St. John's seminar was learning how to express the same idea in multiple ways, and tailoring my approach for the benefit of the recipient.
Reading the Great Books and participating in seminar discussions helped cultivate my open-mindedness and patience, qualities that I consider both personally and professionally valuable. Technical knowledge of filmmaking craft is available to anyone these days, but it only goes so far—especially in documentary filmmaking. Exhibiting open-mindedness and patience with my subjects and filmmaking collaborators allows trust to develop. [And] unless your subject knows that you're performing with the best of intentions, certain doors will always remain closed, and the work suffers.
Finally, what advice would you give to aspiring Johnnie filmmakers?
Study a subject that makes you or others uncomfortable. Everyone has their own constellation of taboos: topics that they've been raised to either ignore or treat with hostility. It's this [area of] friction where I find the most interesting, well-motivated material. Whether that's a quality essential to the taboo or simply reflective of my psychological makeup as an artist, I don't know; I'm not sure I can, or want to, distinguish between the two.