June 6, 2017 | By Andrew Wice
As the Graduate Institute at St. John's turns 50 years old, the college is featuring a series of stories to highlight the history, students—past and present—and other contributors who have made it what it is today.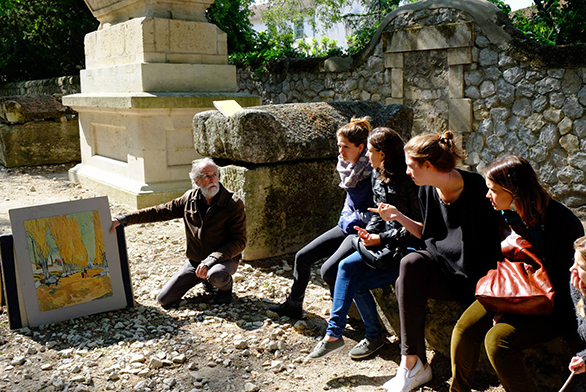 The small city of Aix-en-Provence, France, has appeared on the resumes of St. John's students and alumni with increasing frequency over the years.
Many Johnnies have studied at Aix's Marchutz School of Fine Arts. Others have studied the great books at Aix's IAU College, the host campus for St. John's new study abroad program.
These intersections can be traced to a number of alumni and tutors, but foremost among them is Graduate Institute alumnus John Gasparach (SFGI03), who attended IAU as a young man, and who now serves as the co-dean and co-head instructor at Marchutz.
Born in Seattle just after World War II, Gasparach spent his junior year studying abroad at IAU. Unable to speak French, he learned to appreciate the universal language of art. He found an environment that spoke to him atop the castellated hilltop hometown of Paul Cézanne.
"Aix-en-Provence is very particular, as far as the light and atmosphere," he says. "The quality of the stone the whole city is built from—it's this beautiful yellow ochre stone, and it reflects the wonderful light. … It conditions the way you think and feel."
While there, he met German painter Leo Marchutz, a committed scholar of Cézanne and teacher at IAU. Under the tutelage of Marchutz, Gasparach began to draw and paint. Haltingly at first, and then with greater confidence and curiosity, he devoted himself to the pursuit of art at Marchutz's newly formed Marchutz School of Fine Arts—a place where students have an intensive regimen of drawing and sculpture studio art, art history, and a seminar.
In 1973, St. John's alumnus Gail Haggard (SF71) made the initial connection between Marchutz and St. John's. It was a connection that would change the way Gasparach taught, and change the future of many Johnnies' lives.
Haggard's ex-husband was the late Dean Haggard, one of the original tutors at the Santa Fe campus of St. John's, who brought his passion to Aix-en-Provence during a summer session in 1973.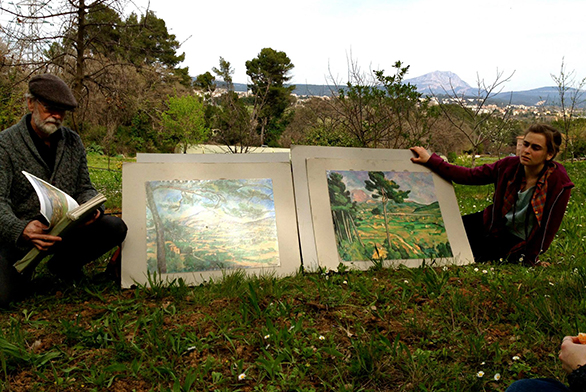 Gasparach watched Haggard lead a seminar on Plato's Symposium—and saw firsthand how art students were transmuted from disinterested to engaged. It was his first encounter with a purely Socratic method of tutelage.
"He asked questions and never left a single student out of the conversation, which developed and took on a life of its own," Gasparach says. "Watching Dean teach, never lecturing or imposing himself—with his vast knowledge—on the conversation, I said to myself, 'If that can be learned, I want to learn how to teach that way.' And from that moment on, I wanted to come to study at St. John's."
It took him almost 30 years to get to St. John's, as his role at Marchutz was a stabilizing force during periods of change. The school was brought under the aegis of the IAU, and he ascended to full-time teacher and administrator.
In 2000, Gasparach finally made the journey to Santa Fe's Graduate Institute. Over four summer sessions there, he found that the Socratic method of teaching still distinguished its academic system.
"What stunned me was that I thought I had come to St. John's because I was interested in the texts, in the fact that it was all discussion in seminars," he says. "But in that first seminar, I realized that the foremost thing I was going to learn—and I was stunned by it—was how to listen. I hadn't considered that. It's not just one teacher; it's fundamental to St. John's College. It's part of the ethos."
Today, Gasparach's duties continue to expand with the Marchutz School's brand-new master of fine arts program—to which Johnnies have received scholarships—and he remains involved with St. John's initiatives there, such as the study abroad program and Global Pathways fellowships.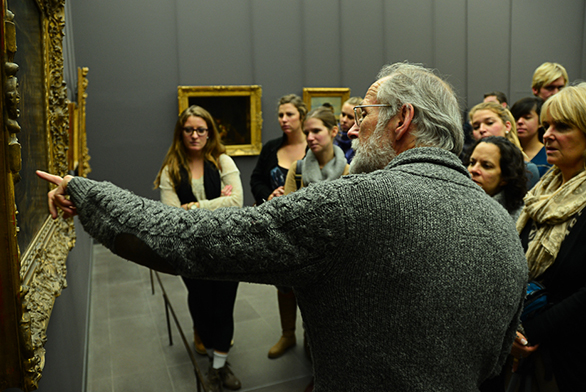 He is confident about entrusting the school's future to the next generation when that time comes. They have been patiently learning and listening under his guidance, perpetuating a rare and valuable continuity.
Gasparach's voice reflects the fact that he's spent half his lifetime in France—not in accent or pronunciation, but in rhythm. His thoughts issue in the unstressed syllables of Gallic cadence as he considers his role in the lineage connecting Cézanne, Marchutz and St. John's with today's students, some of whom may become tomorrow's teachers.
"Listening is fundamental to teaching, to learning," he says. "Listen to the text, listen to the discussion. You're not imposing yourself on the experience, and the act of painting parallels that. It's learning how to open yourself to nature; it goes back to Socrates. You're a midwife, you're not there to impose."
Learn more about the history of the Graduate Institute and upcoming festivities on the GI 50th Anniversary page.