A Literary Life Taken Too Soon
March 3, 2017 | By Tim Pratt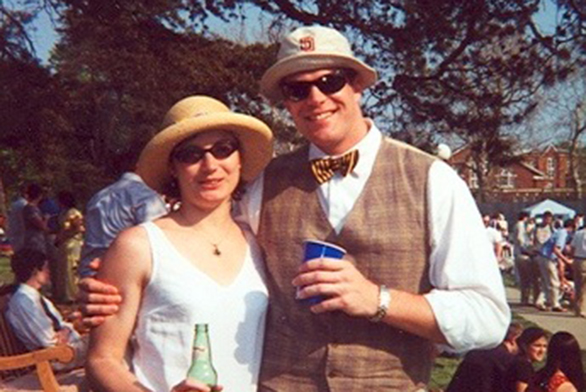 High up in the mountains of northeastern Afghanistan, a firefight was raging.
It was June 28, 2005, and the Global War on Terrorism was in full swing. A four-man Navy SEAL reconnaissance squad was engaged in a fierce battle with Taliban forces, and the SEALS were greatly outnumbered.
But a rescue mission was underway.
A team of eight SEALs and eight Army commandos flew in on an MH-47 helicopter. Former St. John's College Graduate Institute student Lt. Cmdr. Erik Kristensen was leading the mission.
Then tragedy struck. A rocket-propelled grenade hit the helicopter, sending it crashing to the ground. Kristensen and everyone on board was killed.
Combined with the deaths of three of the four SEALS already on the ground, it was the single biggest loss of life for Naval Special Warfare forces since World War II.
Now, there is a memorial lecture series held in Kristensen's honor at St. John's in Annapolis.
Lt. Michael Zampella, a Navy Reserve officer and 1992 graduate of St. John's in Annapolis, organized the lecture series to honor Kristensen's memory.
Zampella never knew Kristensen, but when he realized that Kristensen was a fellow Johnnie, he felt a special connection with him. Some of the SEALs with whom Zampella was deployed to Iraq in 2010 and 2011 also knew Kristensen, and the idea of holding an event to honor him was born.
Zampella began to learn more and more about Kristensen, and discovered Kristensen was a big Herman Melville fan, especially his novel Moby Dick. Zampella also learned Kristensen was slated to go to Paris as an Olmsted Scholar, an opportunity for U.S. military officers to study abroad.
The idea of honoring Kristensen with a lecture series at St. John's, with its focus on the great books, was fitting.
"He was very literary minded," Zampella says. "It didn't surprise me (to learn) after the fact that he attended graduate school at St. John's."
Prior to St. John's, Kristensen attended Gonzaga College High School in Washington, D.C., and Phillips Academy in Andover, Massachusetts. He then headed off to the Naval Academy, where he graduated in 1995.
Kristensen served as a Surface Warfare Officer and as an English instructor at the Academy. While working as an instructor, he attended the Graduate Institute at St. John's.
Kristensen went on to complete Basic Underwater Demolition/SEAL training, served with SEAL Team Eight, then deployed as a Task Unit Commander with SEAL Team Ten to Afghanistan.
After the helicopter in which Kristensen was riding got shot down in June 2005, the four SEALs on the ground continued to fight against Taliban forces, with only Petty Officer Marcus Luttrell surviving. The 2007 book and 2013 film Lone Survivor tells that story. Actor Eric Bana played Kristensen in the movie.
The lecture series held in Kristensen's honor, jointly sponsored by St. John's and the Naval Academy, has taken place once a year at St. John's since 2013. The lectures focus on civil-military relations; great works of military or naval history; literary works depicting military or naval figures and events; the importance of naval and military power in peacetime and in war; and the role of liberal arts in professional military education.
"We've been able to continue this," Zampella says, "and will continue for the foreseeable future."
Recordings of previous lectures can be found in the SJC Digital Archives.