A Lush Life: Michael Elias on Writing and Showbiz
March 27, 2020 | By Les Poling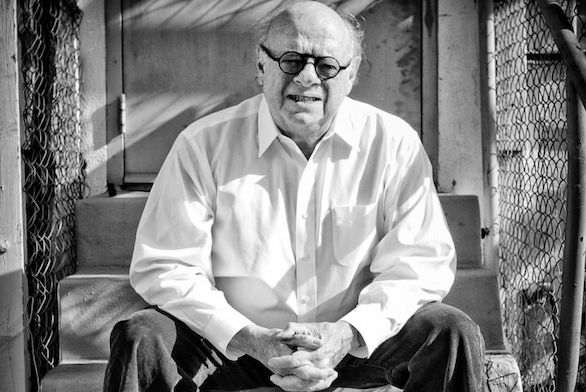 What is the defining constant of an extraordinary life? A life that includes movies like The Frisco Kid and The Jerk; actors like Jeff Goldblum, Forest Whitaker, and Harrison Ford; a writing partnership with Steve Martin; and critical acclaim across film, television, theater, and the novel?
"That's a pretty good question," admits Michael Elias (Class of 1962). "I don't know if I have a good answer." But from an outside perspective, the constant would seem to be curiosity—a need to ask questions.
Take his decision to attend St. John's, for example. Elias recalls an evening spent with his dad watching The $64,000 Question, a game show that inspired Robert Redford's 1994 movie Quiz Show. They watched in awe as contestant Charles Van Doren correctly answered question after obscure question, confounding skeptics and racking up dollars along the way. "He was winning all this money, and he was 'the smartest man in America.' My father turned to me and said, 'Find out where he went to college.' It was St. John's." Never mind the eventual revelation that Van Doren, along with other contestants, had received advance answers to specific questions at the behest of show producers, resulting in enormous scandal and congressional hearings. Elias visited the campus and was hooked, and after an admissions interview, he packed his bags and moved from upstate New York to Annapolis.
Theater Beginnings
Elias started at St. John's in 1958. Like most Johnnies, he thrived in an environment that encouraged constant dialogue and questioning, and he loved the curriculum—to this day, he says Sophocles' Philoctetes is one of his favorite plays. But most importantly, he recalls, "St. John's, despite not having a theater program, actually had a great theater program!" Along with Ted Stinchecum (Class of 1961) and the King Williams Players, Elias performed in several plays a year; he also wrote and performed comedy sketches in the basement of Campbell Hall with Bill Salisbury (Class of 1962). "Under Ted Stinchecum's direction, we actually did Beckett—really early productions of Endgame and Waiting for Godot—and we did Brecht's Galileo. I got the acting bug at St. John's, and I even acted in community theater in Annapolis," he says. Elias didn't consider his budding thespianism a career, "but I was attracted to it. I loved it."
By senior year, he remembers, "I really had no idea what I wanted to do." He was accepted to law schools in New York and Pennsylvania, "but I just never showed up." Instead, he applied to the American Studies program at Yale. He interviewed in New Haven and was told he'd be accepted; "then, on my way back to the train, I passed the drama school," he says. "I went into the drama school, and I thought, 'I think this is what I really want to do.' So I withdrew my application to American Studies and applied to the Yale Drama School. And I didn't get in."
Elias spent the summer at his parents' home in Woodstock. Then, he moved to New York City.
"I got a job teaching junior high school and went to acting school at night," he says. "And there I was, an acting student." One day, he ran into Miriam Levine (Class of 1963) on 8th street, who cast him in the Living Theatre's production of The Brig. "Becoming part of the Living Theatre changed my life," he says; he travelled to London with The Brig, and when he returned, he started getting roles at other iconic off-Broadway companies like The Judson Poets Theatre, La MaMa, and Caffé Chino—famous for introducing audiences to Sam Shepherd, Al Pacino, Diane Lane, and countless others. He also attended improvisational theater workshops, where he met fellow writer and aspiring actor Frank Shaw.
A partnership blossomed. "We became comedians and worked our way up to nightclubs, and opening [for] rock and roll groups, and then the Tonight Show [with Johnny Carson]," Elias says. One night, he recalls, after a particularly raucous Carson performance, they got a call from TV producer Ernest Chambers. "He said 'Who are your writers?' And we said, 'We are.' He said, 'Well, would you like to come to Hollywood and be writers?' I said 'What about the act?' He said 'Not interested.'"
"And we came to Hollywood and started a writing career."
Hollywood Highlights
Elias's summary of his Hollywood years makes the four-decade journey sound almost mundane. "Frank and I had our first job on a TV show," he says, "and then we just kept moving along. We had the idea for The Frisco Kid, and we wrote that, and we went to other variety shows and sitcoms, and [we wrote for] Bill Cosby. Then we split up, I did a couple things by myself, and then I teamed up with Rich Eustis, and we got a contract with Warner Brothers." He doesn't even mention that he wrote for The Mary Tyler Moore Show, co-wrote Envoyez les Violons with Eve Babitz, worked on CBS's All in the Family, and was Carl Reiner's writing partner.
But the details reveal just how remarkable Elias's career has been. In the early 1970s, he and Shaw wrote The Frisco Kid, a comedy-western starring Gene Wilder and Harrison Ford. Later, during his incredibly fruitful partnership with Eustis, he helped create, executive produce, and write for Head of the Class, an ABC sitcom loosely based on his experience as a teacher and struggling actor in New York. It would run for five seasons and garner significant attention and acclaim, especially for an episode set and filmed in the USSR. He wrote and directed Lush Life in the early 1990s—now regarded as a jazz classic, the film starred Kathy Baker, Forest Whitaker, and Jeff Goldblum, earning Elias a best director nomination at the CableACE Awards. Finally, in 2007, he wrote a play, The Catskill Sonata. Set in the 1960s in upstate New York, The Catskill Sonata tells the story of a cynical-yet-brilliant TV writer navigating the red-baiting blacklist era. It was directed by Paul Mazursky (Bob & Carol & Ted & Alice); LA Weekly named it one of the top 10 plays of the year.
And in 1971, Elias met Steve Martin, a fellow staff writer on Pat Paulsen's Half A Comedy Hour. "He was a comedy writer with ambitions to become a comedian," Elias says. "I was an ex-comedian with ambitions to become a comedy writer. We got along." They struck up a fast friendship: working, playing poker, and enjoying each other's company. "We had a commonality. He was a philosophy major in college, and he's one of the smartest guys I ever knew—and he was a serious guy, he wasn't always trying to impress you with how funny he was." Together, Elias and Martin worked on scripts, sketches, and material for Martin's fledgling stand-up career. "Then one day," Elias says, "he called me up and said 'I've got this screenplay that needs a rewrite; would you come to Aspen and rewrite it with me?' I said 'of course.'"
That screenplay, titled Easy Money at the time, eventually became The Jerk: Martin's first starring role in a feature film and one of the defining comedies of the 20th century. It regularly charts on "best of" lists from the likes of the American Film Institute, and it's credited with helping spark Martin's iconic career. But what Elias remembers most is the month spent in Aspen: writing, skiing, and general hilarity. "We're still friends," he says. "We don't see each other that much, but we're still friends. He wrote me last week and said 'my wife wants to read your book—send me [a copy].' So I did."
You Can Go Home Now
Elias hasn't worked on a Hollywood-adjacent production since The Catskill Sonata. He's had opportunities, he says, but he'd grown tired of splitting his time between what he wanted to write and what he needed to write. "I considered writing television my day job, but at night, I would carve out time to write my own stuff," he says. "That's how I got to write screenplays, the play, Lush Life—all that was done at night." As a Hollywood writer—often under contract with a single production company—Elias sometimes felt like a hired gun. "I didn't really have control until Head of the Class, until Rich and I were producing our own television shows," he explains. Even then, not every screenplay reached production; to this day, Elias has plenty of optioned work he'd love to see on screen, including adaptations of Anthony Burgess' A Dead Man in Deptford and Robert Silverberg's The Man in the Maze—a sci-fi retelling of Philoctetes.
But when he devoted himself to novels, something changed. There was no writing partner, no studio, no director to dictate the course of his authorship. In 2013, Open Road Media published his first book, The Last Conquistador: a sci-fi thriller with themes of colonialism, historical trauma, romance, and human sacrifice. His latest, a gritty crime novel titled You Can Go Home Now, is due out in June from Harper Collins. It's a thriller—the story of an undercover Queens cop conducting an investigation in a women's shelter—that uses the genre to explore a wide range of subjects: domestic violence, trauma, misogyny, and revenge, among others.
With his novels, Elias owns his words. He can play with genre; he can explore weighty concepts; he can dive into the minds of history professors, FBI agents, cops, and more. His next novel, which he's working on now, is less imaginary—a comedy that chronicles the misadventures of a Hollywood screenwriter. But after that, he's planning to write a screenplay about the early days of the Russian Revolution. In other words, he doesn't have a particular "lane" to stay in, and "I have to think that's kind of a St. John's effect," he says. "We were exposed to, and investigated, so much—I just refuse to be classified or concentrated in one area. There are so many subjects that interest me, whether it's Elizabethan England or the conquistadors or a women's shelter or the Russian Revolution."
So, is there a constant in his life? "I think there's a kind of self-examination," Elias says. "I keep posing the [same] questions from different characters to see how they would answer them, but the truth of the matter is, I'm the one who's answering them." He notes that the character he feels closest to, out of the many he's written, is Kathy Baker's actress-turned-principal in Lush Life; he adds that the meditation on revenge in You Can Go Home Now is largely derived from his own philosophical questioning. "There's a little bit of me in everybody."
And, Elias points out, he has an enduring foundation. "St. John's was so fantastic. The people were challenging, unafraid to question anything, and no matter what you were reading or questioning, there was always someone who had already read it. It was a community that was not divided into jocks and scholars and nerds. We were all in the same game," he remembers. "St. John's enabled me to be exposed to so much; I walk around with this library in my head."
After 50-plus years of writing, and many more to come, that library is only getting bigger.