Miyoko Schinner: Food Revolutionary
March 31, 2020 | By Les Poling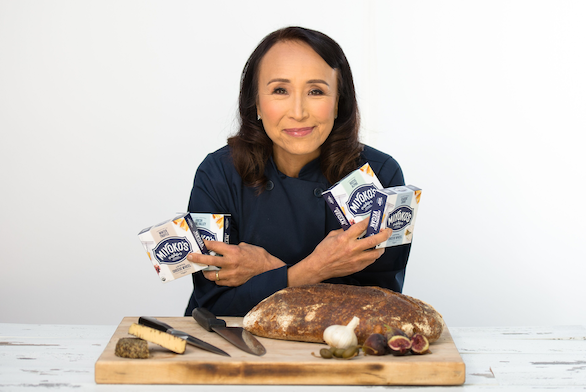 In early 2020, the Animal Legal Defense Fund filed a lawsuit against the California Department of Food and Agriculture on behalf of Miyoko's Creamery, the pioneering vegan food company that, according to Forbes, "basically invented the category of artisanal, plant-based dairy cheese and butter." The suit argued that the CDFA violated Miyoko's Creamery's First Amendment rights when it ordered the company to remove all references to dairy, butter, and being hormone-free, lactose-free, and cruelty-free from its vegan butter label; the company was also directed to delete a picture of a woman hugging a cow from its website.
In conversation with Forbes, Miyoko's Creamery founder and CEO Miyoko Schinner (A79)—who also founded Rancho Compasión, the nonprofit animal sanctuary where the picture of the volunteer and the cow was taken—said "we filed [the suit] not just for us, but really for the whole industry." For her, the legal dispute is less a matter of financial ramifications and more an issue of innovation—one with major consequences for animal rights, environmental wellbeing, and human health. In her long vegan food career, Schinner has been at the forefront of a movement to create food that helps the planet, and all its inhabitants, without sacrificing taste.
Schinner's journey to vegan cuisine began when she was a child. At 12 years old, she decided to be a vegetarian, and when her mother eventually stopped cooking her meat-free meals, she took it up herself. But her food career didn't start then—there were no dreams of culinary school or restaurant apprenticeship. Instead, Schinner found herself far from both her birthplace (Japan) and her adolescent home (Mill Valley, California) at St. John's College in Annapolis.
Initially, Schinner wanted to work in graphic design. She went to the Pratt Institute in Brooklyn for a year, but "I realized it wasn't my calling," she says. "I had too many questions." So she bought a two-month Greyhound bus pass and started visiting every college she could think of. She journeyed across the East Coast, touring campuses and sitting in on classes—"and I was really disappointed," she recalls. "It didn't seem like anyone was really thinking." Then, she heard about St. John's. First, a chaplain at a school she was visiting told her that at St. John's, "they discuss philosophy at the dinner table instead of the salad." Then, a Middlebury student confided: "When I get disillusioned, I always have the St. John's application in my desk drawer."
Her curiosity was piqued. "I caught the next Greyhound down to Annapolis, I sat in on a couple of classes, and I realized that was the only place I would ever want to go."
St. John's changed everything. On an academic level, the Johnnie method of Great Books and seminar dialogue proved transformative. Before college, "I was one of those people who never thought I was good at math," Schinner says. "[At St. John's,] I remember falling in love with Euclid." Along with her classmates and tutor Mr. Golding, she found that "it wasn't just formulas. There was this vast creativity, this poetry behind it. I discovered the beauty of math in a way I had never understood before." She also developed an affinity for the Greek philosophers that extended far beyond her undergrad years. "I think I've applied so much of Plato to my life," she says, "and everything I encounter in the world, I frequently see it through that lens." Even more importantly, she graduated with something less tangible than a degree: a passion for learning, a yearning to make a difference, a certain type of fearlessness. "At St. John's, you learn how to learn, and you learn not to be intimidated," she says.
Immediately after graduating, Schinner returned to Japan, where she officially converted to veganism—she had noticed the adverse effects that dairy products had on her body—and began experimenting with vegan cuisine. She started with plant-based pound cakes, which soon led to a cookbook, The Now and Zen Epicure, and an in-house vegan bakery; later, she moved back to California, where she baked vegan cakes in her home and sold them to Bay Area Whole Foods stores. In the following years, she launched a variety of vegan food ventures. She opened Now & Zen, the ahead-of-its-time fine dining vegan restaurant, in 1994. She also started mass producing the UnTurkey and its offshoots, the UnRibs, UnChicken, and UnSteakout. She even contracted with United Airlines to make dairy-free cookies for in-flight meals, sometimes baking 10,000 a day.
But while each new project kept her afloat, Schinner didn't have much in the way of comfort or financial security. In the early 2000s, burnt out and in need of stability, she switched gears entirely. "My husband, who's a lawyer, said 'well, why don't you do 1031 exchanges [in real estate deals] for a while?' I didn't know what that was," she says. Her husband handed her the IRS code, leading her on the path to becoming a qualified exchange accommodator. "Most people would be intimidated if you told them to read the IRS code," Schinner notes. "But after Kant, it wasn't that hard."
She opened her own business, started making good money, and settled in a Marin, California home with her husband and three children. And yet, despite the comfort and quality of her life, "I felt really empty," Schinner remembers. "All I was doing was taking care of myself, and not contributing to the greater good." She wasn't passionate; she didn't feel like she was making a positive impact on the world. And suddenly, she found herself unable to shake the urge to try her hand at vegan cuisine one last time. She quit her tax exchange job and wrote another cookbook, her fourth total and her first in 10 years: Artisan Vegan Cheese, an instant cult classic that led to a book tour and immediate offers to invest in her next business venture.
She balked at the idea. "[I thought,] 'I really don't want to do [another business]. That's why I wrote this book, so you guys can make it in your own home.'" But eventually, she decided to give it a shot. She made plans to establish a boutique vegan cheese shop with an accompanying website, cross her fingers, and hope for the best. Then, on the website's first night, she received more than 500 orders—each averaging more than $100. "It just really took off," Schinner says. "From day one, it was successful." She quickly abandoned her modest shop and created Miyoko's Creamery.
Five years later, Miyoko's Creamery has achieved mind-blowing growth. The company delivers vegan food products to more than 15,000 stores across the country; it recently expanded into Canada and began distributing to companies across Asia. This year, Schinner says, Miyoko's Creamery plans to break into the food service industry, and she's introducing a new product line that promises even more widespread appeal. Previously, the company's cheese products were of the premium variety—"we wanted to show that vegan cheese could be sexy," Schinner says. Now, Miyoko's is introducing cheddar, pepper jack, and pizza cheese varieties that slice and melt just like their dairy counterparts. According to early previews, the new varieties are outstanding.
However, even as her company continues to expand, Schinner's focus lies beyond entrepreneurship. Miyoko's Creamery, she says, is "not a company with a mission, we're a mission with a company." She points to studies conducted by places like Oxford indicating the difference a plant-based diet can make—studies that suggest that a global shift to plant-based eating could help save global farmlands by more than 70%, simultaneously reducing greenhouse gas emissions by the same amount. "I am trying to revolutionize the food system," she declares, "to create a world that is more equitable and just, not only for humans but for all living beings." That's why she's battling the CDFA's order to remove dairy references on Miyoko's Creamery products. "Everyone who buys almond milk knows they're buying almond milk; they're buying it specifically because it's not cow's milk," Schinner argues. "How we use language should not be dictated by special interests, industries, or parties."
In other words, she says, "we have to choose the greater good." Spoken like a true Johnnie.