A Medical Clinic Grows in Gambia
May 23, 2018 | By Tim Pratt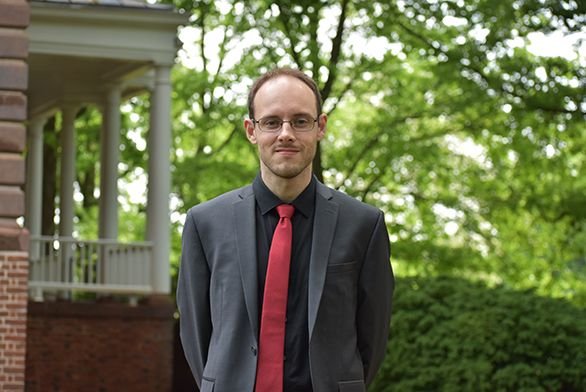 For nearly a decade, a clinic in the tiny west Gambia village of Kunkujang has provided much-needed medical care to thousands of people.
Medical facilities in rural parts of this West Africa nation are scarce. Some residents walk hours to receive treatment.
The Sheikh Tihami Ibrahim Nyass Clinic, however, serves as a valuable resource for people in the surrounding area.
This spring, the clinic is being expanded thanks to recent St. John's College graduate Mason Troupe (A18).
Troupe, from Tampa, Florida, received a $10,000 grant from Projects for Peace to fund a project at the clinic, "Peace through Wellbeing: Expanding Sources of Medical Care and Disseminating Knowledge in Gambia."
The funds will pay for the construction of additional facilities at the clinic, including a lab testing room, surgery room and veranda. Troupe also used the funds to purchase a laptop computer and camcorder to document the project and allow the clinic—and founder Fatou Gaye—to communicate with the public long after he leaves.
For Troupe, who left for Gambia on May 17, it's important for the project to have a lasting effect. A website he is creating will allow the clinic to raise funds and share pictures, videos, and updates on its work.
"They can continue to build off what I've left," he says.
Projects for Peace was created in 2007 through the generosity of Kathryn W. Davis, a philanthropist who died in 2013 at the age of 106. One-hundred projects are funded every year to promote peace throughout the world and address the root causes of conflict.
The idea for Troupe's project stemmed from a conversation with a friend in West Africa.
"I said 'Who is doing good work and needs help?'" he recalls.
When Troupe learned of the scarcity of medical resources in rural Gambia—including stories of mothers walking two hours to give birth—he knew the Projects for Peace grant money would be useful there. Troupe soon made contact with Gaye, who in 2014 was named Woman of the Year by What's On Gambia media organization, and learned of overcrowding at the clinic. He then put together a proposal that would help the clinic expand and operate more efficiently.
The Kathryn W. Davis Foundation, which administers the grants, informed Troupe earlier this year that his project would be funded. He continued planning throughout the rest of the spring semester, and left for Gambia four days after commencement.
Now in Kunkujang, Troupe is recording construction and building the website for the clinic. While the website will be used to share health information with the public, its primary purpose is fundraising. Troupe will leave the video equipment there when he returns to the United States after a two-week stay.
"I'm very grateful, but I don't feel like I've done very much, really," he says. "The process has been made very easy for me. I just feel like I happen to be the channel through which the (funding) is going."
While Troupe is thinking about the future of the clinic, he's also planning his own journey. He is considering a career in counseling.
The St. John's education, where logic and reason drive discussion around the seminar table, had a profound effect on him and his plans for the future. He spent his first two years in Santa Fe, then transferred to Annapolis. He says his mind was "sharpened" at St. John's.
Troupe is thrilled the Projects for Peace grant, which St. John's students for years have been using to help people overseas, will lead to better medical care for residents of Gambia.
"I'm very happy that it's happening," he says.