Projects for Peace: Success in Nepal
November 16, 2017 | By Tim Pratt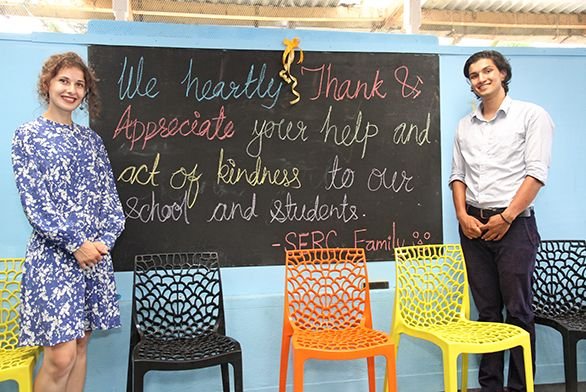 At a special-needs school in Kathmandu, students now receive their education in a more modern setting.
There's a new physiotherapy and multimedia room, a renovated classroom and 2,000 new books. The school received a new elliptical trainer, computers, vocational equipment and other items, too.
The upgrades are the result of a summer project led by St. John's College students Himanshu Thapa (A19) and Nano Liklikadze (A18).
Thapa and Liklikadze used a $10,000 Projects for Peace grant to improve the Special Education and Rehabilitation Center for Disabled Children in Nepal's capital city. The school serves more than 100 students from kindergarten through high school.
"The project, for us, was very rewarding," says Thapa, who hails from Kathmandu. "But what was even more rewarding was what we went through: trying to complete the project, making relationships with the teachers and the students. It's an experience that's difficult to forget."
The seed for the project was planted during the summer of 2016, when Thapa returned home to teach as part of the Hodson Internship Program. He saw people with disabilities living on the streets, as well as a need for additional resources for disabled children.
That fall, Thapa and Liklikadze decided to do something about it. The pair developed a plan, applied for the grant, and found out in March that their project was one of 100 that would receive funding.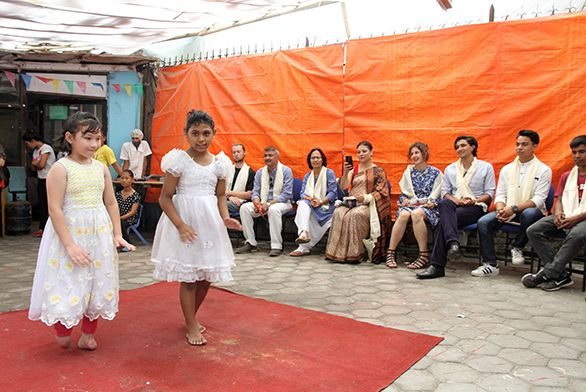 Work on the school took two months, and used a combination of grant funding and donated items, to complete. The St. John's students worked closely with the director of the school—a civil engineer—a carpenter intern and others to construct the new room and renovate an old one. They equipped the spaces with new chairs, carpet, closets, wall fans, an elliptical trainer, computers, a laptop projector, a projector screen and books. Because students at the school practice skills to prepare for the future, like food preparation, Thapa and Liklikadze provided items like a mixer, juicer and blender, too.
"We visited them afterward and saw how the things we gave them were being used," Liklikadze says. "The most rewarding thing was the children were happy. They really like to go (to school) and learn things like other students do, so they were really happy ..."
While the project took up much of their time last summer, Thapa and Liklikadze also completed Hodson Internships when their time at the school was complete.
Liklikadze returned to her home country of Georgia to work with Transparency International Georgia's anti-corruption team; Thapa stayed in Nepal and worked for a law firm, focusing on gender-based violence.
"It was a really busy but productive summer," Thapa says. "I was almost never free … but in the end, I gained a lot from my experience."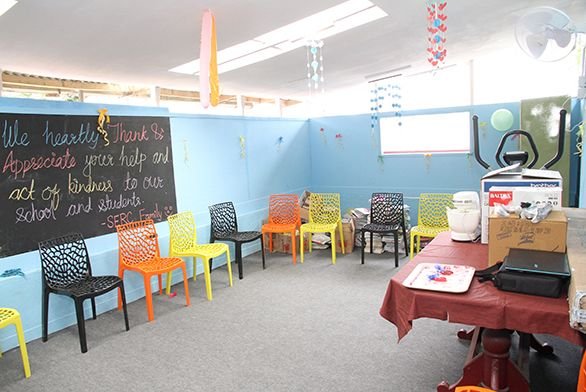 Looking ahead, Thapa and Liklikadze are considering other possible initiatives to be funded by Projects for Peace. They have two or three possible projects in mind, but are still deciding which one to pursue.
St. John's has a long history with Projects for Peace, with students completing projects nearly every year since the program began in 2007.
In the summer of 2016, Johnnies Adna Arnaout and Claire Watts completed a project called "Supergirls of Zimbabwe," in which they traveled to Africa and gave young Zimbabwean women an opportunity to talk about issues related to reproductive health, sexuality and the social effects of gender inequality.
The projects completed by St. John's students over the past decade are the kind for which the program was designed.
Projects for Peace was created in 2007 through the generosity of Kathryn W. Davis, a philanthropist who died in 2013 at the age of 106. One-hundred projects are funded every year to promote peace throughout the world and address the root causes of conflict.