Teaching the Johnnie Way in Nepal
October 14, 2016 | By Tim Pratt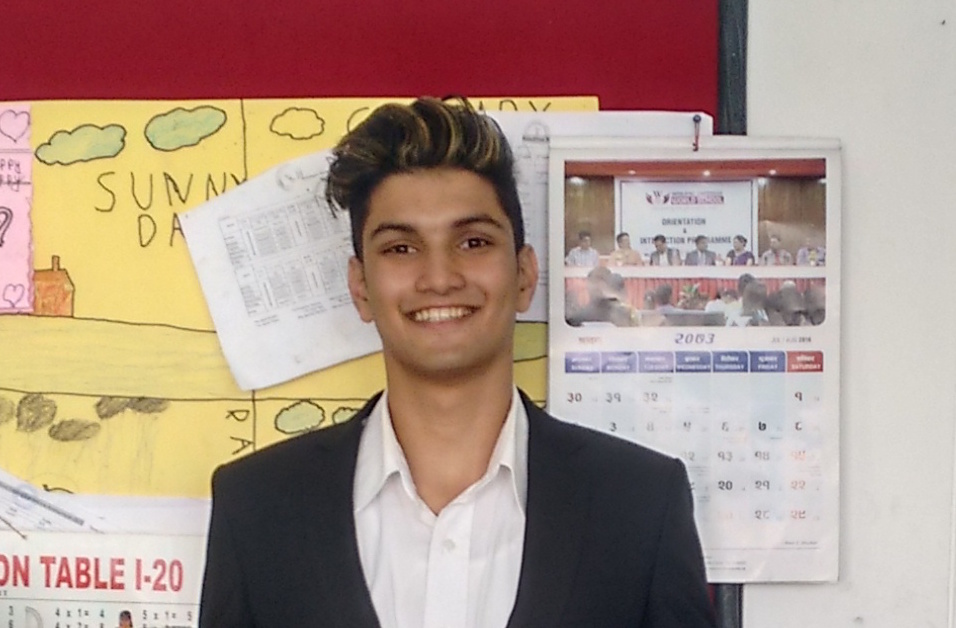 When Himanshu Thapa was growing up in Nepal, much of his learning involved memorization.
The St. John's College sophomore says education was often focused on repeating information taken from lectures and books. If someone asked a group of Nepalese students a question, each of their answers would be the same, he says.
This summer, Thapa took some of the discussion-based learning techniques he experienced at St. John's back to Nepal when he interned at a school in his hometown of Kathmandu.
Thapa spent two months at Himalayan Whitehouse World School as part of the Hodson Internship Program. The program allows undergraduate students to explore potential careers, gain experience in their fields of interest, develop professional skills and investigate new interests. More than three dozen St. John's students from the Annapolis campus received $4,000 grants from the Hodson Trust to participate in the internship program.
For Thapa, that meant traveling back to Nepal to help teach at the school for students in first through 12th grade.
"I think it was a really good experience," he says. "I helped the students think in a different way and I think, overall, everybody benefitted in a different way from this."
Thapa began his internship in Nepal's largest city in June. On his first day, Thapa asked students to talk about plants. Each of the students had the same response—a definition they had learned in class, he says.
Thapa took the students outside to look at plants, then had them discuss similarities, differences and other features. By the end of the day, the students were discussing their different ideas, he says.
"The most difficult thing was making them communicate," he says. "Some of them were shy. No one was used to this type of discussion-based education."
Throughout the summer, Thapa was tasked with leading classes in fourth, six, eighth, 11th and 12th grades. He taught math, science and English. He also helped out in first- and second-grade classes.
Thapa reported to his mentor, the vice principal of the school, at the end of each day. One of his goals was to help prepare students for life beyond 12th grade.
"What I wanted was, if they come to the U.S. or stay in Nepal, when they start in college they should be trained to think for themselves, to think critically, to form their own opinions," he says.
Thapa, who is considering a career as a teacher or an attorney, also learned a lot from the experience.
"I actually realized how hard it would be to be a tutor here," he says. "I learned how to behave in class a lot more because I was a tutor to them (in Nepal). This year, I know how to go into a conversation, when to let others speak. They taught me a lot. I learned a lot more than I thought I would."
It's never too early to begin thinking about projects for this coming summer. A Hodson Internship information forum is scheduled for October 25 at 3:45 p.m. in the Conversation Room on the Annapolis campus.