An Internship for the Dogs
October 14, 2016 | By Tim Pratt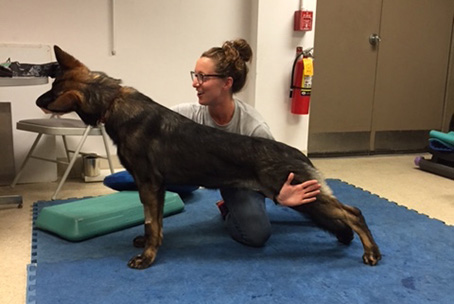 Over the summer, Andrea Hill found herself buried beneath a pile of rubble in Pennsylvania.
The temperature was hot. The space was tight.
But the 2016 St. John's College graduate never panicked. She knew help was on the way.
Hill buried herself in the rubble to help train search-and-rescue dogs at the Penn Vet Working Dog Center in Philadelphia. Hill was interning at the center as part of the Hodson Internship Program.
More than three dozen St. John's Annapolis students received grants from the Hodson Trust to participate in the program, which is designed for undergraduate students to explore potential careers, investigate and gain experience in their fields of interest, and develop professional skills.
This was the third year Hill has taken part in the internship program.
"These past three summers, the Hodson Trust has afforded me the opportunity to explore the fields I'm passionate about," she says.
Hill didn't take a conventional route to St. John's. After high school, she attended college in Florida to study marine biology. She says she didn't like the environment, the material or how she was learning it. Hill began working full-time, but eventually went back to school. She took classes at a community college outside of Philadelphia. Still, she wasn't sure what she wanted to do with her life, whether it was pursuing a career in the sciences, teaching English or following a different path.
Then she discovered St. John's, with its focus on the great books and discussion. She decided to head to Annapolis to take part in a different kind of learning.
"I think it was the freedom to explore the sciences rather than reading from a textbook, memorizing slides and regurgitating materials on a test," she says of the appeal of St. John's.
Freshman lab reaffirmed the fact that the sciences were for her. Students begin with the study of plants and animals, reading texts from Aristotle, and observing and dissecting plants and animals. The learning continued through junior and senior labs, with lessons on quantum mechanics and modern biology.
"I think it's a great way to study the sciences and understand them," she says.
In the meantime, Hill began taking part in the Hodson Internship Program.
She has always been an animal lover. Her first internship was at a greyhound veterinary center in Philadelphia, where she worked as a veterinary assistant. The experience was so rewarding that it prompted her to explore the field more.
During Hill's second internship, she studied chimpanzee eating habits at the Conservation Ecology Center at the Smithsonian National Zoo in Washington, DC.
"At that point I didn't know if wanted to pursue more clinical medicine or veterinary medicine," she says.
Her internship at Penn Vet Working Dog Center allowed her to do a little bit of both. Hill started at the center the day after she graduated in May. The dogs were being trained in scent detection, from narcotics and explosives to diabetes and cancer. Some were being trained to search for people or human remains.
Hill worked extensively with the animals, learning basic K-9 handling skills; puppy development and socialization; principles of scent detection; data collection; K-9 assessments, behavior and body language; and specialized fitness components for working dogs.
The dogs were named after victims of the 9/11 terrorist attacks in New York City, along with the animals and people–including first responders–who went to the scene.
Hill had to undergo extensive training before she even started working with the dogs. It was three weeks before she could walk a dog; it was a month-and-a-half before she could stretch the dogs by herself before they exercised.
"They have very strict protocols," she says. "As a normal human, you get used to handling dogs how you would handle your own pets. Getting to know these learning dogs was like learning a new language."
One aspect of the training, for instance, was that the dogs were trained with positive reinforcement instead of being told "No," she says.
"It's, 'That's not quite right. Let's try it again,'" she says.
Those working at the center would treat the training like a game, with rewards given when goals were accomplished.
When Hill would hide in the rubble, she would play excitedly with the dog when she was found. Sometimes she would be hidden for several minutes before the dog "alerted" that it had found her; other times it would be about 60 seconds.
"Even though it was 95 degrees outside, hiding from a dog in a pile of rubble was a lot of fun," she says.
Hill is now enrolled in a pre-veterinary post-baccalaureate program at the University of Pennsylvania. Although she's staying busy with classes, she went back to visit the center recently. The first dog she ran up to was her old friend Jerry, a German shepherd with whom she worked extensively.
"It was such a rewarding experience to work with these incredible dogs that I can't stay away," she says.
It's never too early to begin thinking about projects for this coming summer. A Hodson Internship information forum is scheduled for October 25 at 3:45 p.m. in the Conversation Room on the Annapolis campus.