October 19, 2016 | By Tim Pratt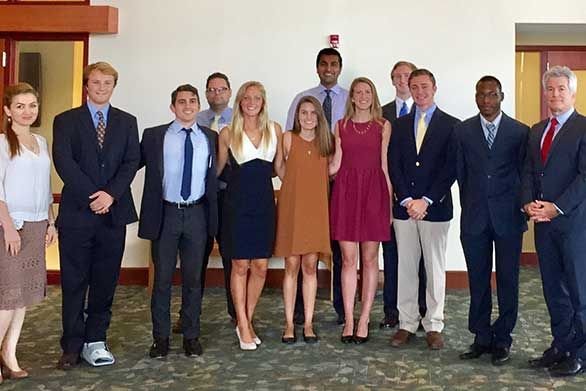 There was a moment this summer when Jermaine Brown's ambitions became clear.
The St. John's College senior was in an operating room at Anne Arundel Medical Center in Annapolis. A surgeon was restoring the natural shape of a patient's vertebral column, a 12-hour procedure designed to help the patient walk upright once again.
As Brown watched the surgeon perform the procedure, one that would ensure the patient a greater quality of life, the Jamaica native says he never felt more determined.
He wants to become a surgeon.
Brown interned at the hospital's James and Sylvia Earl SAIL Center as part of the Hodson Internship Program.
Of the 33 students completing summer internships at the center—from schools like Johns Hopkins University, Duke University and Princeton University—Brown says he was the only one who wasn't enrolled in a pre-med program. The Hodson Internship, available to St. John's Annapolis students, gave him that chance.
"It's a great opportunity for Johnnies," Brown says. "Even though I haven't received pre-med training, my education at St. John's prepared me for that internship."
Brown spent a significant amount of time observing surgeons in the operating room. He says he learned a lot from the surgeons, who were doing everything from oncology to plastic surgery, and explaining the procedures along the way. He had to read extensively about the procedures and the nature of the patients' conditions.
Brown also spent time shadowing physicians in clinics, which allowed him to interact extensively with patients. He performed biomedical research, attended lectures and professional development, and underwent extensive training.
"You conceptualize the research and carry it out yourself," he says. "You learn and ingest new knowledge. Because you're approaching so many different texts, I treated it as another seminar reading and class."
One of the more memorable experiences came when Brown had to work on a cadaver. He had seen 30 surgeries already, so it wasn't difficult for him to handle.
"People are grossed out by that, but it never occurred to me to see it as a gross thing," he says. "It was just another job for me to do."
Brown is working on a manuscript he hopes to get published. The goal is to complete it by mid-December.
This comes as he completes his senior year at St. John's.
Brown has stayed busy during his time at St. John's, whether it's playing intramural sports for the Greenwaves, singing in the Madrigal choir, serving in the Christian Fellowship or working.
Brown hopes to enroll in a post-baccalaureate program after graduating, with an ultimate goal of becoming a neurosurgeon. He has been interested in a medical career since he was 7.
"I have an admiration for the brain," he says. "I've always been interested in how the brain works. I have a passion for healing."
It's never too early to begin thinking about projects for this coming summer. A Hodson Internship information forum is scheduled for October 25 at 3:45 p.m. in the Conversation Room on the Annapolis campus.