Study of the Great Books Years in the Making
October 21, 2016 | By Tim Pratt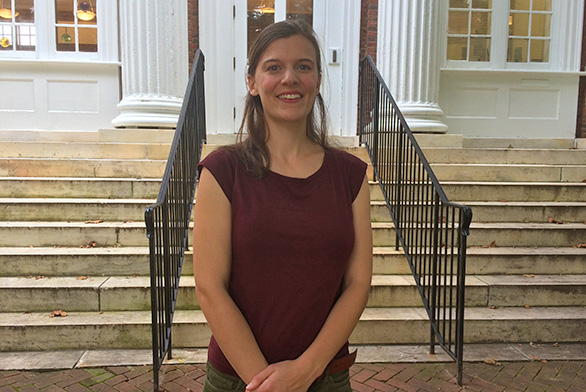 Eva Marie Haine still remembers the materials she received from St. John's College when she was in high school.
There was an image of the great books—works by Galileo and Aristotle, Shakespeare and Mark Twain—placed in three tall stacks. Haine was intrigued.
But the New Jersey native had already decided to attend an Ivy League school. The great books would have to wait.
Roughly a decade later, Haine finally enrolled at St. John's in Annapolis, where as a student in the Graduate Institute she is satisfying her desire to study some of the most important works of Western civilization.
"I think it prepares you for a genuine intellectual life," she says. "You can read Plato on your own or with peers and think about it and have your own interpretation of it and ask questions of it. I feel like what I learn to do at St. John's is more sustainable through my whole life as an approach to learning and reading."
Readings for the Graduate Institute curriculum are organized into five segments: Literature; Politics and Society; Philosophy and Theology; Mathematics and Natural Science; and History.
Students must complete four of the five segments—36 semester credit hours—to earn the Master of Arts in Liberal Arts degree.
Work is completed in seminars, tutorials and preceptorials.
Haine is taking the Literature segment this fall, her third semester in the program. She has already completed Philosophy and Theology, and Mathematics and Natural Science. In the spring she will take Politics and Society.
During the fall and spring terms, classes meet two days a week, in the late afternoons and evenings, making it possible for students who work or take care of their children to attend. During the summer, classes meet four days a week.
Haine is in class 6 ½ hours per week and spends several more hours reading. She has two children, ages 1 and 3, but says she's able to balance her Graduate Institute work and home life.
"I think it's kind of a testament to the graduate program," she says. "I think it tries to be compatible with living a regular life."
Haine says things are different at St. John's than they were at Princeton University, where she studied art history as an undergraduate. While she's proud of the education she received at Princeton, she felt like something was missing.
"I felt like I hadn't really read a lot of the texts that I should have read," she says.
Haine says she found out about the Graduate Institute a few years ago. She and her husband, who is in the Army, had been moving around, including stints in Portugal, Charlottesville, Virginia, and upstate New York.
Haine stayed busy teaching art, writing about art and even curating at Monticello in Charlottesville.
But she also wanted to start reading some of the works she felt had been missing in her life. She started reading Nicomachean Ethics by Aristotle and other works in the St. John's undergraduate student reading list.
"I thought, 'Wow, this would be a lot better to do with other people,'" she says.
Around the same time, her husband got the opportunity to work in the Washington, DC, area. He asked to be sent to Fort George G. Meade so Haine could enroll in the Graduate Institute, she says.
She has enjoyed her time at St. John's so far.
"I think it's a program that is … essentially what you want to get out of it," she says. "You read these important primary texts and confront them in a very serious way with fellow students and a tutor. You can't do it in a typical academic way."