Thetis Sails Again in Annapolis
October 14, 2016 | By Tim Pratt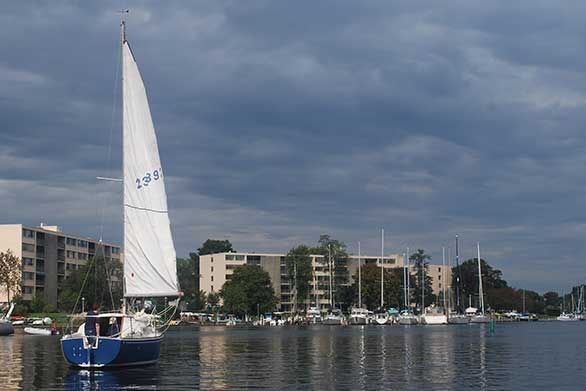 At the end of a dock on Back Creek in Annapolis, MaryEllen Markuske and Skip Kovacs couldn't help but smile as they prepared for their voyage.
Markuske, the Hodson Boathouse manager at St. John's College in Annapolis, inserted the rudder pin; Kovacs, her predecessor, was busy tying knots and carrying items aboard.
Together, they raised the sails, joining dozens of others flapping gently in the breeze.
For the first time in more than two years, Thetis was in the water—a massive repair project complete.
The 25-foot, blue and white sailboat, named after the Greek goddess of water and mother of Achilles, was donated to the college in November 2013. It replaced a keelboat, previously owned by the college, whose deck had rotted.
In the spring of 2014, Thetis was taken out of the water for repairs. The boat was then "gutted," says Markuske, a 2015 St. John's graduate who has been sailing since she was 15.
All of the inner lining had to be removed as hardware was taken out. Holes for the hardware were re-epoxied and strengthened.
Wooden trim was pulled out, cleaned, oiled and finished. Doors were repaired and sealed. Even the rudder needed to be repaired.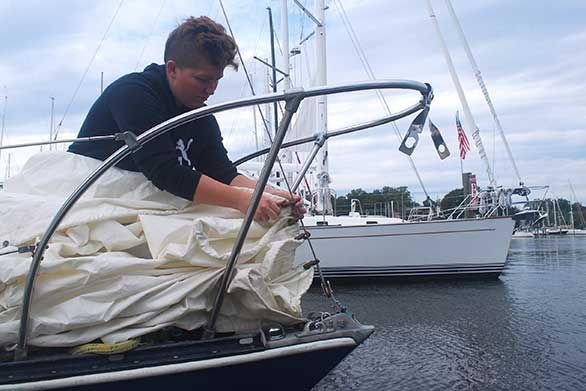 "It was a very long and involved effort by a lot of (boathouse) stewards," says Kovacs, who managed the boathouse from 2004 to 2015 and trained Markuske.
Additional work, such as the painting of the bottom of the boat, was contracted out.
Finally, on Thursday afternoon, the boat was ready to sail again.
"It's exciting to get her back in the water," Markuske says.
After completing their preparations, Markuske and Kovacs sailed the boat from Bert Jabin Yacht Yard on Back Creek to moor near the waterfront home of St. John's Annapolis President Christopher Nelson. That's where the boat will remain, available for college use.
Bill Parrish donated the boat, formerly called Southside, to the college, and says he and his family spent many great hours sailing it on the Chesapeake Bay. He hopes the St. John's community will take advantage of the boat now that it's back on the water.
"I am really pleased that SJC has restored her to her glory," Parrish says.