SANTA FE—"Every successful person I've come in contact with mentions having a mentor," says John Monday, a freshman at the St. John's Santa Fe campus who recently earned the Congressional Award Gold Medal. Given to individuals ages 14-23, this prestigious award was developed by Congress to provide young people the chance to set and achieve personally challenging goals that build character and foster community service, personal development, and citizenship.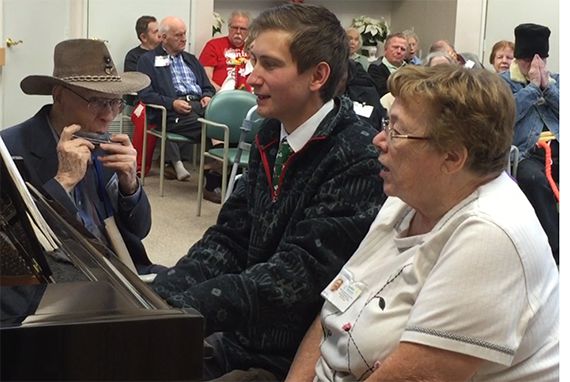 Devoting nearly 600 hours over a two and a half year period, Monday worked with a series of mentors to set goals within four program areas: public service, personal development, and physical fitness. "I wanted to participate in the program because it taught me how to find and work with mentors to set realistic goals and then achieve them," says Monday, who began the program while still in high school, fulfilling the requirements at organizations near his hometown of Thousand Oaks, California. Winners of the award also plan and execute an expedition or exploration in the wilderness or in an unfamiliar culture.
Monday completed his public service requirement at Stepping Stones Riding Program at the YMCA, where he worked with rescued horses and taught children to groom, saddle, and ride. In addition, he volunteered for over 10 years at a residential day facility for seniors, performing piano and violin for the elderly. For the personal development requirement, Monday honed his piano skills to the level where he was confident enough to publicly perform difficult compositions by memory. In addition, he tutored an elderly woman and a 2nd grader in piano technique and music theory. As part of the physical component, Monday set goals to increase his batting average, worked with a mentor on gym equipment, and trained and competed in a strenuous 5k mountain trail run.
As Monday's final project, he planned an expedition to the People's Republic of China, where he acted as a student ambassador, volunteering at an apricot orchard and at a school for disabled children. "The [Congressional Award] program taught me how important it is to be a part of and contribute to the community," says Monday, who will travel to Washington, DC in June to receive the award. "Even a job that may not seem important can have a great impact on a local level."
—Lisa Neal