ANNAPOLIS—After graduation, Meggie O'Neill (A16) will be working as a teacher's assistant at a Great Hearts Academy in Phoenix, Arizona.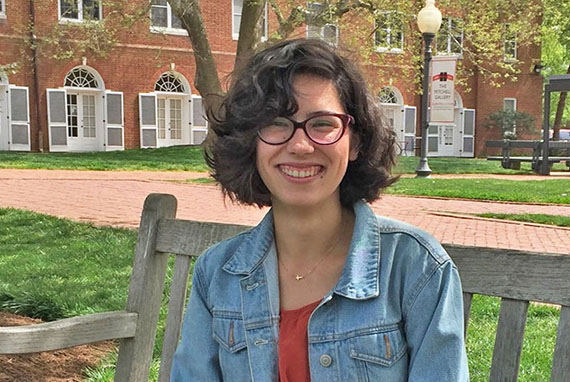 "I've always been interested in psychology, especially child psychology, and I felt that this would be an interesting way for me to gain the experience in order to see if this is really something that I am interested in," she said.
O'Neill will be working at Archway Veritas, where she is excited to be part of a team of fourth-grade teachers.
"I'm going to be shadowing the teachers and helping them out. The way I see it is you're behind the set of a play, so you're in charge of things running smoothly," she said. "I will get to see different teaching techniques."
The community at Archway and its Socratic teaching method attracted O'Neill to the position. Students are encouraged to ask questions when confused—just like at St. John's.
"It's hard to admit that you're wrong, and I think it takes courage. When you start that process as a young child, that kind of shame that you [may put] on yourself isn't there anymore."
Learning through discussion was what drew O'Neill to St. John's.
"It's wonderful to see how people develop as individuals throughout the years, to see how much my friends change from freshman year to now, how people grow into themselves."
O'Neill points to her involvement in Kunai, the women's athletic program, and spending her junior year at Santa Fe as important aspects of her time at St. John's.
"I was a little hesitant sophomore year [but] I kept coming out and the girls were really wonderful and inviting and supportive," she said. She was a captain her senior year.
In Santa Fe, she flourished in her French language class, where she discovered her love for Jean Racine, a French playwright whose play Phaedra became the subject of her senior essay.
"I got to appreciate . . . the way he uses rhythm and how that contrasts with the context of what he's trying to put forth. . . . I wrote on madness, and I was trying to figure out why Phaedra descended into this insane state."
O'Neill is proud of her growth during her time at St. John's.
"It's good to take risks and it's good to challenge yourself and to do things that are completely outside your comfort zone, because things that are outside your comfort zone make you grow and push you farther."
—Brady Lee (AGI14)