Mitchell Gallery Teams with Newington-Cropsey Foundation to Bring Bronze Sculpture Fellowships to Johnnies
August 23, 2022 | By Patricia Moore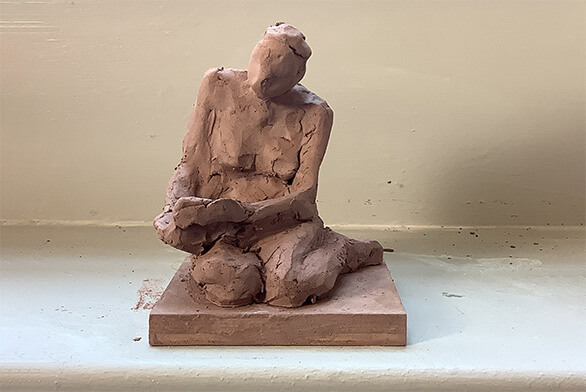 Imagine learning the processes to create a bronze sculpture in two weeks, even with no previous art training. Since 2019, the Newington Cropsey Foundation (NCF) has granted St. John's students summer fellowships to do just that at the historic NCF, Hastings-on-Hudson, New York. Five St. John's students were selected from a large roster of applicants to participate in a focused sculpture fellowship funded by the Newington-Cropsey Foundation, including a living stipend for the two weeks, and culminating with a cast-bronze piece.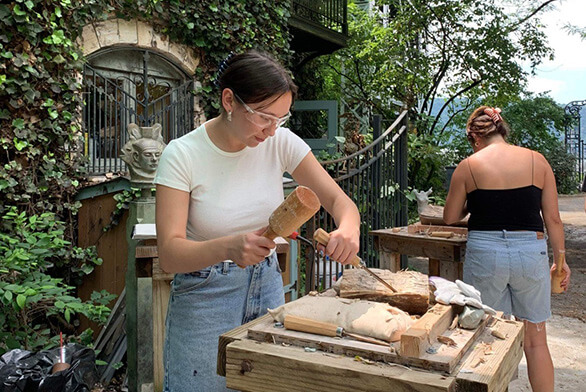 The foundation preserves and displays the home and paintings of Jasper F. Cropsey (1823-1900), a Hudson River School artist. "Our NCF Fellows are selected through a 'blind' process," explains Lucinda Edinberg, interim director of the Mitchell Gallery at St. John's College. "By not being able to identify the names of our students who apply, we can help fulfill the NCF's intent in creating these fellowships—to foster a greater appreciation of the arts and sculpture amongst students who truly want to learn."
NCF Fellows Enkh-Od Batzorig (A22), Clare Collins (A22), and Monica Molina (A22) progressed through the intensive, hands-on art course culminating with a week of work at Newington-Cropsey Academy headquartered at Hastings-on-Hudson in New York. "Even though two of our chosen fellows were unable to participate, we are excited about the growth of this art fellowship opportunity for St. John's students and will offer them again in 2023," explains Edinberg.
Figure drawing as a precursor to three-dimensional work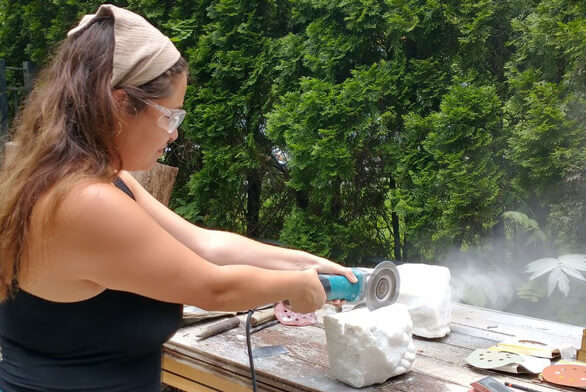 During the first week, the NCF Fellows explored life-drawing, made linoleum carvings, and created terracotta figurines as a precursor to the cast bronze product. Sculptor and instructor John Belardo taught our fellows about sculpture techniques, and print maker and installation artist Aliena de Souza Howell schooled them in making linoleum block prints as an introduction to working in three-dimensional media. The next week, in residence at the Academy, our Johnnies made wood carvings under the instruction of Joseph Petrovic, the Academy's assistant for wood carving and creating wood sculpture pedestals. Our art fellows' next adventure was creating a marble carving under the instruction of Steve Schaum, who also taught them about the different grades of marble and gave a demonstration before his students began working with the stone.
Labors of love take shape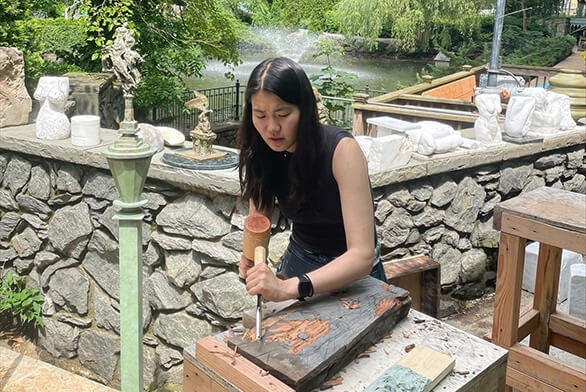 "Our NCF Fellows will never look at this medium [sculpture] the same way again," says Edinberg. Each participant will receive a cast bronze sculpture that will be the culmination of work that began with figure drawing, leading to sculpting terracotta figures to serve as the base of the wax molds used for casting in bronze.
See the Mitchell Gallery at St. John's College to keep up with art programs and the opening of the Mitchell Gallery in early 2023.​​​​​​