Multimedia Artist Daryl Locke (A23) Defies Convention
October 26, 2022 | By Luis Sanchez (AGI23)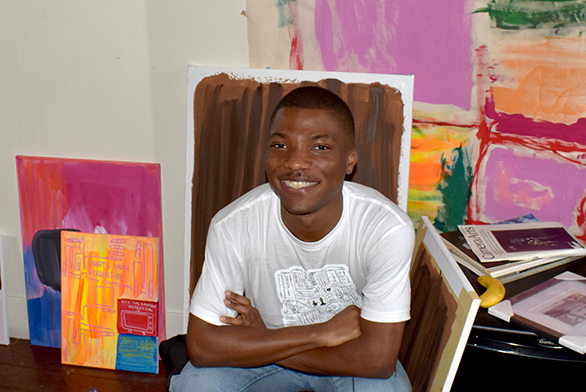 Daryl Locke (A23) is going places with his art. Euclid and Ptolemy are part of his inspiration.
Bold and eccentric is how I would describe Daryl Locke (A23). He is also known as Daryle Locko, his artistic name, as well as the pseudonym Drunkpoete.
In a story published on the college website in the fall of 2020, we described Locke as a poet. That was the extent of his work back then, when he was a sophomore. He wrote poetry and published it on Instagram, and had just begun printing his poems on self-designed tote bags that he sold.
But he has evolved—or grown—as an artist since then. Now he describes himself as a "multimedia artist," which simply means he expresses his art through varied media such as photography, poetry, painting, and design. In his own words: "I've learned to blur the lines between painting and poetry, juxtaposing my identity with my perception of things, portraying my thoughts and experiences through art."
He even hosts a web series in which he brings other Johnnies to discuss anything from cancel culture and music, or hair, to "the name Karen" in a laid-back format. He is a brilliant interviewer, by the way.
His art sells. His Instagram account had 1,100 followers in 2020—now it has almost 1,800. An impressive 64 percent growth rate in less than two years. His career is gaining momentum.
His first solo exhibition "Barbara"' is being exhibited at the Selina hotel in Washington, DC, through November 2. "I feel like an artist for the first time," he says in reference to this art show. "I am finally being acknowledged not just by everyone else but by myself. I feel proud."
Blending Artistic Expression with College Demands
His relationship with St. John's College has evolved, as well. Freshman year was challenging for him. After all, it was not his idea to come to the college in the first place—it was his mother's. Plus, as an artist, his urge to create was at odds with the hours he had to spend reading and discussing the great books on the Program.
Ultimately, Locke found a way to do both. He started the Drunk Poete's Society, a space where fellow students met every Wednesday to recite poetry, make music, and engage in various artistic activities. It was a seminar of sorts, but Locke made the rules, designed to encourage artists of all kinds on campus.
Making a Case for Beauty in the Great Books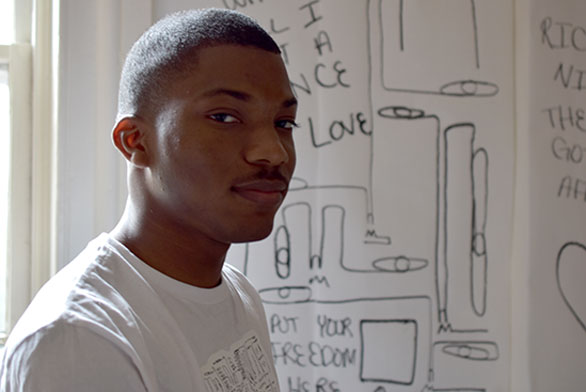 By his sophomore year, Locke "fell in love with the Program." In his words, St. John's "is a beautiful place to be. It is hard not to see the beauty in the books we read here." Indeed, at St. John's sophomores read Dante, Augustine, Chaucer, Copernicus, Montaigne, Epictetus, Ptolemy, Shakespeare, and Virgil, among others. Students also read the Bible, and study the works of Beethoven, Bach, and other great composers. Like most Johnnies, Locke became mesmerized by the wealth of knowledge and beauty found in these works.
Some of the Great Books he read at St. John's directly influenced his creative process, to be sure. "I can't read Baudelaire without wanting to paint after, it's just impossible," he remarks. Also, "Euclid and Ptolemy helped me paint. I apply that to some of my drawings," he says, doodling on a notebook while he explains dots, parallels, and other concepts of Euclidian geometry.
What are his plans for the next five years? In 2023, he will graduate from St. John's. Then, he says, "I would like to be making furniture, large paintings, helping other artists, starting my own design company. I want to travel the world."
To see more of Locke's art, visit his website at drunkpoete.com.