November 1, 2017 | By Tim Pratt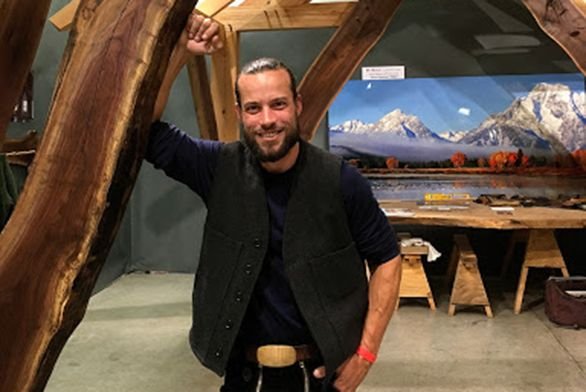 Jordan Finch considers himself a bit of a purist.
The St. John's College graduate has a passion for timber framing, the centuries-old practice of joining wood to wood without metal fasteners—using pegged, mortise and tenon joinery instead.
There's a certain beauty in the process, he says, from turning a tree into lumber and building the framework for a structure that's aesthetically pleasing, functional and long-lasting.
These days, Finch is pursuing his passion in Virginia's Shenandoah Valley, where he owns and operates Finch Woodworks.
Formed in 2004, Finch Woodworks designs, constructs and repairs a variety of timber framed structures throughout the mid-Atlantic, Southeast and mountain West. The company specializes in commercial, residential and historic projects, from homes and businesses to barns, pergolas, outbuildings and more.
Finch says his time at St. John's fostered in him a respect for the wisdom of past centuries, which fueled his desire to learn about classical architecture and traditional ways of building.
"The time spent contemplating and discussing ideas of beauty and truth inspired me to strive to build in a rigorous and demanding way, and to craft buildings that are appealing because of their integrity and the care required to form them," he says. "St. John's provided the confidence that no subject matter was inaccessible if I was willing to work for it, and that by studying the great builders of the past, I could learn the best ways to build in the present."
The company takes an environmentally sustainable approach, using 70- to 100-year-old wood—lots of cypress, southern yellow pine, walnut and cherry—to build structures designed to last 300 years or more, he says. Finch and his employees do everything from the design to construction and installation.
While Finch relies on years of training, some of the math skills he picked up at St. John's have been useful, too, he says.
Advanced timber framing is primarily concerned with compound joinery—the resulting connections of the intersection of different roof planes. Medieval European master carpenters had a knowledge of developed drawing or "stereotomy" that allowed them to layout and cut all of the components in a complex roof frame. The drawings were produced on the layout floor by "folding" different right-angle triangles found in the construction into plain view.
"It really is expressed trigonometry," Finch says. "I always had natural mathematical ability, but it seemed abstract. This is a case where it really is practical. It trains your brain to think in three dimensions and spatial relationships. St. John's was a good starting point for that."
Taking Root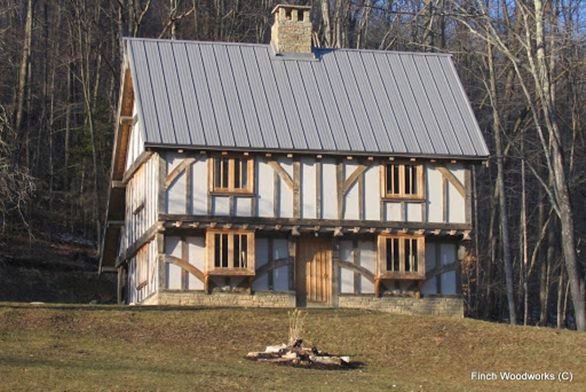 Finch's interest in woodworking began when he was in high school. His father, a textile chemist, also did work as a self-taught carpenter. As the family moved around the country over the years for his father's work, Finch helped fix up their new homes.
"Somewhere in there, it took root in me," he says. "I began to see real value and meaning in making things with my hands."
During his summers, Finch began doing carpentry work. That continued during his time at St. John's, including a summer in Maine—the result of a connection with a St. John's alumnus Finch made after visiting the Office of Career Services.
The work became a "counter-balance" to the nine months of cerebral activity he was experiencing every year at St. John's, he says. He spent his freshman and sophomore years in Santa Fe, his junior year in Annapolis—where he built an 18-foot mahogany sea kayak for the college—then returned to New Mexico as a senior.
After graduating in 2000, Finch traveled to Europe to "find Michelangelo" and study the great architecture of the West, being made alongside the great books of the Program. Hoping to build Cathedrals, he began working with a stone carver in Virginia. Yet, his interests drew him back to woodworking and traditional carpentry.
"Every time I thought about what I wanted to do and what was exciting, furniture making and woodworking kept coming back," he says.
Finch eventually connected with Vicco Von Voss, a German-trained furniture maker in Chestertown, Maryland, at a museum in Washington, DC. One day, Finch decided to give Voss a call.
"He said 'If you're looking for an adventure, come on over,'" Finch says.
Finch remembers traveling to the Eastern shore on that cold December day vividly. The pair started early, cutting a 5-foot diameter maple log in half with a 6-foot chainsaw just so it could be moved. He recalls looking closely at the figure of the grain of the wood, and calling it "one of the most spectacular pieces" he had ever seen.
"It was like this religious experience," he says. "We were the first people to ever see inside that log and witness the natural history that had occurred over 200-plus years. I don't think either of us has cut a maple log that beautiful since."
At the end of the night, as the men sat around the fire, Voss invited Finch to work with him. Finch then began an apprenticeship with Voss that lasted three years and gave him experience that helps him to this day.
On any given day the pair could be found rolling logs and sawmilling; or they could have been working together on a $30,000 dining room table.
"Finding Vicco and the opportunity to study and work with him was huge," Finch says. "I got to see the whole process instead of being one little cog. I was looking for the highest level of craft I could find and he proved more than capable of showing me the depth that was possible. For that I am eternally grateful."
Finch also got involved with the Timber Framer's Guild, an educational group that hosts workshops and conferences. His involvement gave him plenty of networking opportunities, which would be useful later in his career.
The Journey Continues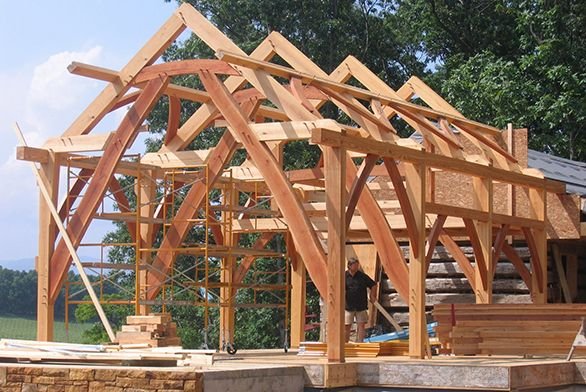 After the apprenticeship, Finch began working at a large-scale production shop in Pennsylvania, then did itinerant work up and down the East Coast. Finally, in 2004, Finch and his wife, Quinby, whom he met at St. John's, settled down in Virginia. Finch had developed a love for joinery and exposed structure, and built a timber frame home for his in-laws. He also started his business.
As the business grew, Finch got more involved with the Timber Framers Guild, participating in workshops and eventually leading them. He even traveled to Poland to teach college art students there as they rebuilt a wooden synagogue.
From 2012 to 2015 Finch worked as a professor of timber framing at American College of the Building Arts in Charleston, South Carolina. Yet, as much as he enjoyed the work, he was also trying to run his business and raise a family, so he returned to Virginia.
These days, Finch has three full-time employees working out of a 10,000-square-foot shop. It typically takes around six to twelve weeks of work in the shop to build a timber frame structure, depending on the size, then a few days to install it. Putting these structures up—"the raising," as it's called—usually involves a large crane, but can also be done with ropes, pulleys and lots of community labor. It is the culmination of all the weeks of careful planning, layout and cutting in the shop, he says, and provides a wonderful occasion and venue for a celebration.
The team uses a combination of hand tools, power tools and computer drafting software. Their method can be summed up one way, Finch says.
"We're old school modular; our work is a blend of Space Age and Stone Age technologies," he says.