New Career Resource Available
March 22, 2018 | By Tim Pratt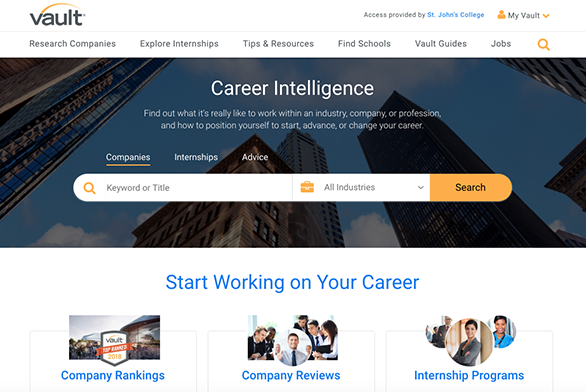 St. John's College has a valuable new career tool available.
The college recently began using Vault, a digital resource database that contains a trove of useful information for current and former Johnnies. Faculty and staff can use it, too.
The service, which the college began using this semester, complements a host of other career resources available to members of the St. John's community.
"This is another tool in our toolbox," says Jaime Dunn, director of the Office of Career Services in Annapolis.
Vault provides personalized support for users based on their interests. Among its features, it offers tutorials and samples for resumes, cover letters and interviews; career plans for breaking into dozens of industries; and profiles for a broad range of industries and occupations. It also contains rankings, ratings and reviews for thousands of organizations; information on internships and schools; blog posts and interactive webinars, among other features.
The online service will supplement the individualized attention staff provides throughout the week.
"We're here eight hours a day, five days a week, but students have questions at 11 o'clock at night," says Marlene Simon, director of the Office of Personal and Professional Development in Santa Fe—formerly known as the Career Services Office. "We're trying to find new ways to reach out and make the students and alums feel like they are being supported 24/7."
Vault is one of several ways staff on both campuses help Johnnies prepare for the future.
Simon, Dunn, and other staff members compile internship and fellowship opportunities for students, and share job openings and scholarship opportunities. The offices also provide graduate school application assistance, pre-med and pre-law counseling, and help with resumes and cover letters. Career information sessions, panel discussions, and other events on campus provide students with perspective on potential jobs in a variety of fields.
Online services include SJC Connect, a networking site for alumni and students, and Agora, a powerful online database that allows direct communication between students, staff, off-campus employers and recruiters.
In addition, the Office of Personal and Professional Development is undergoing a transformation in Santa Fe. Simon arrived in December, and a number of changes and new initiatives are in the works. Those efforts will benefit students and alumni, Simon says.
"We really want to make sure our alumni don't feel like they're cut off (after they graduate)," Simon says. "It's a lifelong commitment."