New Freeing Minds Society Welcomes Inductees
September 30, 2022 | By Eve Tolpa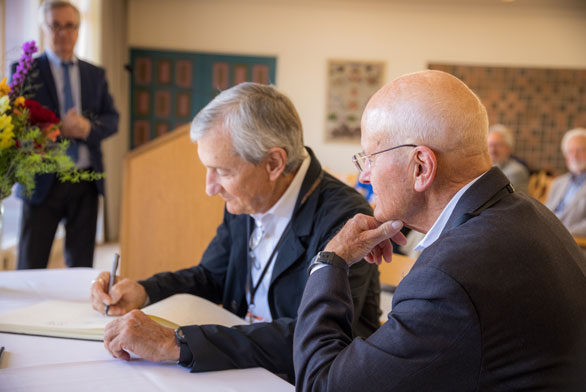 It had been a while since Santa Fe past president (2000-2003) and former Board of Visitors and Governors (BVG) member John Balkcom (SFGI00) and his wife, Carol, found themselves back on campus. The first thing they noticed upon their return, he says, was that it was "so much more beautiful than it's ever been before."
Some of that was due to the profusion of plant life stemming from the heavy rainfall (for the high desert, anyway) that New Mexico had experienced over the summer. But part of it, he says, was "because of steps taken to connect buildings, to add buildings, and expand housing." Many of those improvements are the result of philanthropy, including gifts to the Freeing Minds campaign—which was also the reason Balkcom was in town.
Balkcom and 23 other alumni and friends were inducted into the newly created Freeing Minds Society, which honors donors whose lifetime support for the college totals $100,000 or more. To date, 120 donors have given at this significant level.
Ceremonies took place during St. John's first-ever Day of Gratitude, held in conjunction with Reunion Weekend and created specifically to acknowledge members of the college community for their advocacy, volunteerism, and philanthropy. At special events on September 9 in Santa Fe and September 23 in Annapolis, respective campus presidents Mark Roosevelt and Nora Demleitner gifted Freeing Minds Society inductees with elaborately boxed volumes of Program texts, with different books corresponding to different levels of giving.
St. John's launched the Freeing Minds capital campaign in 2018, with the goal of raising $300 million to shore up the college's financial health, enhance the student experience, and support a landmark tuition reset, which saw St. John's price tag cut by one-third. With nine months remaining in the campaign, donors have contributed more than $296 million to Freeing Minds, resulting in physical improvements and sustainability initiatives on both campuses, the elimination of a $16 million structural deficit, and an increase in applications—all while tuition remains at a decade low.
This progress was evident to Balkcom, as were the fruits of special projects to which he's contributed, including the Santa Fe armillary sphere, a gift from the Class of 2004 and friends. "I've been buying that armillary sphere for the last 10 years," he says. "To come to campus and see it is thrilling!"
The biggest impact he's noticed, however, is something less physically tangible: "an astute business sense about what the college has to do to operate on a financially responsible and sustainable basis."
Balkcom's ongoing philanthropy to the college is inspired in part by what he witnessed during the three years of his presidency. "The capabilities of these students are limitless," he says, touting the range of professional opportunities available to Johnnies post-graduation: "Medicine, scientific research, mathematics, investment banking, agricultural production, technology... St. John's College alumni can do darn-near anything."
He also lauds the Program's distinctive culture of learning, which he considers unique among institutions of higher education (and that includes his own undergraduate alma mater, Princeton). "There are no options for students to get notes from their best friend or roommates," says Balkcom of St. John's. "You have to be present—to do the reading and participate."
Fellow Freeing Minds Society inductee John Gray (EC20), a current Board of Visitors and Governors member and the former director of the Smithsonian's National Museum of American History, attended the Santa Fe ceremony with his spouse, Ray Landy. Gray echoes the benefits of a St. John's education, while also observing that they extend even beyond intellectual rigor.
"Reading honestly and thoroughly often challenges assumptions, understandings, or predetermined constructs that don't stand up to examination. We all read or think for our own benefit, and being changed is what we're here to do. I find St. John's singular and therefore worthy of any help they can get. There is nothing comparable."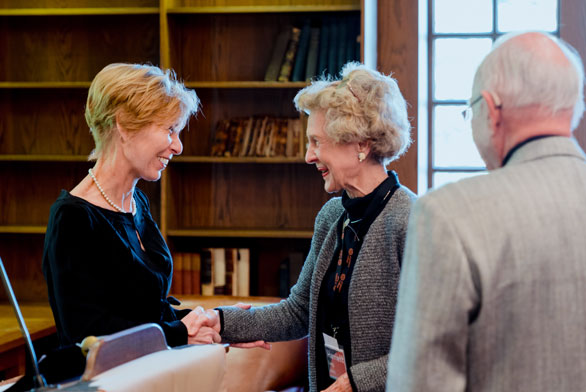 Donlin Long (H21) and former BVG member Harriett Long (AGI92), who were inducted into the Freeing Minds Society during the Annapolis ceremony, agree with those last two sentiments. The couple's relationship with the college stretches back four decades, to the time when the first of their three Johnnie children, Elisabeth Long (A86), landed on campus. She was followed by siblings Kimberly Long Riley (AGI87) and David Long (A90).
Harriett was so inspired by the conversations her children had with fellow Johnnies that she decided to enroll in St. John's herself, as a Graduate Institute student. "I had always wanted to go to graduate school," she says. "It was what I had hoped to do and then ended up having a family instead. It turned out to be just a wonderful experience."
Donlin, who served as director of the Johns Hopkins Department of Neurosurgery from 1973 to 2000, admits he was initially skeptical of the college and pushed the Ivies and Seven Sisters instead. But once he researched the Program, his reluctance disappeared.
"I read several books that Scott Buchanan and Stringfellow Barr had written," he says. "I was very impressed with the founding principles of the school. They were teaching rational thought, understanding scientific principles, understanding facts and how to use them—exactly the same things that interested me. That was one of the things that attracted me to the school and convinced me that it was a very good place for the children to go."
Over the years the couple has watched their Johnnie children's careers evolve as each one applied the skills they acquired at the college. "The criticism that it doesn't prepare you for anything is so wrong; it prepares you for everything and anything," says Harriett of the Program. "All three of our children have used the background to their advantage, but all in different ways," she adds, citing their involvement in ever-evolving subjects like computer science and modern archival systems. "St. John's is a very precious school."
Donlin contends that Freeing Minds has gone a long way toward ensuring that St. John's and its influence will continue well into the future. "The school was based on the freedom of thought, freedom of conscience," he says. "I want to see it survive but also to become a dominant thought leader, expanding these principles and getting them back into American education."
From Gray's point of view, the Freeing Minds campaign offered the college an opportunity for introspection and transformation similar to what he experienced as an Eastern Classics student. "They often say that a capital campaign forces an institution to examine itself, to justify itself, and to organize the ways in which people would be captivated," he says.
"Freeing Minds was an honest assessment of the college, its needs, and its value. The campaign demonstrated that with real effort of communication and outreach, it could engage a lot more alumni at a very human level. Both the sophistication and honesty of the campaign touched a lot of people. The next challenge is to maintain that level of engagement with the broadest community and all the alumni."
Gray characterizes the induction ceremony as a "hugely optimistic" event saying, "[It] was so much fun. It had the best of St. John's. You got a wonderful book about journeys and passages, and you shared the love of the college with other people that you hadn't really known. In many ways, educational institutions are promoted through the past—that is, the participation you had when you were in college or engaged in some way. The glory of [St. John's] College is that participation is absolutely present and relevant and ever ongoing."
Balkcom, too, was struck by the Day of Gratitude, most particularly its intent, which, like the college's culture of learning, he views as unique: "First and foremost, I was surprised that St. John's would stop and say, 'Maybe we ought to go say thank you to these people.'"
"I've been involved with nonprofits, and I get acknowledgement letters, the usual stuff," Balkcom continues. "I've never had an organization that we've contributed to come to me, come to us, and say, 'Over the years you've been giving, here's the sum total of what you've given, and I'm here to thank you and to give you these books as a representation of our appreciation.' I'm grateful to have been included in that group, to be sitting next to former board members, seeing alumni coming back as successful adults. It's a remarkable thing."