New St. John's College Scholarship Adds to a Family's Legacy
December 10, 2021 | By Anne Kniggendorf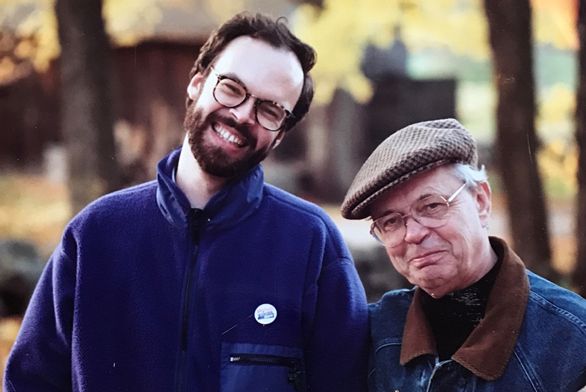 During his time as a student, Dan Van Doren (A81) couldn't walk far on the Annapolis campus of St. John's College before running into a reminder of his father and grandfather.
"Every time I'd walk through [Mellon Hall], there would be my grandfather's name looking right at me. My father also contributed a lot to the college, and he was later memorialized in a plaque in another part of Mellon, on his own," he recalls.
So his decision to create a scholarship in his father's name—the John Van Doren Scholarship—was not about cementing his family's relationship with the college, which stretches back to the founding of the New Program in 1937. For Dan, the scholarship, created with money that his late father willed the college, was about keeping his father in the conversation.
"Every year, somebody will receive the scholarship with his name attached to it," Dan says. "They might be curious about it, and then later my mother or I will get the chance to share something about my father with this person. In that way my dad will live on."
John Van Doren (Class of 1947) began at St. John's during WWII, when he was 15 years old. His father, Mark Van Doren, was instrumental in creating and instituting the New Program on the campus six years prior to his son's entrance.
During the war, the Navy was interested in taking over the St. John's campus, and the college was anxious to bring in new students—but since most college-aged men were fighting overseas, St. John's turned to high school students to boost enrollment (the college began accepting female applicants in 1951).
Allan Hoffman (Class of 1949) remembers John and his father Mark well.
"When [Mark] spoke, his voice was deep and mellifluous," Hoffman says. "He spoke with an interesting cadence and rhythm. Looking back on it, I would swear he was speaking in iambic pentameter."
Mark taught English at Columbia University, served on the St. John's Board of Visitors and Governors, narrated a 1954 St. John's promotional video, and frequently visited Annapolis as a guest lecturer. He also wrote 15 poetry collections, three novels, and 19 works of nonfiction. In 1940, he won the Pulitzer Prize for poetry for his Collected Poems, 1922–1938.
Mark's son John, Dan's father, was similarly prolific: He retired as the executive editor of The Great Ideas Today, served on the St. John's Board of Visitors and Governors as his father had, was the president of the Chicago Poetry Society, and spent many years as a member of both the Chicago and New York City St. John's alumni chapters. Until the end of his life in January of 2019, John loved the Great Books and could talk about them at length.
Dan says that Mark imbued in John a sense that the Great Books were "something awe-inspiring." Their family would play games around the dinner table: "Who can name the Shakespeare quote, that kind of thing," Dan explains.
"When I was a little kid, my father continued that tradition by quoting Shakespeare at our dinner table, as if we were supposed to know what he meant when he exclaimed '… Oh, Hotspur says such and such,'" he adds, imitating his father and laughing theatrically. "To my father, the books were always alive, and he couldn't imagine anyone else not being excited about them in the way he was. Of course, at six years old, I didn't have the faintest idea what he was talking about."
John also carried his love for literature into the alumni seminars he led and in which he participated.
"He had this ability to recall thoughts about a text from long ago, even if he hadn't read it in years," Dan explains. If Dan were to tell his father that a seminar was taking place that evening on Book 10 of Plato's Republic, for instance, John would immediately reread the section and then have as much to say about it as anyone else in the room. He could refer to passages in the text without notes and then bring up ideas from elsewhere in Plato, Aristotle, and other works.
"My father seemed to have all of the Great Books in his head at once," Dan notes.
Importantly, "it didn't matter to my dad how old or young you were in a seminar," Dan observes. "My dad would often be the oldest person at the seminar." His father believed that even the newest graduate had an important contribution to make—a principle that guides the St. John's seminar to this day.
Dan hopes that the new scholarship in his father's name will keep that tradition of lively inquiry and conversation alive, as well as preserve the many, many stories about his father. The scholarship will be available to students on both St. John's campuses.