St. John's, Naval Academy Business Services Division Renew Employment Agreement
December 14, 2021 | By Les Poling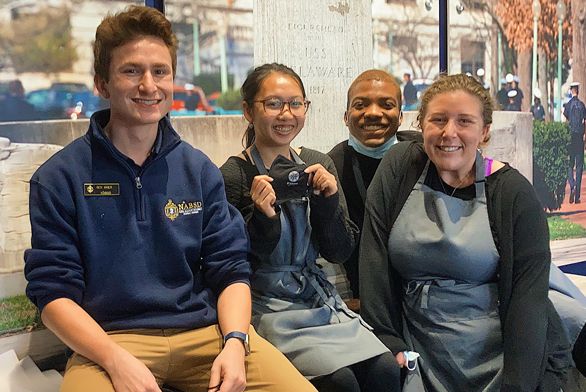 In October 2019, St. John's College and the U.S. Naval Academy Business Services Division formed what was then a pioneering partnership—the first non-academic one of its kind—for the two institutions, characterized as "a unique, mutually beneficial program that allows St. John's students to fill Naval Academy job vacancies available through the Naval Academy Business Services Division."
Essentially, because federal law prohibits USNA students from gaining outside employment while pursuing their undergraduate degree and commission, St. John's students seeking employment were given the option to fill open positions at the Naval Academy. Participating Johnnies would earn a financial aid reward—a $500 bonus for every 250 hours worked—in addition to the approximately $14-per-hour wages paid by the academy. The partnership began with three Johnnies; as of December 2021, that number has grown to seven. Initially, St. John's students were brought in to work at the Naval Academy's new coffee shop. Now, Johnnies can work in a number of positions throughout the academy.
In other words, the program has been a clear success—which is why, in late 2021, St. John's and the USNA Business Services Division decided to renew the contract for another three years.
"This partnership has been wonderful," says Emily Stinemire, operations manager at the Naval Academy Business Services Division. "I'm glad that it's extended and that we can keep it running. Some of our most senior and most cherished employees have come from our St. John's College partnership."
"It's been great," adds Jaime Dunn, director of career services at St. John's. "We can tell students that right across the street are plenty of jobs, and they pay really well."
The partnership began, quite simply, out of a need for baristas. In 2018, the Naval Academy was preparing to open a brand-new coffee shop, which they envisioned as a place to sustain midshipmen, encourage socializing, and welcome visitors. The problem: They couldn't find any baristas, and the academy wanted to keep its workforce local instead of contracting with an outside staffing service. Then, during unrelated conversations with Dunn and St. John's Treasurer Ally Gontang-Highfield, inspiration struck.
"I thought to myself, why don't we do a student partnership with St. John's and hire their students to run the coffee shop?" recalls Phil Allison, deputy director at the USNA Business Services Division. "We'll hire them at the federal rate, and to incentivize them, for every 250 hours worked, they get a $500 bonus that goes to tuition and fees."
Two years later, Johnnies are working as bartenders, baristas, gift store retail associates, and more. "I work as a 'flex' employee where I wear many hats," explains Rhett Anderson (A23), a Johnnie who has worked at the academy since October 2020. "We get cross-trained quite a bit, so I've worked in everything from the coffee shop to a restaurant. Many of us bartend, work events, and other things as well."
The material benefits, while a large part of the rationale behind the partnership, were not the only reason for the two Annapolis mainstays to join together. The agreement between the two institutions represents an attempt to formalize and reinforce what has often been a more neighborly—or, in the case of croquet, friendly-yet-competitive—relationship.
"I've heard more conversation [at the academy] about St. John's College in the three or four years of this partnership than the previous 12," Allison says, adding that he believes the agreement paved the way for the arrangement that allowed midshipmen to live in St. John's dorms during the fall of 2020. Plus, he continues, "I think mids enjoy meeting the St. John's College students when they're making coffee. And when I visit with [Johnnies], they all seem to enjoy working here."
Anderson holds a similar position—to her, the interpersonal relationships that have developed as a result of her work at the Naval Academy are easily the highlight of the job.
"I've made quite a few friends over there!" she explains. "There are many stereotypes Johnnies often fall prey to when imagining what the midshipmen are like … but they're actually surprisingly knowledgeable about the same things we study at St. John's, and I've had whole discussions about Program books with them."
"I also have to admit that there's the bonus benefit of getting to drink and make café-style drinks for pay—which is the thing I spend most of my money and time on anyways," Anderson adds.
In looking to the future of the agreement, members of the Naval Academy and St. John's stress the same theme: There are plenty of open positions for Johnnies in need of employment, and the rewards are many. Along with the pay and the potential for multiple $500 bonuses, Stinemire says, the Naval Academy prioritizes flexibility. In recognition of the famous rigor of the St. John's Program, she explains, students working at the academy can and should feel free to reschedule shifts—whether working on a senior essay or simply striving to maintain a healthy work-school-life balance.
In addition, Dunn adds, there's the added value of resume-building. "The positions with the Naval Academy Business Services Division are not only great opportunities for students to earn money and for the tuition benefit, but also a chance for students to gain valuable experience and transferrable skills that they can take with them to future jobs, whatever field they decide to go into," she explains.
Ultimately, though, according to Anderson, the reason for taking advantage of the partnership is simple.
"We get paid well, it's a good working environment, and it's an awesome opportunity to 'see inside' the walls of our often-mysterious neighbors," she says.