Peter Weiss (Class of 1946) Recounts Covert U.S. History in Netflix Documentary
December 17, 2021 | By Les Poling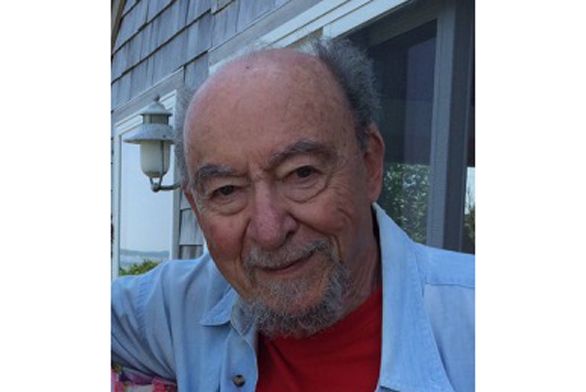 In 1996, Peter Weiss (Class of 1946) earned one of the St. John's College alumni community's highest honors, the Alumni Association Award of Merit—an annual recognition bestowed upon graduates "for distinguished and meritorious service to the United States, to his/her native state, to St. John's College, or for outstanding achievement within his/her chosen field."
For Weiss, who served for many years on the college's Board of Visitors and Governors, nearly all of the criteria apply. His long career as a pioneering human rights lawyer has included stints as the vice president of the International Federation for Human Rights; president of the Lawyers Committee on Nuclear Policy and of the International Association of Lawyers Against Nuclear Arms; president of the American Committee on Africa and chairman of the board of the Institute for Policy Studies in Washington, DC; and vice president of the Center for Constitutional Rights (CCR). Weiss and his colleagues at CCR were the first to use the Alien Tort Claims Act, a 1789 U.S. law, to sue persons in the U.S. who committed human rights violations, such as torture, in other countries.
Such career and life summaries—only the tip of the iceberg—indicate Weiss's sense of ethical principle: a clear drive for justice and righteousness. Now, Netflix subscribers across the country can witness that moral clarity in the streaming service's new 36-minute documentary, Camp Confidential: a sometimes-shocking film that tells the secret history of a war camp in Fairfax, Virginia, where Jewish soldiers like Weiss, most of them refugees, were tasked with watching over and in some cases developing a rapport with Nazi prisoners of war.
Camp Confidential, directed by documentary filmmakers Daniel Sivan and Mor Loushy, cuts between animated reenactments of life at the camp­—covertly titled PO Box 1142—and present-day interviews with Weiss and fellow guard Arno Mayer, the last living survivors of the operation, who recount the surreal, confounding experience of fleeing the Holocaust only to end up watching over Nazis like rocket scientist Wernher von Braun. The soldiers' primary objective was to extract intelligence from the German POWs (which they did, obtaining the location of a V-2 rocket factory). But that wasn't all: Weiss, Mayer, and their compatriots were ordered to be, in many ways, accommodating to their charges—translating Christmas sermons to German, taking the nominal prisoners shopping, bringing them to the city for coffee and cake, and more.
"I didn't know at that time, but my grandfather, and uncle, and aunt, and cousin, and other relatives all died in the Holocaust—like so many others," Weiss recounts in the film. "Almost all of us [at PO Box 1142] were refugees from the Nazis. We would have preferred to treat them as the war criminals that they were, but when you are in the army, you follow orders."
Weiss was approached by Austrian producers and brothers, Benjamin and Jonathan Bergmann, to participate in Camp Confidential in 2020. (Weiss spent the first 12 years of his life in Vienna before seeking refuge in the states.) It wasn't the first time that PO Box 1142 had been spoken of informally; however, information about the camp was not declassified until 2006, 60 years after it was closed and all documents destroyed. For Weiss, Camp Confidential represented an opportunity to discuss the camp in detail—and reach a broad audience.
"My initial reaction was that it was time that the things that went on at PO Box 1142 became part of history," Weiss says, "and I was ready to become part of history by collaborating with these two guys in telling the story."
To this day, Weiss, at 96 years old, can recall nearly every detail of how he came to be assigned to 1142: His colonel in San Antonio, where he was stationed in 1945, asked him if he could speak German. Weiss began reciting Goethe; from there, he was transferred to Camp Ritchie in Maryland, "the military intelligence university," then hustled clandestinely—via two bus rides and a hidden dirt road—to 1142.
Different soldiers had different duties at the camp. Some of the older troops, Weiss recalls, focused specifically on interrogation and information collecting. Weiss, 19 at the time, worked in a more indirect capacity, censoring the prisoners' correspondence with their families and surveilling conversations between prisoners who were intentionally given the same living quarters—an attempt by the U.S. Army to glean secrets about the German rocket-building operation.
"It was drilled into us that 1142 had been the source of very important information, not only about rocket science but also about how the Nazi government used submarines to help gather information," Weiss says. "It was told to us repeatedly that what we were doing at 1142 would help end the war expeditiously."
There is, he adds, perhaps some merit to that argument, particularly in the fact that the operation at 1142 led to the destruction of the discovered German rocket manufacturing and launch site—likely saving hundreds, if not thousands, of lives. And yet, the fact remains: The intelligence gained by the army resulted from the U.S. harboring and "making nice" with Nazis, some of them fresh off the battlefield.
"Does the fact that 1142 located the place where German rockets were manufactured and launched justify the fact that we were sheltering war criminals?" Weiss asks. "It's not a simple question."
The ethical void at the center of PO Box 1142 is palpable in Mayer and Weiss's on-screen interviews—particularly as the film chronicles Operation Paperclip, which notoriously integrated hundreds of Nazi scientists into the United States government and resulted in von Braun being championed for his work on NASA's Apollo missions.
"Wernher von Braun developed the V-2 rocket, which killed countless numbers of people. And now he's going to work for us. He was treated almost as a hero," Weiss says in the film, still in disbelief. Near the end of the documentary, he continues:
"I occasionally went to bed and found myself thinking, what am I doing here? I did wonder whether I could go to the colonel in charge and say, I really can't do this. Well, you didn't do things like that when you were in the army. And you didn't do things like that when you were a recent refugee."
The dissociative relationship between ethics, duty, and the authority of the state required Weiss to suppress confusion and rage during his stint at 1142, and treat humanely the troops who were part of the regime responsible for the murder of many members of his family. Decades later, the film confronts that moral contradiction, calling into question the United States' self-appointed status as a righteous world leader. As Weiss says in the film: "It goes back to the question of doing bad things to achieve good ends. And I would say if you do that, the end you achieve is not worthwhile."
After the war—and after a year spent working for former St. John's tutor James Stewart Martin, then working as Chief of the Decartelization Branch for Military Government to uncover and disrupt connections between Wall Street and Nazi Germany—Weiss graduated from St. John's and began devoting much of his life to human rights work. According to CCR, he "went on to be involved in virtually every major human rights issue of his lifetime, from the dismantling of Nazi business cartels to the My Lai Massacre during the Vietnam War to seeking accountability for U.S. torture (under numerous administrations), using the principle of 'universal jurisdiction.'" In 1980, Weiss and a colleague won one of the most important human rights cases in international law: Filártiga v. Peña-Irala, a victory against a Paraguayan former officer accused of torturing a young man to death. The case set the precedent for suing human rights violators in civil courts; according to the European Center for Constitutional and Human Rights, it "remains one of the most cited landmark human rights judgments cited worldwide."
Weiss's pursuit of justice is ongoing. Since retiring, he has continued to speak loudly against inequality and war via contributions to publications like The Guardian, and with his participation in Camp Confidential, he hopes to spur viewers to engage with and confront matters of right and wrong—in history, in the present, and well into the future—with the unceasing energy that such struggles demand.
In doing so, he continues to demonstrate that he is, indeed, a St. John's alum of merit—and an example for all Johnnies to follow.