Preparing for a Career of Service: Amina Federspiel-Otelea (SF25)
December 20, 2021 | By Eve Tolpa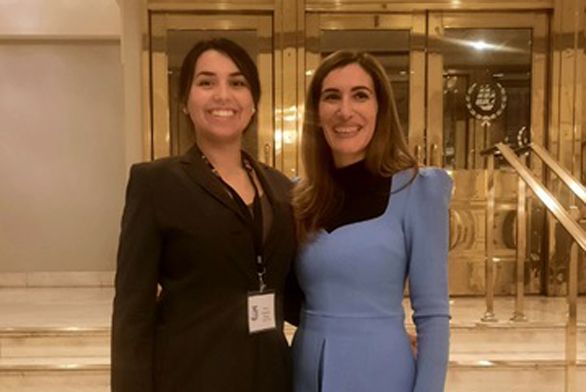 Santa Fe freshman Amina Federspiel-Otelea (SF25) recently returned from the 2021 World Affairs Councils of America (WACA) national conference, held November 16–19 in Washington, DC. She joined 10 other students, young area professionals, and attendees from all over the world to explore—through a selection of lectures, events, and panels—the theme "Bridging Divides at Home and Abroad."
"WACA aims to educate the public on international issues [and] create a global mindset in America—open our eyes to how interconnected we are and how we can help each other," she explains. "It's an opportunity to access people of political prominence personally. It was really lovely to see not only international but inter-professional people."
The chance to attend the WACA conference arose quickly and unexpectedly, but Federspiel-Otelea seized it without hesitation. She had been working on a volunteer basis with the Santa Fe Council on International Relations (SFCIR) since September, and its program officer for education, Brooke Minnich, suggested she apply for a scholarship to the event.
"In the past we wanted to send people to WACA, [but] we can't send anyone who has been an intern of ours," Minnich says. Because Federspiel-Otelea was a volunteer, her situation "was just perfect. She's such a curious and passionate young woman."
Federspiel-Otelea's interests have always been influenced by her international background; she was born in Germany to Romanian parents and has lived in the U.S. since age three. Those circumstances, she says, "pushed me to see the world from multiple perspectives."
During her junior year of high school, Federspiel-Otelea spent a semester in India training to be a teacher. "I traveled around and taught at a private school. It really opened my eyes to the disparity that is so huge in the population of the current generation," she says. "I'm passionate about education inequality around the globe and ways to address that. I didn't want to lose touch with this subject."
To that end, she set two goals for herself: to involve herself in international relations every semester and every summer. Upon arrival at St. John's she enlisted the help of Piér Quintana, assistant director of personal and professional development. "Piér connected me to Brooke," Federspiel-Otelea says. "I got in contact with [her] the first two or three weeks at college."
Both Minnich and Federspiel-Otelea see plenty of opportunities for Johnnies at SFCIR, which offers fellowships and paid internships. "I'd love more involvement from students," says Minnich. "It's so great having a local person as an intern, learning not only about foreign affairs but also nonprofits. I don't think students know that there is a lot here for them [in Santa Fe]. Everyone thinks you need to go to Chicago or New York City or Dallas."
As for Federspiel-Otelea, growing up in a small town in Northern California taught her that opportunity can come from anywhere, and a big part of finding it comes from asking. As she continues to work with SFCIR, she's excited to learn more about its internships—and "to encourage other St. John's students to look for outside opportunities as well."
"I was so fortunate to get the scholarship [to WACA]," continues Federspiel-Otelea, who cites meeting Afghan activist and politician Zarifa Ghafari during the Global Women's Lecture Series as a conference highlight.
"She is a woman just like me, my mother, my friends, whose right to live is threatened because she fights for the women's rights I was fortunate to be born into," Federspiel-Otelea wrote in her post-conference student report, noting that the encounter "left an intense mark on my heart, so much that I honestly and humbly admit that I remained speechless for the remainder of the day."
The conference strengthened her interest in academic research and social activism while clarifying that she "would like to see how I can make a difference in these issues outside of politics." She is now planning to apply for a summer internship with an education-focused London NGO via Arcadia University, which has a partnership with St. John's.
"I've always been very career-oriented," says Federspiel-Otelea. "I'm preparing myself to be of service in the world."