St. John's Partners with Naval Academy on Employment Opportunity for Students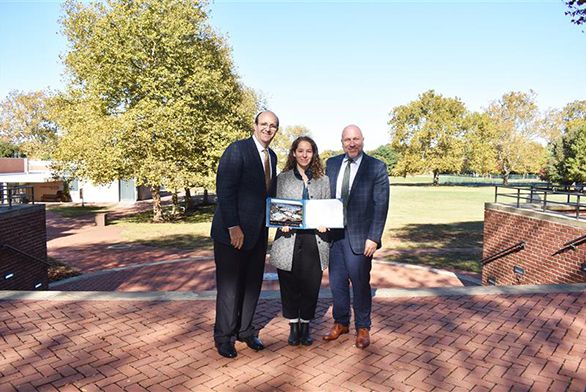 The U.S. Naval Academy and St. John's College have recently developed and formalized a unique, mutually beneficial program that allows St. John's students to fill Naval Academy job vacancies available through the Naval Academy Business Services Division.
While the Naval Academy is home to approximately 4,400 military students who are required to live on-campus, these students are not permitted to gain outside employment while pursuing their undergraduate degree and commission. At St. John's, about 500 students live on and off-campus and many seek employment opportunities through the school's work-study program in order to afford tuition and living expenses. The number of SJC students interested in employment, however, often exceeds the number of jobs available on the small SJC campus.
NABSD Deputy Director Phil Allison recognized the opportunity for these two schools, just a few blocks apart, to benefit one another: using SJC's job-seekers to fill employment opportunities at the Academy and assisting those students with the cost of their education on top of payment of their hourly wages.
A formal agreement between the schools was reached at the end of May 2019, and three SJC students are currently on the NABSD payroll. By the end of October, that number will increase to nine. According to the Memorandum of Agreement, "NABSD has multiple flexible employment opportunities within easy walking distance of campus that may be of great interest to SJC students who are eligible to work off-campus."
The agreement states that NABSD will provide $500 in financial aid for every 250 hours the Johnnies work at USNA. The payment will be made payable to the college to be applied to the student's account, and NABSD will provide monthly reports of student hours worked for St. John's to review.
The two schools recognized the first student recipient of the grant, Nancy Hilton, on Wednesday, Oct. 23.
"I'm very happy to help the Naval Academy and St. John's bridge gaps more," says Hilton. "I know there's been a great effort in the Graduate Program to get more Midshipmen to come [to St. John's], and I think that the more people that can get this education, the better—especially people who are going to be leading the world and war efforts. I'm happy to be taking even little steps to help that happen. The environment is great, the people are super friendly, and it's a very honorable place to work."
"The college is delighted to be partnering with NABSD," added SJC Director of Career Services Jaime Dunn. "We appreciate the valuable employment opportunities for our students, and the generosity of the NABSD in providing further financial aid benefits beyond employment."
While the Naval Academy has had a longtime affiliation with St. John's—through Croquet, of course, but also through a newer Graduate Institute partnership—this is the first time the schools have come together in a non-academic joint partnership program.
"This partnership has resulted in a win for everyone involved. NABSD was looking for more employees, SJC was looking for ways to help their students find jobs, and the students were looking for ways to earn money," said Allison. "It's amazing the things that can be accomplished through local partnerships."
Adapted from a press release from the USNA.