Student Melds Mindfulness and Psychology through Hodson Internship
October 22, 2019 | By Tessa Wild (A23)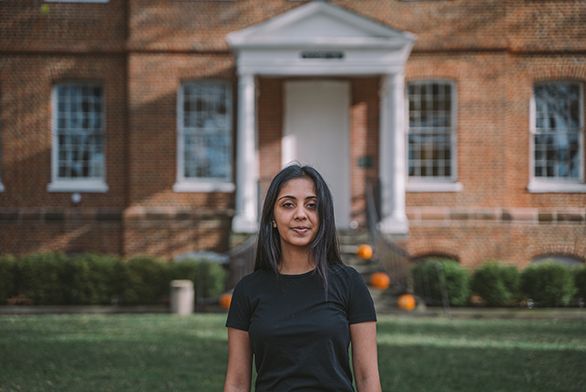 When Sanju Baral (A20) applied for an internship through the Hodson Trust program, she expected to learn more about psychology, a subject that had long fascinated her. What she didn't expect, however, was for her entire worldview to shift.
Baral spent the summer working at Psychbigyaan Network Nepal (PNN), a youth-led organization focused on raising awareness about mental health and psychology. When she arrived, her first task was to compile research on the history of psychology in Nepal for a book the organization was producing. She spent at least two hours every day researching, writing, and editing the 'Philosophical Background' section of the book History of Psychology in Nepal, the first attempt to document the development and scope of the discipline of psychology in Nepal. It came easily to her, she says, thanks to her time in the Program.
"That was something that I could do because of the work we do at St. John's," she says. "I was really fascinated to see the connection between the authors we read here at St. John's, the philosophers, and how they contributed to the field of psychology."
Baral was particularly interested in the relationship between psychology and mindfulness, a practice which encourages people to be more aware of themselves and their surroundings.
"Coming to the U.S. from Nepal, [mindfulness] really helped me stay grounded," she says.
With the help of her mentor, she designed a mindfulness course for Nepalese students, using her own experience to inform the course's creation.
"I felt like sitting down and observing breath was not enough," says Baral, "so we also started Mindful Reflections."
These reflections, she explains, invited students to sit down and start writing. The course asked them to reflect on their selves and their experiences by writing down three things about the past they felt guilty about, five things for which they were grateful in the present moment, and three things they wanted to do in the future. This was practiced once every week, on Fridays, and the course was open to the public.
"Every week there were different people coming—you never knew their backgrounds," recalls Baral. "Some of them were young people, some of them were old people, so every time the questions we got were different. Every week was different."
Once the course was established, she shifted focus to another project: an event called "Reflective Personal Leadership" that she created and developed herself. She invited speakers and coaches to the event, and one of the psychologists from PNN attended. While there weren't many participants, she says, those who did participate said the experience was "life-changing".
"We usually talk about leadership in the sense of something very external, action-oriented," says Baral. "But with this kind of leadership, we focused on reflection."
Over the course of the summer, Baral's own relationship with mindfulness developed significantly—but not in the way she'd expected.
"The whole thing started because I thought that I knew something about mindfulness," she says, "but at the end of it, I felt like there was so much more I didn't know. I unlearned more than I learned."
She dove deeply, too, into the world of psychology. While she was curious about counseling, she knew she couldn't sit in on the sessions—so she decided to undertake it herself. Her mentor began to counsel her every week, and Baral started to learn about Cognitive Behavioral Therapy (CBT), a version of therapy that focuses on emotional regulation and the development of coping mechanisms.
As she learned, she began to practice CBT with her family.
"I would make them sit down, and whatever I learned through the counseling session, I would try to do again," she recalls.
As a result, her family was able to work through issues together, transforming the practice of CBT from a professional interest into something deeply personal.
The lines between psychology and mindfulness began to blur as her internship continued.
"Some of our mindfulness sessions turned into group therapy," Baral says. "People would come and share a lot about their deeper issues. People would come and talk about their problems, and we would listen."
Those conversations, she said, taught her more than she'd ever known about people—how deeply they feel, their willingness to be open, and their eagerness to change the heavy things in their lives.
"[In] normal conversations we have with people, we don't really talk about our feelings," she says, "but the group therapy was something really different."
It was on the plane back to the U.S. from Nepal that Baral began to realize how much her internship had affected and changed her.
"I felt much more healed," she says. "[The experience] was very therapeutic, personally, and I made a lot of friends."
The internship, she says, allowed her to explore her passion and helped to define the boundaries of her professional aspirations. She's still interested in pursuing psychology as a career, even if it won't be easy. The one thing she now knows for sure, however, is that she wants to work with people.
"The things that I learned—I can't even explain," says Baral. "[Having experiences like that] is really something that I'll always look forward to."