A Newspaper for Uncertain Times: The Gadfly vol. XLII
April 12, 2021 | By Juana Melendez (A22)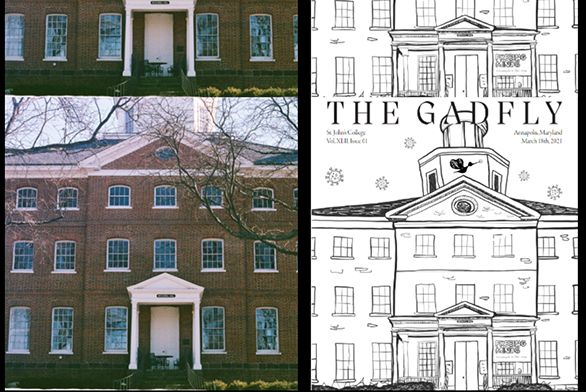 The Gadfly is one of the oldest student publications at St. John's College and has substantially changed on countless occasions throughout its history. On March 18, the latest edition, a 36-page issue, was announced to the St. John's community. A limited number of physical copies were printed for Johnnies who live in Annapolis, while students across the country and world received an online version of the paper in their college email.
The publishing of The Gadfly feels characteristic of pre-pandemic life at St. John's, and a new issue is a welcome, familiar sensation for Johnnies on campus and those studying remotely. As something resembling ordinary life starts to take shape during a hopeful time in the country, members of the paper's editorial team—sophomores Lysithia Page (A23), James Cooper Ussery (A23), and Elizabeth Dowdy (A23)—reflected on the extensive new issue, which took nearly three months to put together.
"The Gadfly is St. John's College's student newspaper, created by students and for students as well as staff, administration, and alumni," Page says. "We want to publish anything and everything related to St. John's. Johnnies like to think and discuss and inhabit the world, and that is what we are trying to do as a paper."
The team began thinking about the latest edition of The Gadfly in November 2020, when students were scattered around the world. "We noticed that the kind of conversation we were used to was not happening anymore; we may text our friends after class or send a message through Facebook or Instagram, but there was no gathering on the quad after seminar," Ussery recalls. "We were lacking a forum for discussion."
With that in mind, the team decided to reconsider the function of The Gadfly. To serve the geographically fractured college community, they decided to "give people an outlet for whatever they have been thinking about and a place where they can discuss as an attempt to recreate the campus atmosphere," Ussery says.
After meeting somewhat regularly throughout the first semester, the entire staff started working on the latest issue in January. Alayna Raymond (A23), the managing editor and production lead, was involved in communications and made sure everyone was informed and had a voice in the publication process. As editor-in-chief, Page focused primarily on editing: reading and rereading submissions until all parties were satisfied. "We want people to create something that they feel proud of," she explains. Dowdy, co-editor and resident artist, worked on creating graphic content as well as reviewing submissions. As head layout editor, Ussery concentrated on the paper's physical presentation. In other words, the production of the issue was a group effort in every sense of the word—created by and for the polity.
"We [the St. John's student body] were lacking and are still lacking things that bring us together as a community," Dowdy notes. "On the day we [Dowdy and Page] went to pick up the printed copies, we were walking around campus distributing them. And it was a very good feeling to see [issues] sitting on the table again, knowing that at some point someone would pick them up and have conversations about what the paper is and what is in it."
Fittingly, this issue of The Gadfly represents, in many ways, the circumstances that produced it. Life at St. John's still isn't what it used to be, and consequently, The Gadfly vol. XLII seems to function as a constant effort to communicate and express that which students have not been able to say to each other during the last year. The paper is now divided into three sections, each representative of different aspects of life at St. John's: Logos, Symposium, and Polis.
"Logos is a section for news reports, analysis, and accounts of student life; information that people should know about," Page says. "Symposium, the second section, was born from the initiative of creating a place for people to explore ideas together—so we begin with a prompt and then we have three or four staff members responding to it in an essay. And then we gather all the essays together. Polis, the final section, is where we put submissions, satires, and pretty much anything that students send." Through this new organization scheme, the team hopes to provide a space for Johnnies to say what they want to say—and, of course, to provide readers with a balanced and carefully crafted blend of campus news and thought.
A visual representation of the passing of time and the uncertainty that each month carried was included in the publication. On the bottom of every page in the Logos section, there is a timeline that accounts for some of the events of last year, including the onset of COVID-19 and the protests against racial injustice that defined the summer. "We thought it was a good idea that while we were having all these time-based stories, we could also include a graphic timeline that reflects exactly what has happened in the past year," Ussery says. "It can be very shocking, because people notice loose, disconnected events laid out on the same space—it is strange to notice how close together and far apart these things were." Throughout the paper, the timeline becomes less constant; it flitters in and out of the pages, filled with irregular shapes, depicting a complex notion of temporality.
"I really do love the way the timeline turned out; I think it is a good representation of how time has felt to a lot of us over the past year," Dowdy adds. "With quarantine, time did not feel real, and it did feel all over the place. And so, the structure at the beginning represents how time should be; at the end, it represents how time has felt."
For current students, The Gadfly is available to read on campus and in a digital format. For future Johnnies, it will serve as a time capsule that tells the story of what students experienced, created, and talked about during the time of COVID-19. And as always, the editorial team hopes that the paper inspires dialogue and feedback from the college community.
"We just want to spark conversation; if something that you read piques your interest, write us a letter," Page says. "If it is two sentences, do it. If there is something [longer] you are passionate about writing, we will probably publish that as well."
Ussery agrees. "If you would like to write, design, or draw for us, our email is sjca.gadfly(at)gmail.com and we will be happy to work with you," he says. The team makes clear that they prize hearing from a wide variety of voices; they will continue to publish different points of view from the vast talents of the polity.
"We would love to hear anything from anyone about Johnnie life," Dowdy emphasizes. "It is important for everyone to have a place where they can express themselves, and that is what we want to be for people."