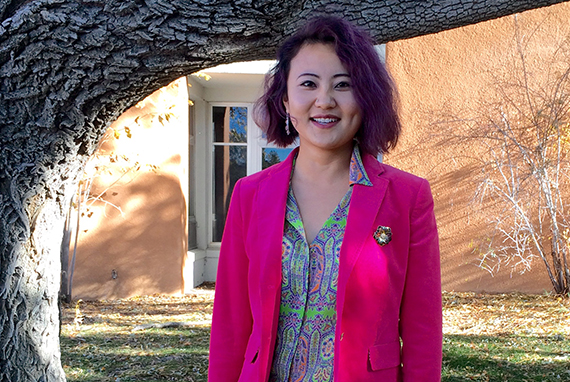 Jiujun Tang (SF16) is a Pathways Fellow and a senior at St. John's College in Santa Fe. She studied Organic Chemistry and Statistics at the University of New Mexico in Albuquerque, Nm.
St. John's College: Why did you decide to attend St. John's College?
Jiujun Tang: I felt really intrigued when I looked at the college's website, especially when I read the student blogs. I knew I wanted to go to a liberal arts school because I wanted to have more personal interaction with students and faculty. St. John's small student body appealed to me, too, because I didn't want to get lost in the crowd. I wanted to be part of a community where I could make a difference.
SJC: How have you grown from freshman to senior year?
JT: As an international student from China, my arrival at St. John's was the first time I'd ever been to the US and I experienced a lot of culture shock! Now that I'm a senior, I feel much more confident about new situations, my language and social skills, as well as my problem solving ability. I have watched the program open up my view of the world—I'm now in the habit of lifelong learning and of being curious about new ideas and concepts.
SJC: How did your Pathways Fellowship help you with your career goals?
JT: My calling is wildlife medicine and I plan to pursue wildlife research, conservation, and rehabilitation. I volunteer weekly assisting vet techs at the Santa Fe Animal Shelter to gain practical experience, but Pathways helped me get started early on the academic requirements I'll need to apply to vet school. The funding I received gave me the luxury of being completely focused on my schoolwork without having to think about finances. It also made me feel more clear, not only about what I want to do, but also the path I'll need to take to get there.
SJC: What advice would you give to future Pathways applicants?
JT: I would advise students to start early—research everything you can to get as much information as possible about different programs and schools. It can be difficult for Johnnies to get permission to take certain courses, especially science courses, because we don't have the prerequisites. You can ask administrators to override those requirements, but you have to start early.
SJC: What do you enjoy most about being a student at St. John's?
JT: I really love that St. John's makes it possible to pursue your interests along with your fellow students. I lead the school's sustainability club and last semester we were able to create a community garden. Students can start any kind of club they want which is a great opportunity to implement the changes you'd like to see on-campus and to make a difference to our community.
—Lisa Neal
*The Pathways Fellowship enables St. John's students to transition into graduate study or careers that call for special or prerequisite courses. Visit our Pathways Fellowship page for more information.