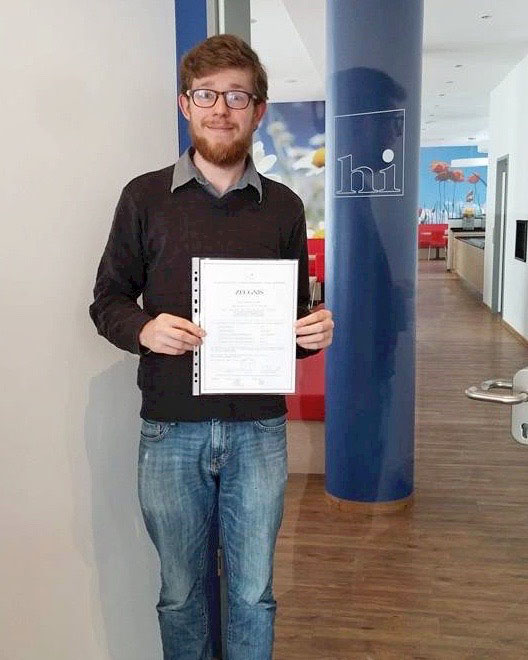 Jonathan Llovet (A17) is a Pathways Fellow and a student at St. John's College in Annapolis. He studied German at the Humboldt-Institut in Berlin, Germany.
St. John's College: How did you get interested in German?
Jonathan Llovet: My interest in German came from talking about language with my former roommate. We'd talk about philosophy and language, for instance, the relationship of Greek language to Greek thought. He knows German, so he would tell me about these relationships between German language and nuances of the thought that would be affected by the language.
SJC: How has this Pathways Fellowship helped you take steps toward your career goals?
JL: Since I've had to take language classes in high school, I thought that learning one well might help me to look at the relationship between thought and language. It was something that kept recurring in discussions, that language might have an effect on how you think or what you think. I'm looking into doing either graduate work or postdoc work abroad; it seems like it's going to be much easier than I thought it would be, just to learn a language and go study in it.
SJC: What was your favorite part of your summer experience?
JL: I enjoyed talking with my roommates and my guest mother. We would have breakfast together every morning and talk about what was going on. My roommate lives in Switzerland. He spoke Spanish, French, a little bit of English, and Italian; he was learning German. We talked to each other in German. One time we were riding the train and we were playing a game: I'll talk in this language and you respond in this language, flipping back and forth. Also, just walking around Berlin and seeing everything there was fantastic. Seeing the Altstadt, where a lot of the old historic and beautiful places are in the city. Riding a bike along the Spree.
SJC: What advice would you give future Pathways applicants?
JL: Find something that you're curious about and genuinely interested in, something that you think you'd like to pursue. Practical concerns: write your application early, rewrite it a couple of times, have someone else look over it, make it aesthetically pleasing. Save your money [if you would like to] to go abroad.
SJC: Why did you decide to attend St. John's?
JL: When I was considering colleges, I was considering going into technical theater and linguistics, be a stage manager for Cirque de Soleil or something like that. I was a stage manager and set designer, actor, and so on so forth in high school, so I could have incorporated the interest in linguistics and theater all in one. I went on a college tour and St. John's seemed to take me more seriously than the other places did. There was something great about the admissions packet [St. John's] sent me; it was sort of a book—here's something for you to read.
SJC: What do you enjoy most about being a student at St. John's?
JL: One of the things that struck me this year is the amount of growth that everyone undergoes. We all grow a tremendous deal because we have to be honest with ourselves and with each other. When we engage with each other in class and outside of class we have to face what we're thinking and face other modes of thinking about the same thing, and that provides an opportunity for development.
Another thing is music. The community has a spirit to it, and since there's such an emphasis put on music over time the spirit of the college can begin to really sink in because we make music together. We become a community in having to listen to each other in music the way we do in conversation.
The Pathways Fellowship enables St. John's students to transition into graduate study or careers that call for special or prerequisite courses. Visit our Pathways Fellowship page for more information.
—Brady Lee (AGI14)