"Our Creative Process Begins with Questions:" Simon David (SF04) on Urban Design
May 17, 2021 | By Les Poling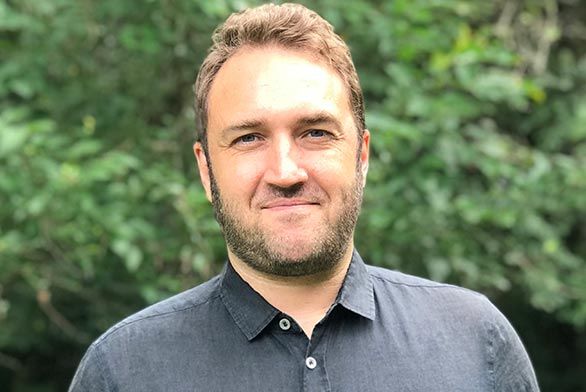 In May 2020, as the frenzied first stages of the COVID-19 pandemic morphed into a strange new form of everyday life, communities across the country—including a devastated New York City—began searching for ways to bring back some semblance of normalcy without compromising safety. A primary method quickly emerged: outdoor dining. However, with that solution came another problem. How could businesses like restaurants transfer the dense, indoor settings of their usual service to an outdoor, socially distanced reality?
A conundrum, to be sure. But as founding principal and creative director of design firm OSD Outside, Simon David (SF04) makes his living thinking about abstract concepts like space, structure, and environments—and turning them into something tangible. David leveraged his 16-plus years of experience as an urban designer, professional landscape architect, trained architect, and adjunct professor to draft an "Open Restaurant" and "Open Streets" public space and streetscape design for the Flatiron and NoMad district of Manhattan, in collabration with their client and business improvement district, Flatiron/23rd Street Partnership.
That scenario—creating a plan based on unique circumstances and a preexisting environment—may seem one-of-a-kind for an urban designer. David says that's not the case.
"Many people picture design as an act of bringing new forms to the world through some kind of heroic individual vision," he explains. "That's not at all how I approach design. I believe design is a process, not a product, and requires continuous exploration into how we can improve our built environments."
The seeds of David's approach to design were planted when he was still exploring the Program texts of St. John's. There was, of course, the expansive nature of the books themselves, and the constant open-mindedness practiced in seminar. Furthermore, David recalls, "the incredible physical setting of St. John's in Santa Fe also had a big impact on me as a cultural and ecological landscape. In addition to being a stunning backdrop and offering the privilege of walking directly from dorm to mountaintop, the high desert is a powerful example of the delicate balance necessary for life and society to sustain itself."
He continues: "Historic Santa Fe is the physical manifestation of hundreds of generations of collective intelligence; a built landscape adapted to the dynamics of local climate, ecology, and material resources offered by the foothills of the Sangre de Cristos."
The initial intrigue presented by Santa Fe offers a succinct example of what designers like David seek to achieve. Urban design, in his view, is the practice of creating new spaces and forms that complement and attain a balance with the existing natural world and built environments, whether transforming an empty road into an outdoor restaurant area or turning a former steel plant into an urban greenhouse.
David began designing almost immediately after graduating from St. John's. He worked as a draftsmen and designer at MG Studio in Los Angeles before graduating from the University of Virginia with a master's in architecture in 2009. From there, he became a designer at VMDO Architects in Charlottesville, Virginia, helping design two Richmond elementary schools. Finally, after stints as a project designer, senior project designer, and project leader at Nelson Byrd Woltz, Michael Van Valkenburgh Associates, and Bjarke Ingels Group, respectively, David founded OSD in 2018.
"I started my practice as a commitment to design for an equitable, culturally diverse, and biodiverse planet," he says. "As interdisciplinary designers, we specialize in taking a holistic approach to the design of the built environment, and exploring how man-made interventions can have a positive impact socially and ecologically."
When it comes to providing services—including architectural design, planning, urban design, mobility, and landscape architecture—OSD designers apply their skills to a specific set of jobs, usually those with an eye towards our changing world. For example, more and more Americans are flocking to cities, creating jam-packed urban populations. As such, "[we work on projects] such as urban agriculture, public spaces that combine building and landscape, and designing streetscapes in a way that hands back space from cars to people as cities continue densifying," David says.
Another gratifying case study is the East Coast Resiliency Project—a two-and-a-half-mile flood protection project designed to shelter the Lower East Side of Manhattan from future sea level rise and storm surges. David served as project leader at Bjarke Ingels Group on the project, "which combined resiliency, accessibility, ecology, and community-focused park and streetscape design," he notes. "I had the privilege of working directly with the local community and NYC City Hall and city agencies to reimagine critical public space with an eye to ensuring a viable future."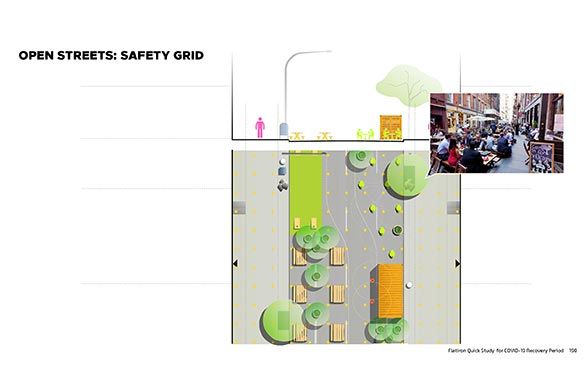 Such undertakings, intended to equitably improve human life in preexisting environments while incorporating the natural world, are indicative of David's professional focus. They also nod to the weighty matters that urban designers will need to take into account in the future. From wildfires in California to hurricanes and rising sea levels along the East Coast, climate change is beginning to noticeably shape human life, David argues, and it's vital that we adapt accordingly.
"We have a lot to learn from ancient and indigenous constructed landscapes," he contends. "It's this kind of balance between our natural world and constructed world we must maintain globally if we hope to have a prosperous future. For all our technological sophistication, we have not yet replicated this wisdom in our glass towers and concrete waterways, and I believe that will be key to our future."
Looking to the past in order to consider the present and the future will sound familiar to anyone aware of the St. John's Program. But those unique considerations extend beyond the way David's firms conducts business. The principles of inquiry, contemplation, and collaboration inform every step of the OSD design process.
"We must start by listening and learning—to communities, the natural world, clients, experts—before we intervene. Our creative process begins with questions, rather than striving to generate any preconceived notions about what the world should look like or how it should perform," David says. "I think that's a fundamentally Johnnie way of approaching any scenario."