St. John's College Annapolis Celebrates 229th Commencement
May 21, 2021 | By Les Poling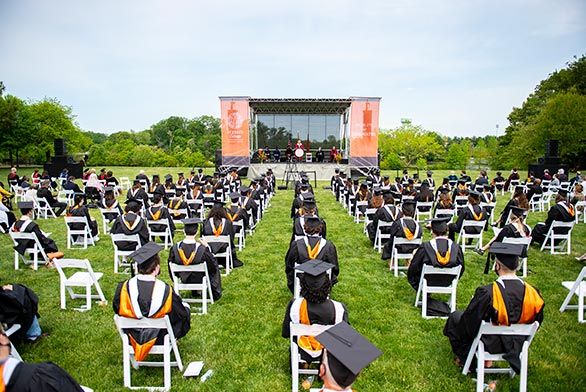 Last year, St. John's College celebrated the Class of 2020 in unparalleled fashion. For the first time in the college's long history, commencement took place online: the only people present were President Pano Kanelos, Dean Joseph Macfarland, and Graduate Institute Dean Emily Langston, and tutor Margaret Kirby's commencement address was recorded several days prior to the event.
This year, like last year, the sun was shining brightly on a brisk, beautiful spring day; this year, like last year, functioned as the culmination of a challenging, uncertain, and entirely unprecedented academic term. Happily, though, the 2021 commencement ceremony differed from 2020 in a drastic way: faculty, graduates, and their families were able to attend the ceremony in person on the back lawn of the Annapolis campus, with socially distanced chairs, a cordoned ceremony area, a livestream, and a stage set up in front of College Creek making it possible for the college to conduct a safe celebration of its graduating seniors.
The ceremony began with the traditional (albeit masked) academic procession and a welcome address by President Kanelos, who marked "the end of formal studies" and the "beginning of a lifetime of learning good things and doing good works in the world beyond these halls."
Kanelos noted that commencement is an opportunity to look toward the future, but nonetheless seized the moment to point out the challenges of graduating students' immediate past. "We have been a community dispersed, a polity in diaspora … we have all had to find ways to endure the challenges we've faced," he remarked. "This graduating class is undoubtedly one of the most courageous in the history of the college."
"Without you—your voices, your presence, your minds—there is no college," Kanelos added. "You have been the keepers of the flame … you are strong, you are tenacious, and we are so proud and grateful that you are Johnnies."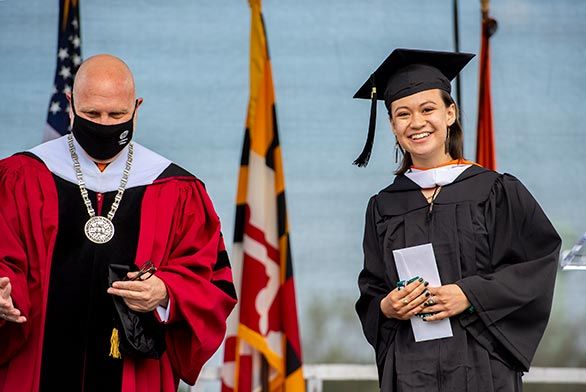 Following the president's introduction, Macfarland took the podium to announce the winners of annual awards and prizes. Grace Phan Jones (A21) won the award for best senior essay for "The Isolation Paradox: An Investigation into Solitude and Social Identity in Rousseau's Reveries of the Solitary Walker." Other senior awards included excellence in speaking, given to Alvar Yrjö Oskari Huhtanen (A21); outstanding service to the greater Annapolis community, given to Rachel Gordon (A21); greatest care and service to the youth of the city of Annapolis, given to Amy Porter (A21); the Charles Vernon Moran prize for visual art, given to Sophia Cote (A21); and the Walter S. Baird prize for excellence in the arts, literature, or sciences, also awarded to Sophia Cote.
Xi Xue's (A21) "北河" ("North River") won the award for original music composition, while Liam Twomey (A21) won for the most elegant solution of an analytical problem. Sera Johnson (A21) and Shane Williams (A21) were this year's athletic blazer winners, given to those who, "through participation, leadership, and sportsmanship, have contributed most to the SJC athletic program."
In the Graduate Institute, Anthony Meffe (AGI21) was recognized for a distinguished preceptorial essay—"An Essay on Nietzsche's Thus Spoke Zarathustra"—and Andrew Graney (AGI21) won the distinguished tutorial essay honor for "How Do We Learn? Is Anything Teachable?" Among non-graduates, Sofia Martin (A22) and Olivia Pittard (A22) shared the prize for best junior essay, Ezra Melchor (A23) won for best sophomore essay, and Sofia Martin won for best essay on a piece of music.
After the announcement of awards, tutor Chester Burke (A74) took the stage to address the Class of 2021 in what amounts to graduating students' last formal lecture. Fittingly, Burke's speech touched on Program authors including Plato, Aristotle, Homer, Maxwell, Einstein, and many others, as well as former tutors across both campuses. He contextualized his speech as "inspired by three sources: an unexpected voice of a student I had known only from a lengthy period of online learning; some remembrances of time past with some of you; and the answer to a question I asked my dearest friend in the last week of his life."
He began by recalling the experience of hearing "Hello, Mr. Burke" from the student he had known only through a Zoom screen, now arrived in Annapolis as Burke was undergoing a weekly COVID-19 test. In that moment, Burke said, he was nearly overwhelmed with the simple profundity of meeting "the human being himself" for the first time—someone with whom he had engaged in long, rewarding examinations of great works, but never encountered face to face. (He also remarked that he couldn't help but chuckle at the student's mismatched socks.)
"We have all lived some version of this isolated life," Burke noted. "But life continued as we all simply held on in our different ways."
As he recounted the last three semesters of online and hybrid learning, Burke cited the perseverance, humorous missteps, and heartwarming moments he shared with students in the Class of 2021, from the Johnnie in Egypt chiming in over Zoom to those he ran into during his long, longing bike rides past campus. Burke also connected the tenacity displayed by Johnnies over the last three semesters to that of the last four years, citing sophomore lab, junior seminar, senior essays, and all the texts and authors explored therein.
"The motion of learning," he suggested, "does not require a text. But it does have to involve all parts of the soul working together as a single being."
Perhaps most powerful were Burke's words of tribute to his oldest and dearest friend: Santa Fe tutor Cary Stickney (A75), a classmate of Burke's at the Annapolis campus who recently passed away after a four-year battle with cancer. In what was a tribute to Stickney, to the Great Books he loved, and to the spirit of the college, Burke recalled asking his friend why he had decided to become a teacher—or more specifically, a St. John's tutor. In response, Stickney told the story of his senior essay at St. John's: he was writing on Hegel's Phenomenology of Spirit, and his advisor was too busy to meet with him. In that moment, Stickney said, he realized that he could understand the text; that he wanted to keep thinking and learning more about it; and that he wanted to talk to others about it, too.
"He devoted his life to this activity. In his dying, he said that he took comfort in knowing that somebody, somewhere, will always be thinking about these books and talking about them with other people," Burke said. "Each of you is one of those 'someones, somewhere,' who allowed Cary to leave this world in peace."
Finally, in closing, he added: "Despite an ultimately inexplicable circumstance that stretched all of us to the limit of despair, each of you graduating students—accompanied by parents, friends, and members of our community; a community that required and always will require the being at work together of all of its members … each of you accomplished a genuine version of what it is we do. If Aristotle is right, and he usually is, this serious and pleasurable activity is something available to all human beings at all times; something that under the best of circumstances is difficult to sustain, but is nevertheless worth fighting for and falling towards."
Upon the conclusion of Burke's address, undergraduate and graduate degrees were conferred, academic recession was declared, and the newly minted Johnnie alumni joined their loved ones to celebrate. After a senior year full of challenges, the celebration was well deserved. Congratulations, Johnnies!