St. John's Annapolis Celebrates First Virtual Commencement
May 15, 2020 | By Les Poling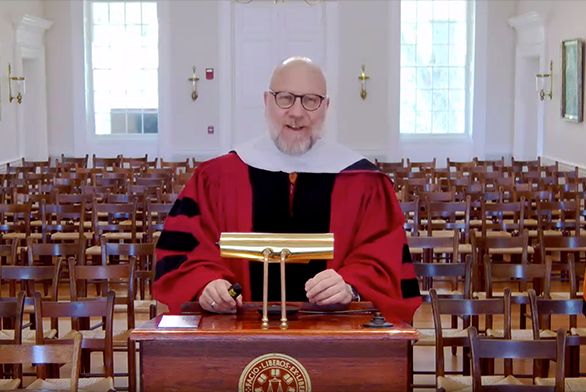 "While we cannot be together in the same place as we would've hoped, we can share this moment in time—a small miracle for which I am grateful."
With those words, Annapolis President Pano Kanelos kicked off the first virtual Commencement ceremony in the history of St. John's College.
Sunday, May 10 was a gorgeous day in Annapolis, with a sunny, breezy temperament perfect for the campus's 228th Commencement. Ordinarily, the celebration would have started outside before proceeding into the Francis Scott Key auditorium, where Kanelos, Dean Joe Macfarland, and this year's commencement speaker—tutor Margaret Kirby—would address graduating students and their loved ones.
Of course, the coronavirus pandemic made that impossible. Instead, St. John's College leadership worked tirelessly on a short deadline to conduct a virtual commencement—one of the first in Maryland. Kanelos and Macfarland delivered live-streamed remarks to start the ceremony, before transitioning to Kirby's speech and the reading of every graduate's name by Macfarland and Graduate Institute Dean Emily Langston.
Kanelos began by speaking live from an empty McDowell Hall. After expressing his gratitude to students, tutors, families, and loved ones, he reflected on the strange nature of commencement, especially a virtual one: the "eliding of beginnings and endings" that characterizes a ceremony meant to mark the conclusion of one journey and the start of another. Using Odysseus and C.P. Cavafy's "Ithaka" to frame the chaos and isolation that defines our current time, Kanelos noted that, despite the temptation to focus on destinations, it's the odyssey between departure and arrival that matters most.
"You are each, wherever you are now, embarking on your own nostos, your own hero's return," he declared. "You will indeed return to St. John's one day. Yet that return—whenever it is manifest—will be so much less important than the journey that brings you back to this place."
Following the president's introduction, Macfarland took the podium to announce the winners of annual awards and prizes—beginning with the award for best senior essay, given to Xin Ye (A20) for "The Man of Faith." Other senior awards included excellence in speaking, given to Jared Bassmann (A20); outstanding service to the greater Annapolis community, given to Kesi Dremel (A20); greatest care and service to the youth of the city of Annapolis, given to Reuben Morris (A20); the Charles Vernon Moran prize for visual art, given to Nicholas Thorp (A20); and the Walter S. Baird prize for excellence in the arts, literature, or sciences, given to Annie Brong (A19).
Morgan Ballard-Wheeler (A20) won awards for music composition, an essay on a piece of music, and best laboratory experiment, while Jared Bassmann, Rae-Ann Clement (A20), Mitchell Harris (A20), and Elizabeth Hartzell (A20) were this year's athletic blazer winners. In the Graduate Institute, Christine Mooradian (AGI19) and Samuel Hage (AGI20) were recognized for distinguished preceptorial and tutorial essays, respectively. Among non-graduates, Brandon Garcia (A22) and Olivia Pittard (A22) shared the prize for best sophomore essay, and Allayah Mason-Koehler (A23) won for best freshman essay.
Following the announcement of awards, Kirby addressed the Class of 2020 in a speech recorded days earlier. Rather than dispense advice or use the Great Books to make sense of the state of the world, she invited graduating students to contemplate Plato's Phaedrus—a dialogue Johnnies read in both freshman and senior year. In particular, Kirby focused on the questions Socrates asks Phaedrus at the beginning of the dialogue: "Where are you going, and where are you coming from?" She encouraged graduates to linger on such questions; despite their relative simplicity, Kirby noted that questions of origin like "from where" and "where to" are present throughout the Program—and they're never as straightforward as they seem.
"At its best," she said, "our inquiry into the origins neither leaves us circling in an infernal chase [as in Dante's Inferno] nor simply provides us with information about those origins, but stops us short. Questions of causality, for example, which confront us in our first freshman lab readings and observations, arrest and compel us to reconsider our very notions of beginnings and ends. Our very ideas of coming and going are called into question by Aristotle's talk of 'that for the sake of which'…continually, it seems, we're stopped and called to ponder simple questions of going and coming."
Midway through her speech, Kirby admitted that she had misrepresented the opening of Phaedrus in her rush to reflect on commencement, noting that, had she been in class, a student would have interrupted her to clarify the actual opening phrase—the compassionate, alliterative (in Greek) "My friend, Phaedrus." Such interruptions, Kirby suggested, are the mark of curious conversation—the type that graduate and undergraduate Johnnies have cultivated since arriving in Annapolis. Commencement, she noted, is a day of endings, beginnings, and interruption; a day ripe for lingering on questions and conversation.
"The space between coming and going, that moment of rest in the midst of our busy motions, is a place that opens when we turn toward one another in conversation. That conversation, those interrupting words and interrogatives that open up the space between, is what we've missed these last weeks," she said. "But these last weeks do not define your time at St. John's. Amidst the disruption of these recent weeks, amidst the difficulties and in the face of the glaring flatness of the screen, you've shown that listening attentively to one another, questioning and conversing with one another, are in fact central to your ways, no matter where you happen to be. That capacity for confident exchange is the foundational good you carry forward with you."
This year's ceremony was an especially powerful and reflective occasion. As Macfarland told The Capital, "When I present the awards to the students it is a real connection. So this was hard because I have each one of them in mind, and I am thinking about them." The absence of in-person community felt particularly painful on what is usually a day for graduates to cherish one another; for college faculty and staff to honor departing students; for families to commend the achievements of their loved ones; and for students to bid each other farewell.
Nevertheless, it was still a day of celebration. After the ceremony, Kanelos, Macfarland, and Annapolis Athletics and Recreation Coordinator Chris Krueger (A07) gave an impromptu toast to the Class of 2020 before reading every graduate's name and ringing the bell in each student's honor. Johnnies still living in Annapolis took pictures on campus while maintaining a safe distance from one another. And all across the world, graduating students celebrated with cakes, flowers, champagne, yard signs, and much more.
This was never the conclusion that the college envisioned for the Class of 2020. But as they have proven throughout the last several months, the Johnnies who graduated on May 10 are lively, undaunting, and infinitely curious, and we can't wait to see what they do next.