Three Johnnies in Wichita
May 18, 2020 | By Hannah Loomis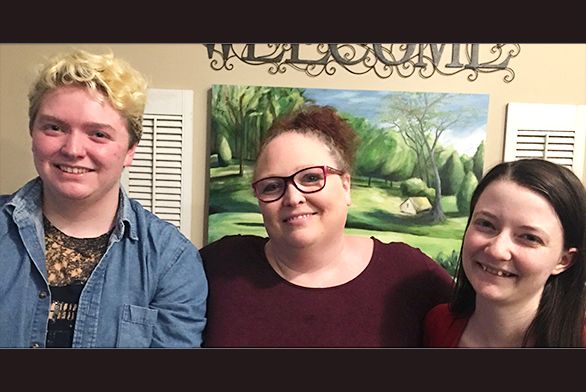 Robin Furnish (SFGI21) had her eye on the St. John's College Graduate Institute for years before she became a student herself. It first crossed her radar when her son, Will (SF21), was attending a Philadelphia-area hybrid program for homeschoolers. The program leader's son went to St. John's, and she arranged for a tutor to lead a seminar-type discussion with the homeschoolers. The experience lit a fire in Furnish.
At the time, though, she was busy raising and teaching her children, taking care of her family, and working as an online writing teacher through the CiRCE Institute. She was captivated by the idea of immersing herself in the Great Books, but reluctantly acknowledged that attending a two-year residential master's program was a far-off dream.
Until it wasn't. In 2018, when Will entered the freshman class on the Santa Fe campus, the wheels started turning in Furnish's head. She sat down with her husband and proposed that she join Will in Santa Fe for his final two years of school. She told him: "It's going to be a weird two years, but I really want to do this." Furnish entered the Liberal Arts program in the fall of 2019, living in a dorm room alongside students the same age as her children, and she loved it. Though she missed her family back in Kansas, she had the freedom to concentrate on her studies.
In March 2020, everything changed. COVID-19 was making its way around the world, and two days before spring break, students on the Santa Fe campus learned they needed to leave without returning to finish the semester. Thankfully, the Furnishes had already planned to drive home to Kansas for the break, along with two of Will's friends. So Reever Hardy (SF21) and Silas Davidson (SF21) spent spring break with the Furnish family. Davidson returned home after that, but Hardy stayed on, making her temporary home in Wichita.
For the foreseeable future the Furnish home includes six people (Robin, her husband, their three grown children, and Reever), two dogs, and a cat. It's hard to find a quiet space in the open house for study and classes over Zoom, but they work it out as they go.
While they are thankful to be together and safe, all of the Johnnies in the Furnish house miss campus life. The beautiful places, of course, but especially the chance meetings that can only happen in proximity. Those "little, in-between conversations that you miss," as Hardy put it, can't be experienced the same way online, not to mention the stress inherent in organizing things without the framework of being together in the same place. Before leaving campus, she had participated in a weekly writing club, and though the group has discussed reconvening online, it hasn't come to fruition. Hardy continued: "It feels like there's a lot of extra steps to everything, even the things that are exactly the same as they were before."
Though classes for the two juniors present new challenges, by and large they find conversations are mostly what they were on-campus. Staying motivated can be difficult, but both employ tactics—like taking good notes or doodling—to keep themselves engaged when their minds wander. They also find it helpful to keep each other company during the classes they have together, and Will enjoys having his dog in class for the first time.
Robin has found the transition easier; she's been teaching an online rhetoric and writing program to students around the world for several years already and considers online learning a comfort zone. For her the challenges have been about balancing school, work, and family. Life on her own in the dorm was much simpler, but while there are added complications and distractions now, she loves being at home. "It is lovely being all together," Furnish says, "and it's been fun getting to know Reever and having her here. There's the bitter and the sweet. It's not what school was supposed to be about or what our hopes were for the year, but we're making the most out of what we have."
Though no one can predict what the next few months will bring, all three Johnnies hope that campus will be open again in the fall. And Furnish mother and son look forward to a shared commencement ceremony next spring.